This page may contain affiliate links, which means that we may earn from qualifying purchases at no additional cost to you.
Don't head to the beach without these beach essentials for toddlers and babies!
There are few outings more enjoyable than a family day at the beach! Actually, let me qualify that… There are few outings more enjoyable than a day a the beach if you're prepared.
If you don't have the right gear, a beach day with young kids can be somewhat disastrous. Not to worry, we've compiled a list of all the essentials you need for a day of fun in the sun with your toddler or baby!
We love traveling with our kids, and we've found beach vacations to be some of our most enjoyable trips.
Beach vacations tend to be high in fun and low in stress. The water and sand make for lots of built-in entertainment without a lot of planning involved, so there's less for mom and dad to worry about.
And since children are able to participate in water activities at a very young age, even the littlest member of the family can be included!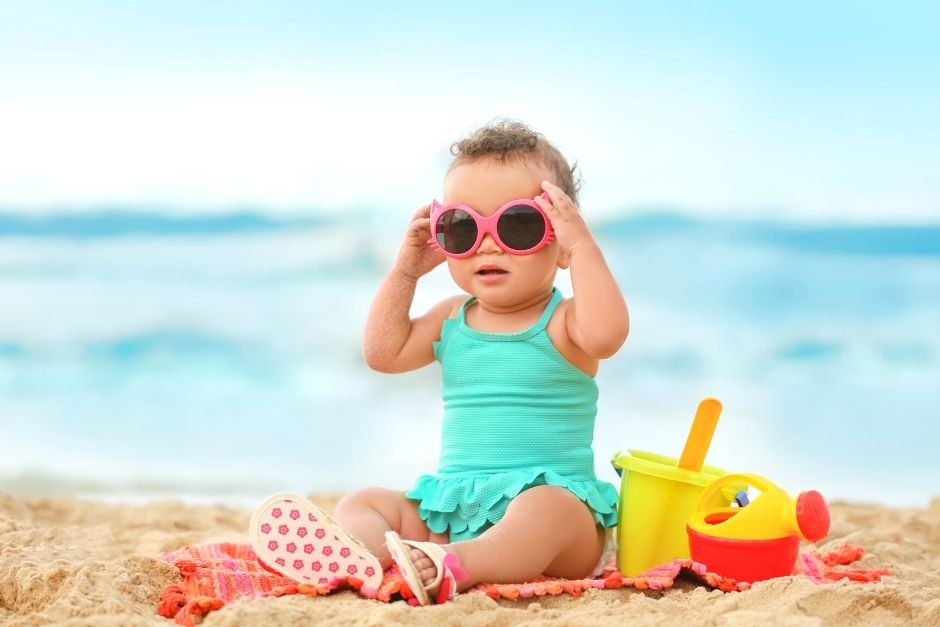 Over the years we've had a lot of beach vacations with our young kids. Along the way, we've come up with a list of beach essentials for toddlers and babies and a few tricks for beach-day success. Read on for everything you need to know before hitting the beach with your little one!
Beach Essentials for Toddlers and Babies
There are some baby and toddler essentials you just can't do without when hitting the beach with young kids. Here's a list of some of our must-have items:
Sunscreen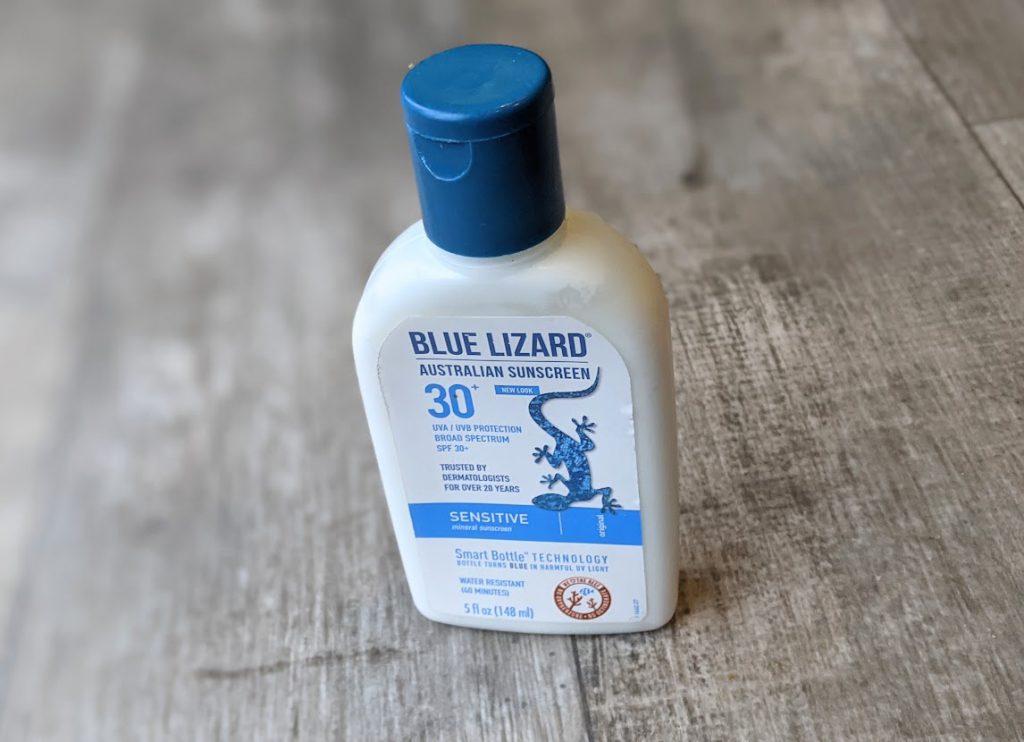 When thinking of beach essentials for toddlers, sunscreen is definitely at the top of the list. It's a fine balance to pick a sunscreen that provides the protection you want but is also gentle on your child's sensitive skin.
My favorite brand for my kids is Blue Lizard Sunscreen. It provides great protection, lasts a long time, and doesn't have the nasty chemicals that are in a lot of sunscreens (even ones that claim to be baby safe).
And this kind is reef safe, so you can feel good knowing that you're helping to protect the environment!
Other good options are Badger Baby Sunscreen and TruBaby Water and Play Sunscreen.
**Most sunscreen manufacturers advise against using sunscreen on babies younger than six months old. Instead, keep young babies out of direct sunlight and use hats and long sleeves to keep them protected when in the sun.
Swimsuit
And of course, you can't plan a trip to the beach without bringing your trusty swimsuit!
Rashguards (long-sleeved swimsuits) are a great choice for young kids. They allow you to use less sunscreen and reduce your child's risk of getting a sunburn. You can find a great option for boys here and for girls here.
Swim diapers
If your child is still in diapers, you'll need to pack some swim diapers for the beach. One option is disposable swim diapers. While we have on occasion used the disposable type, we find reusable swim diapers to be sturdier and more eco-friendly (plus it means less to pack!).
For babies, I love using AppleCheeks reusable swim diapers. The snaps make them easy to get on and off and they are adjustable, so they can grow with your child.
When my kids get a little older, I switch to these swim diapers so that they can just step in and out easily.
Quick Drying Beach Towel
These microfiber quick-drying beach towels are perfect for travel with kids! Although they are light and thin (which makes them ideal for packing), they are surprisingly absorbent and dry quickly. As an added bonus, they come with a carrying bag.
Waterproof bags
When you're done swimming, you'll want somewhere to put your wet clothes. These waterproof bags are especially nice because they have two compartments- one for wet clothes and one for dry.
Life Jacket
Anytime you're around water with a young child, safety has to be the first priority. A good life jacket can give you peace of mind and provide your child the support they need to enjoy the water with confidence.
The Stohlquist Toddler Life Jacket is great option for a life jacket. It is Coast Guard Approved, comfortable and secure for your toddler, and has a grab handle on the back so you can easily hold onto your child.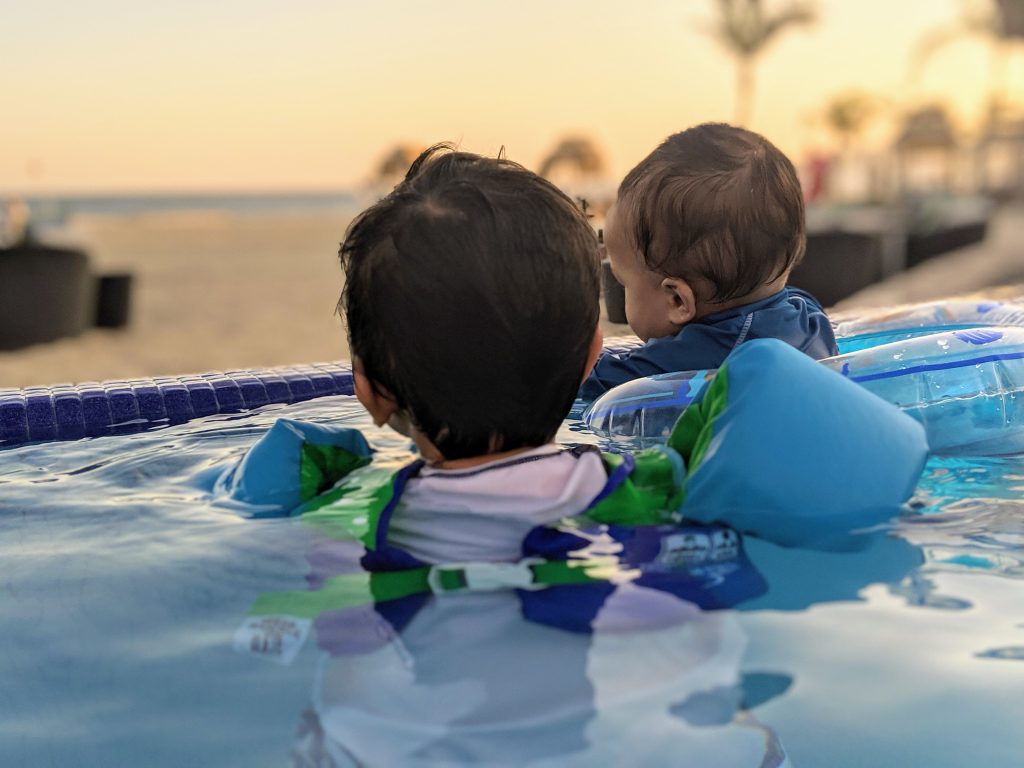 Another option for babies and young toddlers is a float ring. This is a convenient choice for travel because when it's deflated it packs down easily into a suitcase. Note that this is not a lifesaving device and requires constant supervision by an adult.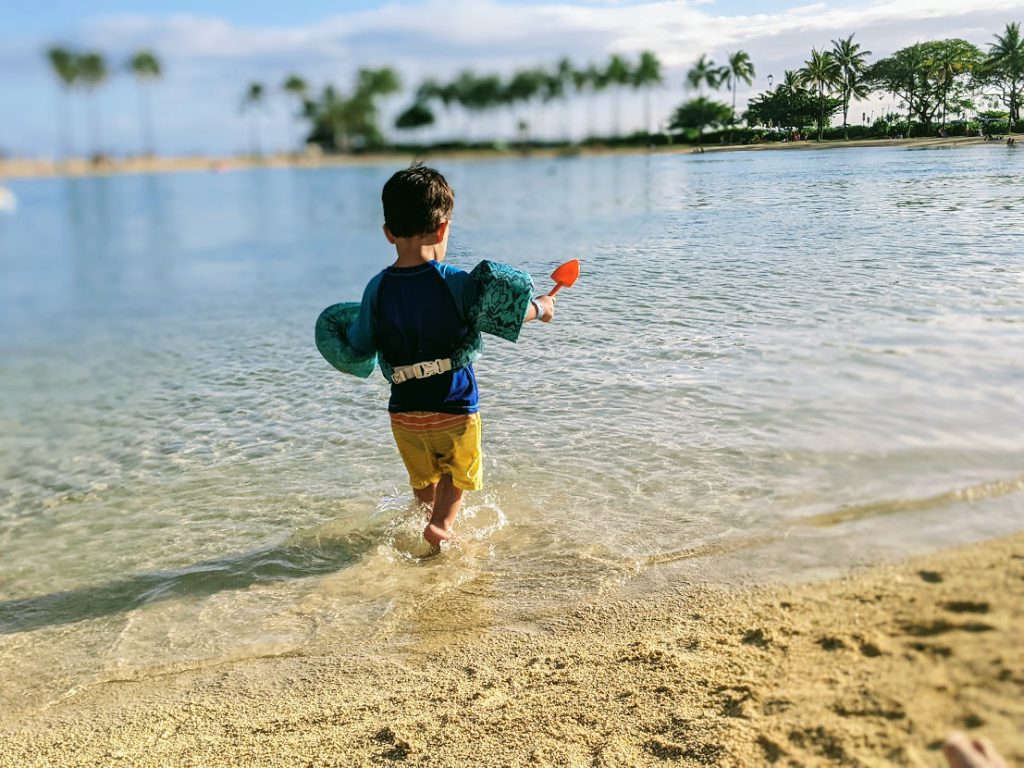 You could also go with a puddle jumper, which is a bit less bulky than a life jacket. However, be aware that they are notorious for teaching poor swimming form and do not have all the safety features of a standard life jacket.
Beach Blanket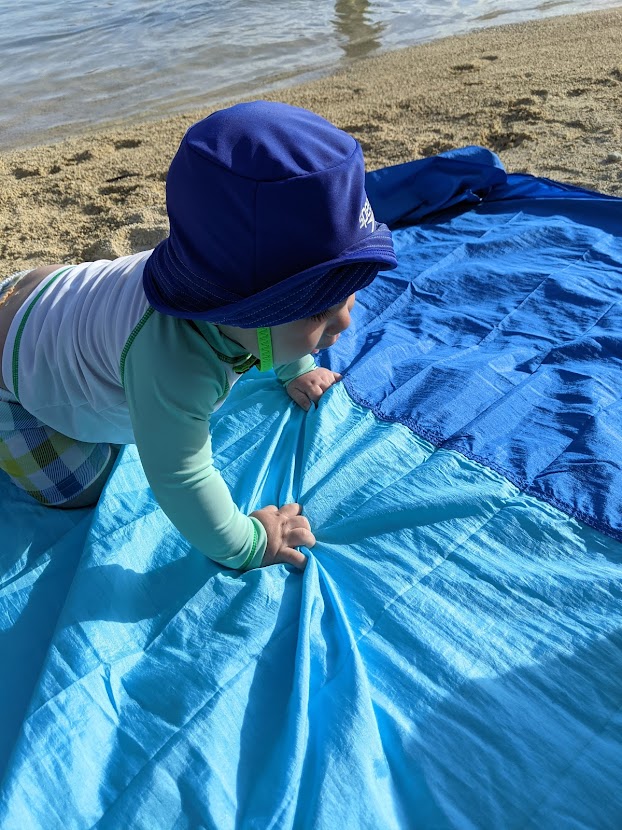 When you're traveling with young kids, it's so helpful to have a place for them to sit out of the sand. This beach blanket is the perfect solution.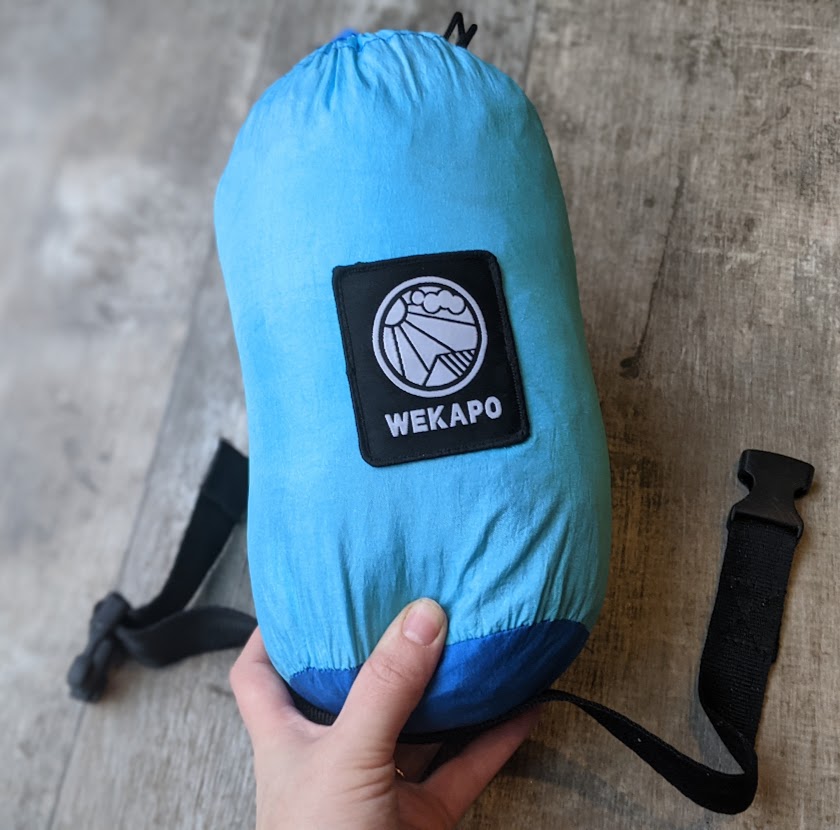 It is water-resistant and sand proof, meaning you can set a baby down without worrying about them eating a mouthful of sand or have a sand-free place for your toddler to eat their snack.
And it's HUGE (10'x9′), meaning there is room for the whole family to sit! You have the option of using sand pockets or metal stakes to secure the blanket.
It also weighs in at only one pound and packs down into a compact storage pouch for easy packing!
Toddler flip flops
For lightweight shoes that are easy to get on and off at the beach, toddler flop flops are a very useful item to have on beach day.
I love having shoes that don't retain a lot of sand to drive my toddler crazy and which can be easily rinsed off. This pair is comfortable for your child's foot and has a back strap to keep it in place.
Beach Bag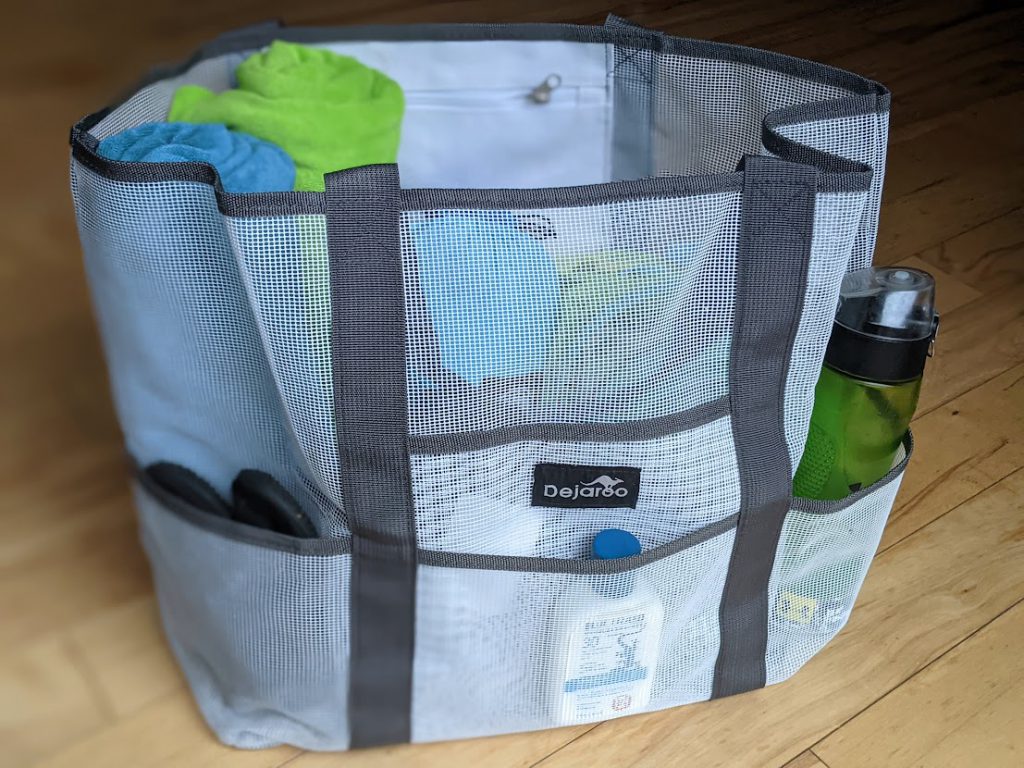 Going to the beach with young kids means that you have a lot of stuff to bring with you! You need an awesome bag to carry everything and keep it organized.
This beach bag has plenty of space for all of your beach day essentials- your toddlers and yours!. There are eight pockets to help you keep everything separate and organized, including a zippered pocket inside for your keys, wallet, and other valuables. It's made of mesh which prevents sand from collecting inside and means that it dries quickly.
We loved the size and the pocket space of this bag on our last trip to Hawaii, it made bringing all of our beach essentials with us so much easier!
Snacks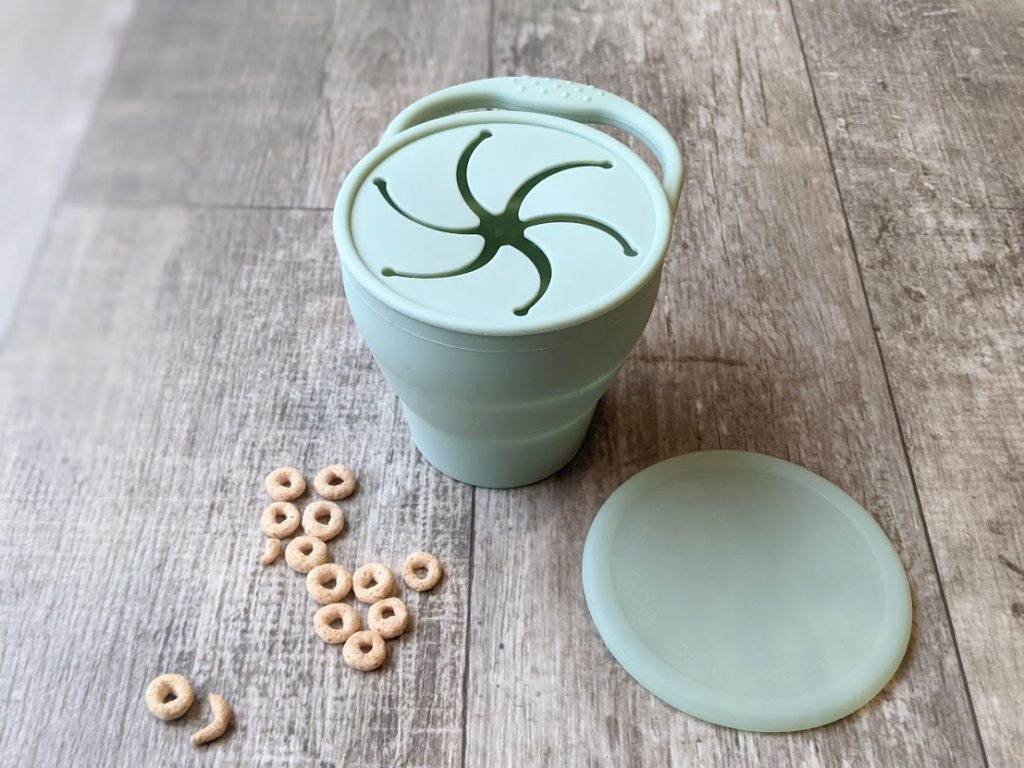 Never attempt a day at the beach without planning some good snacks! And these snack cups are perfect for containing crackers and small snacks so they don't end up in the sand.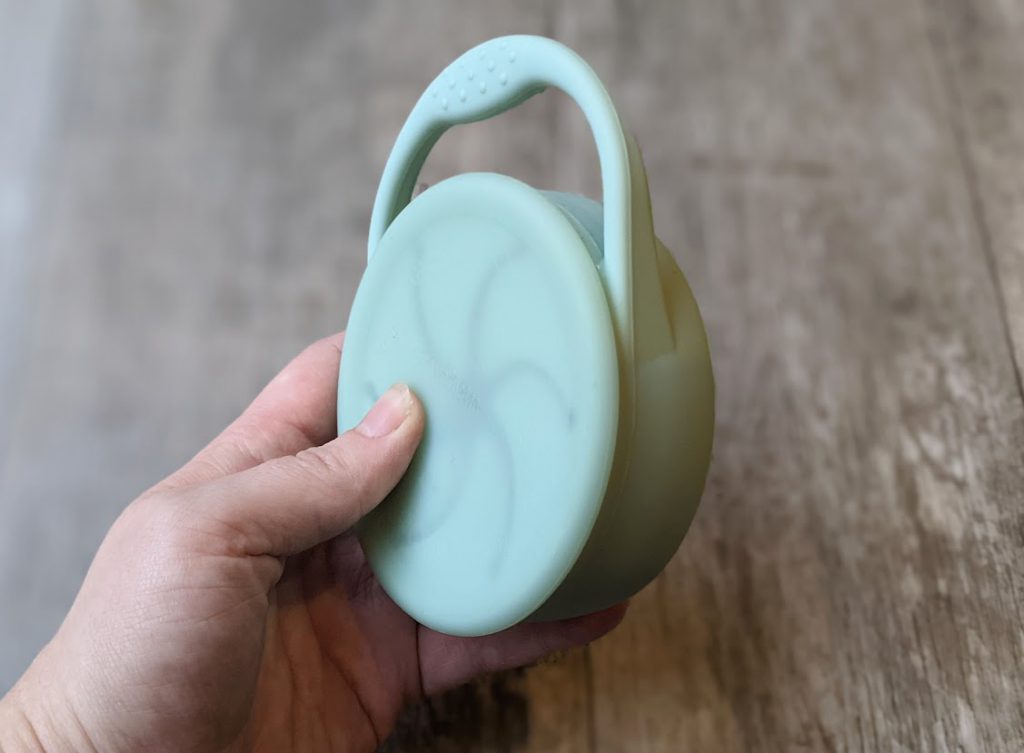 They come with a lid to keep snacks fresh and prevent spillage in your bag. And my favorite feature is that they are collapsible, making them perfect for travel!
Water shoes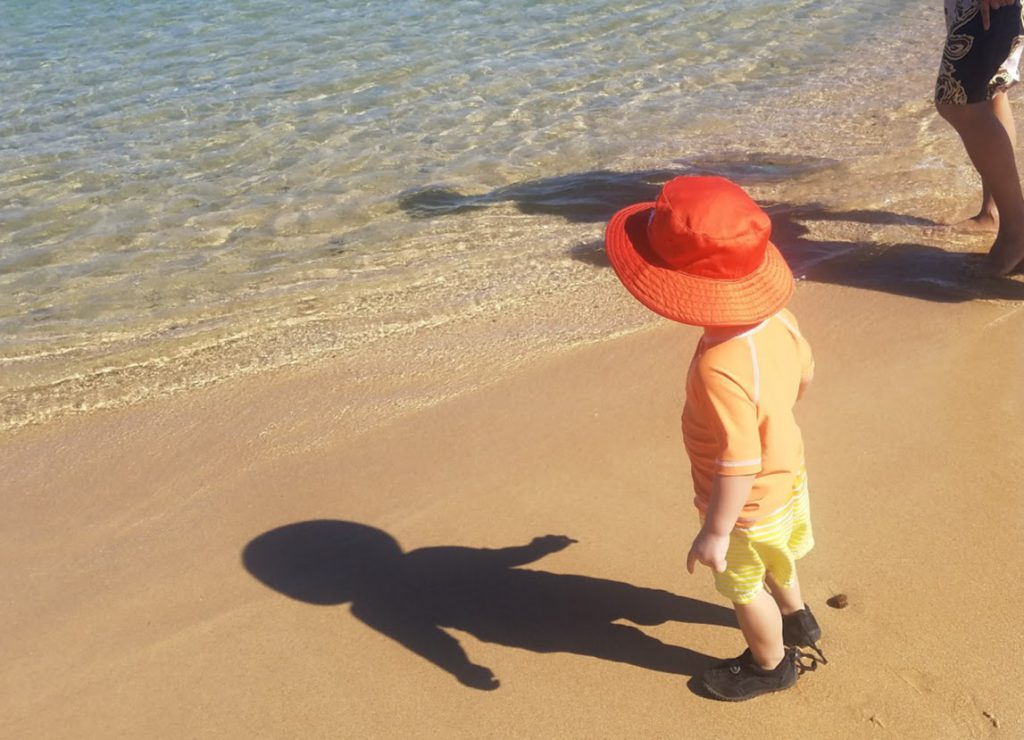 If you'll be visiting a rocky beach, water shoes will protect your kiddo's feet without interrupting their play. It can also provide traction in areas with slippery rock.
These ones are made with breathable, lightweight mesh and have a flexible, grippy sole to keep your child safe on slippery surfaces.
A sun hat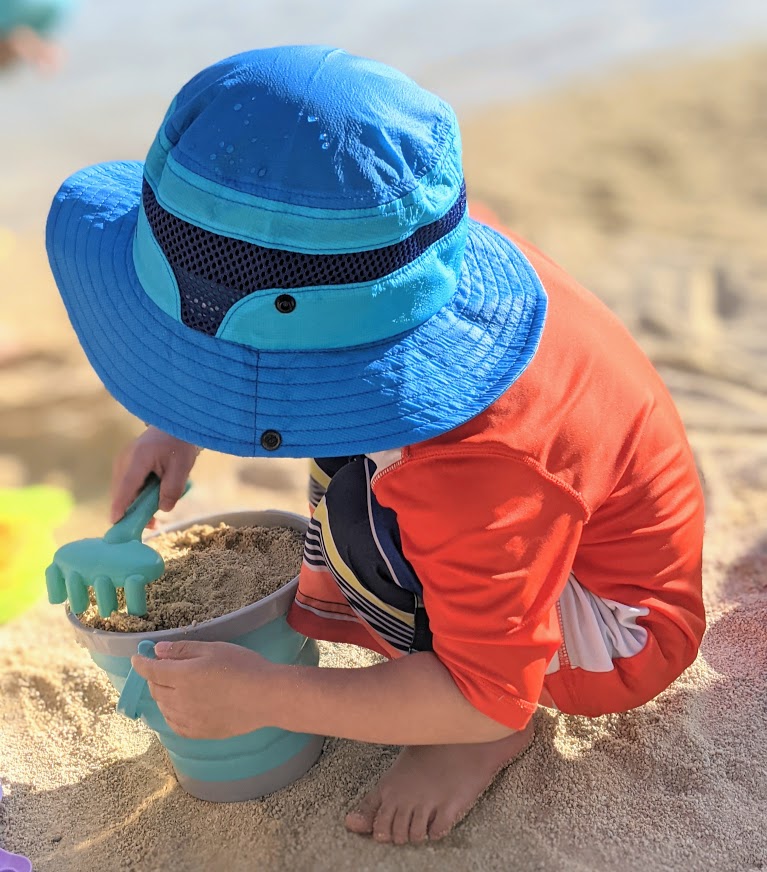 When your toddler is out in the sun for hours at a time, a sun hat is important for protecting your child from sunburn and keeping the sun out of their eyes. Look for a breathable, wide-brimmed hat with a chin strap so that you don't lose in the water or to the wind.
We use this one for our son and really love it. It's so comfortable he doesn't even seem to notice when it's on and the chin strap holds it on securely even on windy days. It also works really well for hiking.
Sunglasses
Protect your baby's eyes from the bright sun and the glare of the water with a pair of baby sunglasses.
This pair is polarized, scratch-resistant, and flexible. It also comes with a strap to keep it in place and a soft pouch and hard case.
Sand toys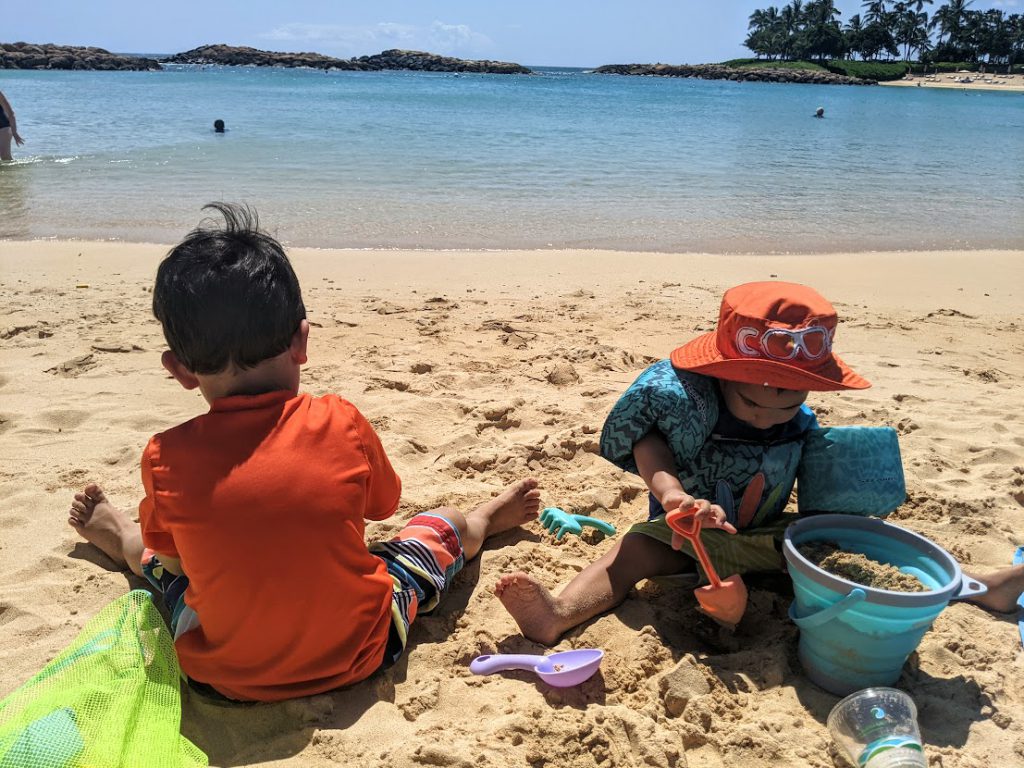 Looking for a way to keep your young child entertained on the beach? This set of sand toys comes with a collapsible bucket, making it more compact to pack, as well as shovels, rakes, and molds. It also has a waterproof mesh bag.
My kids looooved these toys. They were kept entertained for hours and still wanted more!
Reusable water bottle
It can be easy to forget to take water breaks when you're having fun at the beach. But you'll want to make sure that your child stays hydrated if they're out in the sun all day! Bring a water bottle like this BPA-free reusable water bottle and offer your child drinks frequently.
The CamelBak water bottle has a convenient pop-up straw that is easy for kids to use. It also has so many cute patterns to choose from, so you can be sure to find a design your child loves!
Sun tent
If you're going somewhere without shade or cover, plan to bring a small tent so that there is somewhere for the little kiddos to get out of the sun. This is especially helpful if you have a baby who needs a shady spot to hang out while everyone else is playing in the sand and water.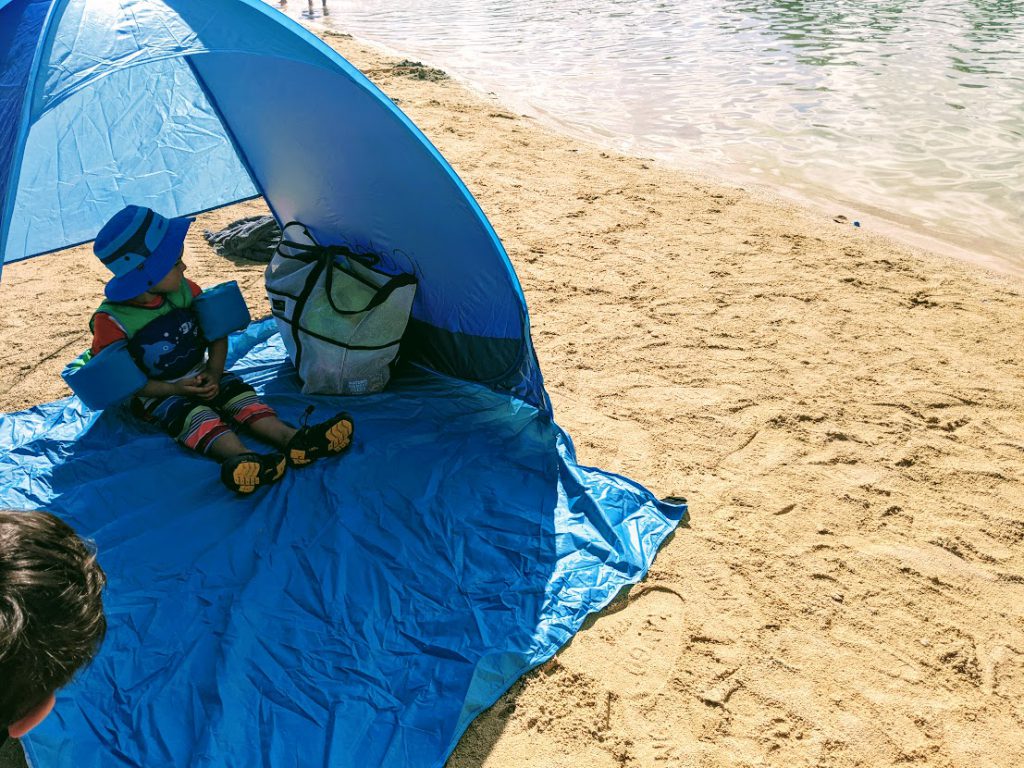 We've found this compact pop-up tent to be so helpful on beach trips with young kids. It comes with a carrying pouch and all you have to open it is pull it out and pop it open! It's also lightweight and packs easily.
Baby and Toddler Essential Beach Tips
As much fun as a day at the beach is, with young kids things don't always go according to plan. Along with the beach essentials for toddlers and babies mentioned above, here are a few suggestions we have for making your trip go a little more smoothly:
A tired child is a grumpy child
At this age, you really have to take nap time into account in order to have a successful day at the beach.
A tired and grumpy baby or toddler does not make for a relaxing beach experience. And if you have multiple young children, it can be even trickier. But it's not impossible, and the older they get the more flexible you are able to be with naps.
If you have a toddler who only takes one nap a day, oftentimes the easiest solution is just to plan around nap time. Either go to the beach early in the day and have nap time when you get back, or head out to the beach as soon as they wake up from their nap.
If you're planning on being at the beach all day, you can also try to put your child down for a nap there. This is most likely to work for babies and young toddlers. We've had success putting a baby to sleep in a baby carrier as well as in a car seat.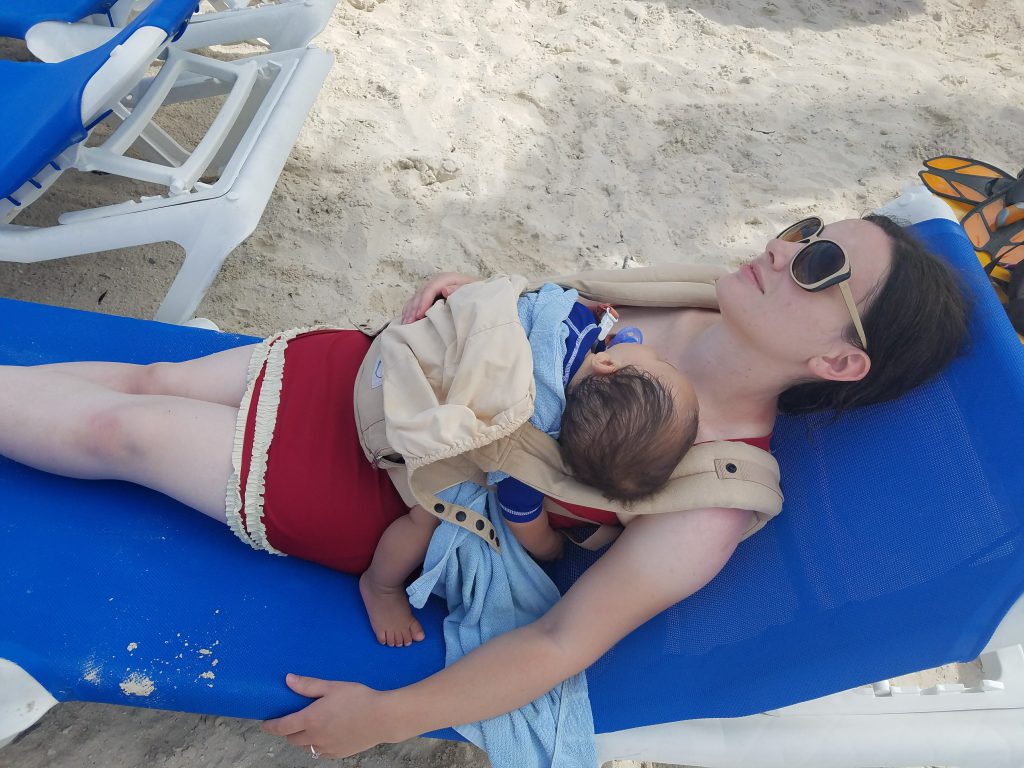 For older toddlers, you can also just choose to do without a nap for that day. We've done this with varying degrees of success. Just plan for an early bedtime and try to make nap time a priority the next day so they don't get too overtired.
Keep them going with food
While we're talking about beach essentials for toddlers, we have to bring up food. What is it about water activities that seems to make everyone ravenous? Take some preemptive measures to keep your kiddo smiling with some tasty snacks and/or a good lunch.
Here are some of our favorite beach snacks for toddlers and babies:
Fruit and veggie pouches
Crackers

Goldfish crackers
Pirate's Booty
Animal crackers

Fruit- choose something that packs well and isn't too messy

Grapes
Strawberries
Bananas
Oranges

Granola bars
Raisins
Sometimes it's tricky to prevent sand from getting in all of your food. It can help to have young kids eat on a chair or towel to stop them from sticking their hand in the sand and then straight into the food bag (the next person who wants some will thank you).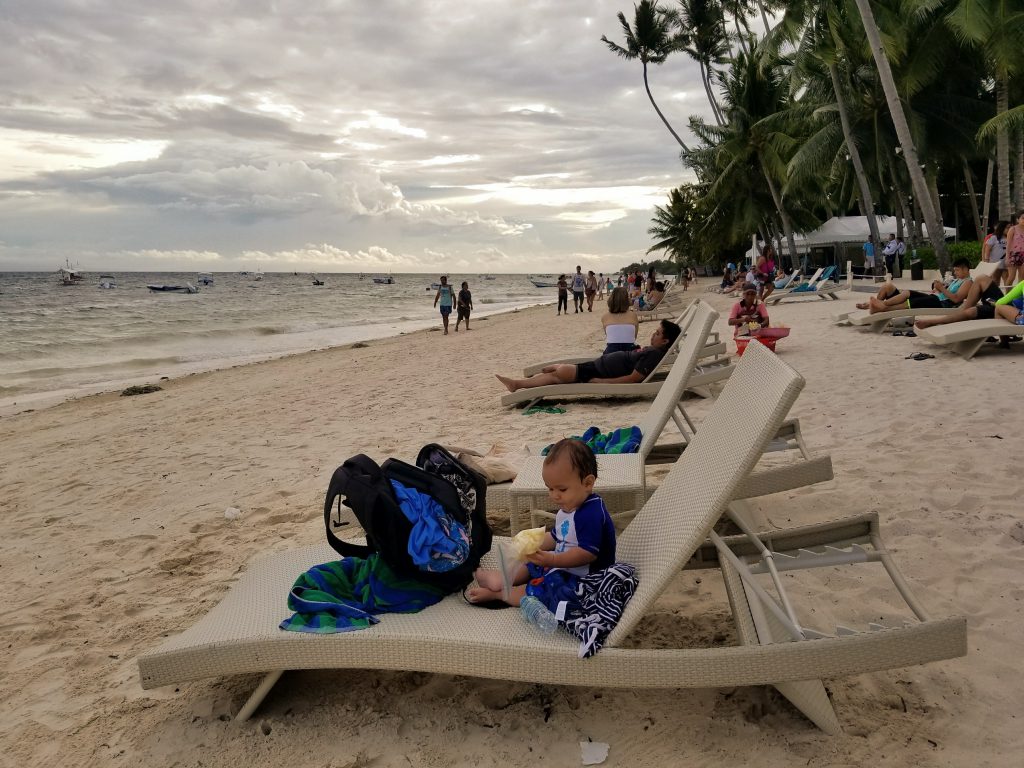 Swim gear
I find it easiest to put kids in swimsuits at the hotel before heading to the beach. EXCEPT for swim diapers. Those should be put on immediately before your kiddo goes in the water unless you want an embarrassing pee incident on your hands (literally or figuratively).
And if your child is wearing a swim diaper, change them back into a normal diaper as close to them getting out of the water as possible. Once again, pee. Everywhere. Not that I know from experience or anything…
Sunscreen is usually also easiest to apply at the hotel. Otherwise they get covered in sand and rubbing in the lotion is like an exfoliating scrub for their skin. Of course, you'll want to reapply it at regular intervals, but it helps to get that first coating in before hitting the beach.
And don't forget to bring a change of clothes for when the kids are done swimming. If it's warm enough, they might be fine air drying, but once it gets chilly it's nice to have clothes to change them quickly.
Manage expectations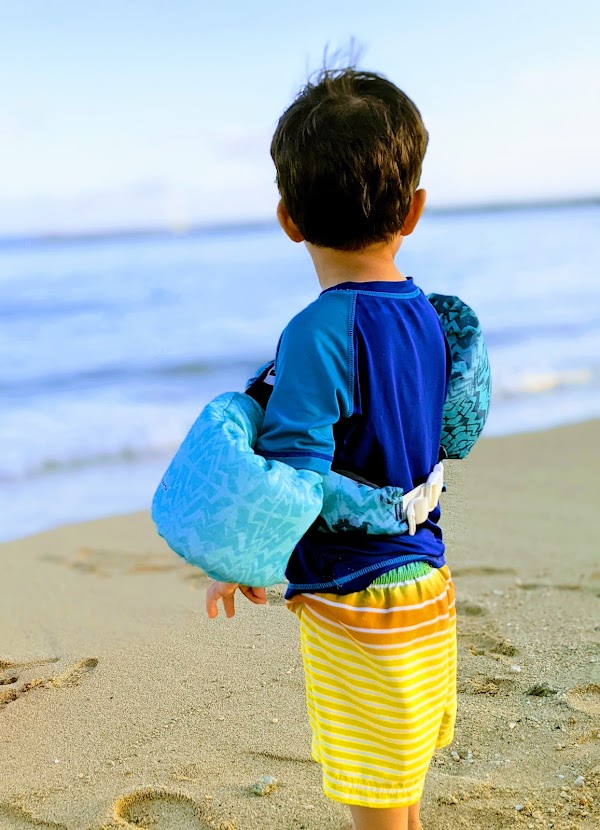 If you're picturing yourself lounging on the beach, reading a book and sipping lemonade, your trip might not turn out exactly the way you hope. Beach trips with babies and toddlers aren't necessarily super relaxing… BUT they can be a lot of fun.
Just know that usually sand gets into every nook and cranny (and that's before the baby shoves a handful into his mouth). And sometimes your kids will be done after 45 minutes when you planned to be at the beach all day. And it's a huge pain to change kids out of wet swimsuits which cling to them like saran wrap.
(The first time we went swimming with our eldest when he was a baby we had the hardest time getting him out of his wet swimsuit and he screamed bloody murder the entire time. After the glares and stares from the people around us I almost gave up on swimming with kids for good.)
The point is, no matter how prepared you are, sometimes things just don't go according to plan. It's part of traveling with kids. Just think of it as a funny anecdote you can tell later. Or something you can hold over their heads when they're older.
Final Thoughts
Even though we've had several less than ideal beach experiences, for us the pros far outweigh the cons.
We love the fun we have and the memories we make on beach vacations. They make for a perfect family trip with young kids.
Make sure to bring your beach essentials for toddlers and babies, and you're on your way to a successful adventure!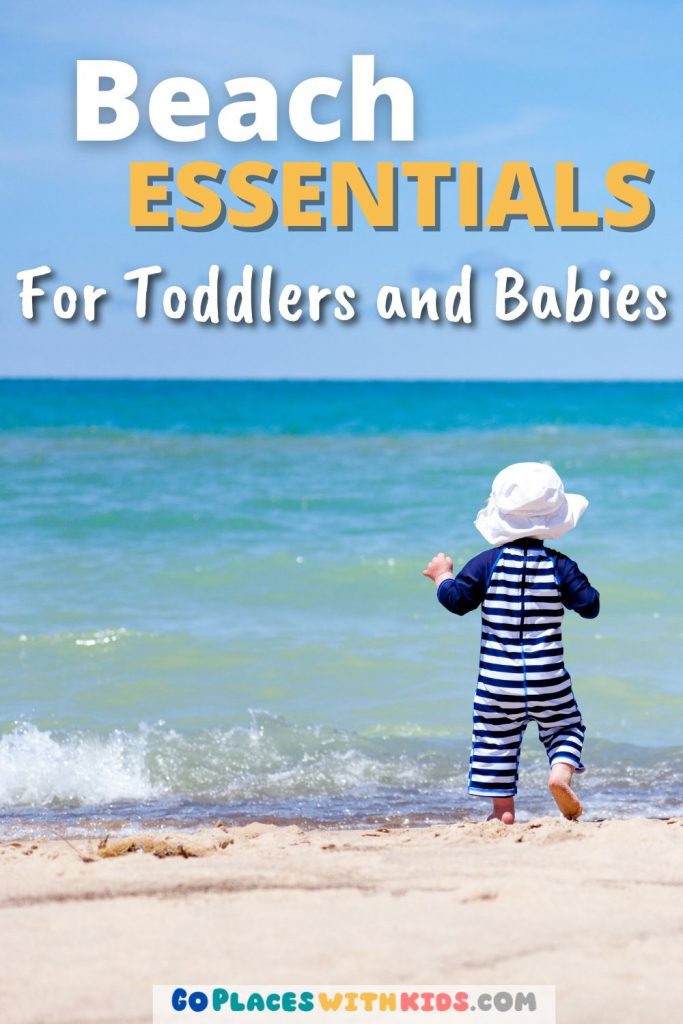 Other posts you might be interested in:
Airplane Activities Your Toddler Will LOVE!
Baby Travel Essentials (Everything You Need to Bring)
First Flight With Baby- How to Prepare for Success