This page may contain affiliate links, which means that we may earn from qualifying purchases at no additional cost to you.
Oahu is a stunning island with so much to offer visitors. There are so many amazing hikes to choose from, it's hard to know where to begin! In this post, we're going to be talking about some great easy hikes on Oahu that you don't want to miss.
We've been to Oahu several times and these are hikes that we've easily been able to complete with our young children. These hikes are ideal for families traveling with small kids or for those looking for a rewarding beginning to moderate level hike.
We've selected a variety of types of hikes, including scenic viewpoints, lush tropical forest, and waterfall for good measure! You can't go wrong with any of these hikes, but read on for our breakdown so you know exactly what to expect.
Easy Hikes on Oahu
Diamond Head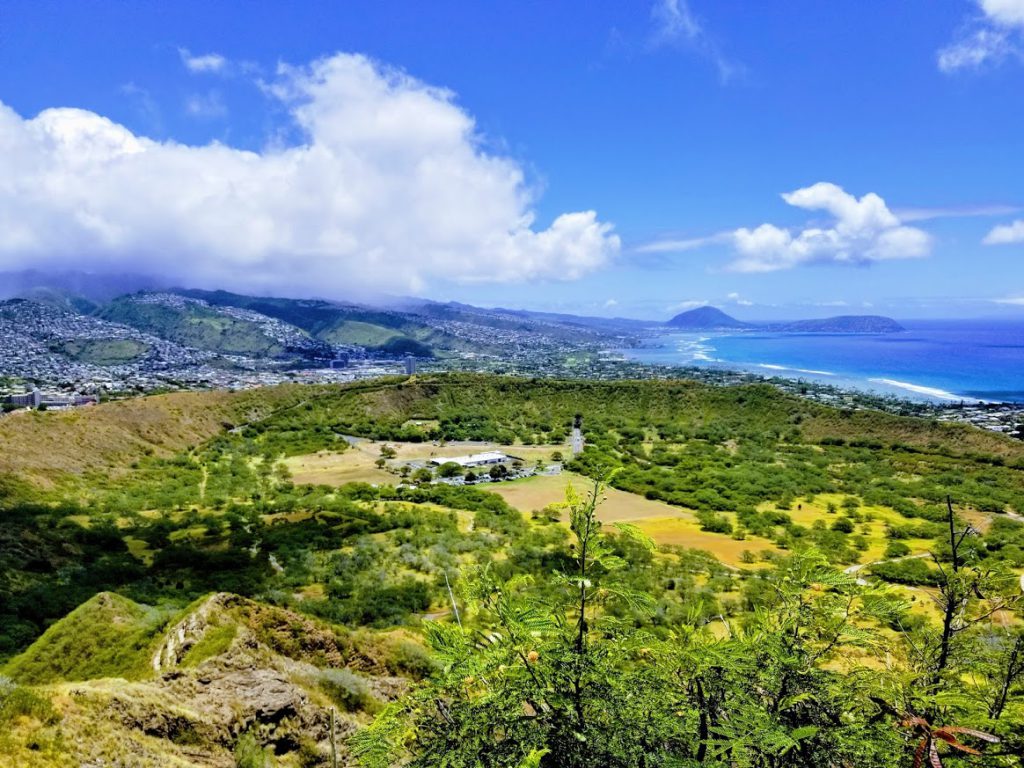 Diamond Head is one of the most popular easy hikes on Oahu, and for good reason. It's a great moderate hike with a big payout at the end.
The parking lot is at the center of the crater and the hike takes you up to the rim where you are rewarded with some stunning views of the area. The hike starts off paved but the path quickly becomes quite uneven. At the top, you will find steep steps leading up to a long tunnel. Once you pass through the tunnel, you will find even more steps leading to the summit.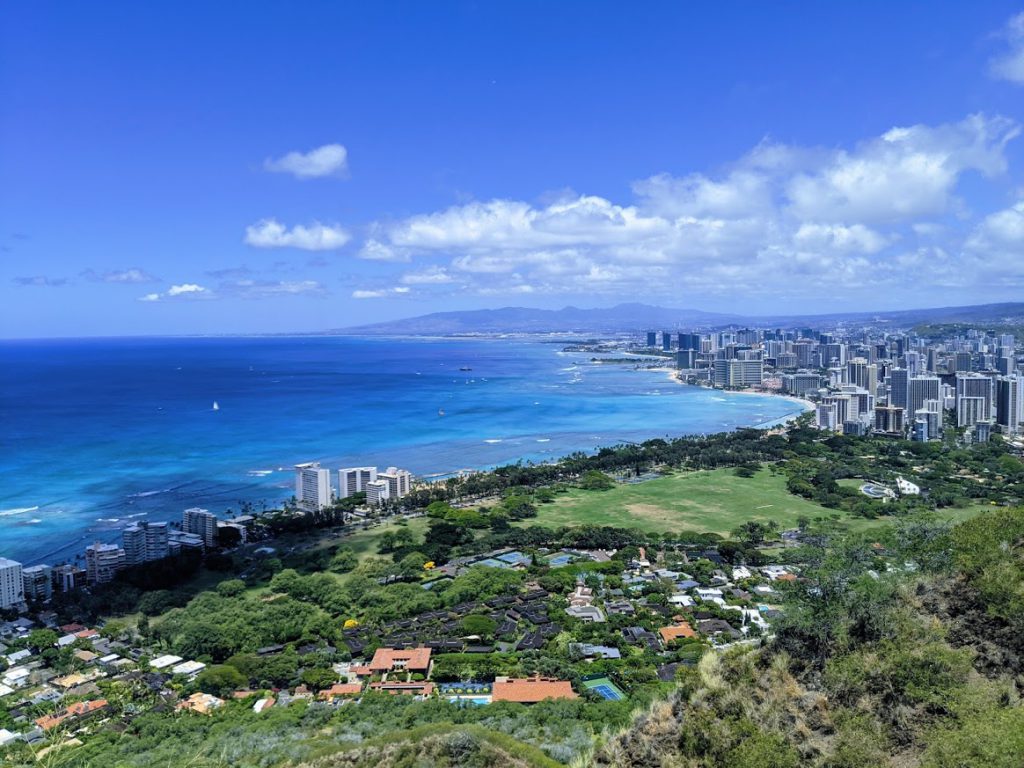 Although steep and somewhat strenuous, it's a fairly easy hike that was within the abilities of our four-year-old. Even our two-year-old made it almost all the way to the top on his own before we put him in a carrier.
Hiking with three young kids, we made it up and back in just under two hours.
Cost: $5 per person plus $10 per vehicle for non-residents (children under 3 are free), CREDIT CARD ONLY
Stats: .8 miles to the summit with a 560 ft elevation gain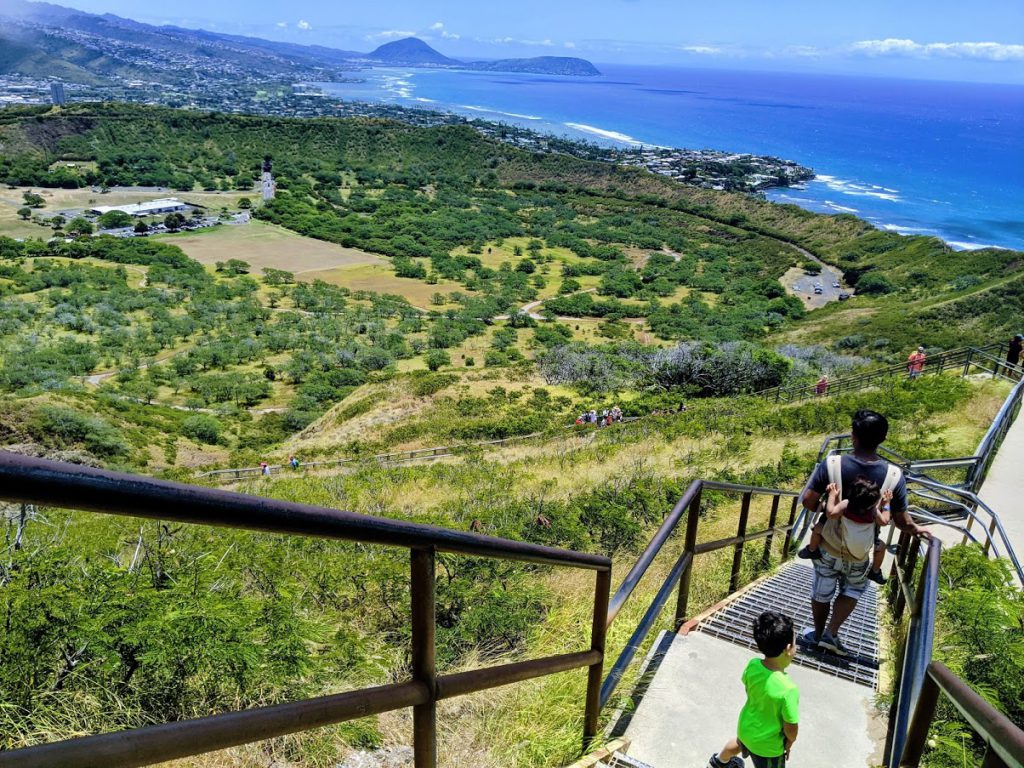 Tips for visiting Diamond Head
Go early– this is both to beat the heat and the crowds and so that you can find parking. The lot is quite small and fills quickly. Later in the day, the parking lot clears out, but by then it's usually quite hot
Bring water and sun protection- the hike has very little shade, so be sure to bring sunscreen, hats, sunglasses, etc.
Wear hiking shoes– although not a very long hike, the ground is uneven and quite steep. You will have a much better experience with the right shoes.
Bring snacks– Even after a big breakfast right before we left, our kids were ready for a snack once we neared the top, and so were we!
Mind the drops at the top– there are protective railings but the drops are significant, so make sure to keep a close eye on your little ones
Places to visit near Diamond Head
A short drive from Diamond Head is Waikiki Beach, famous for its soft white sand beaches and great surfing.
Makapu'u Point Lighthouse Trail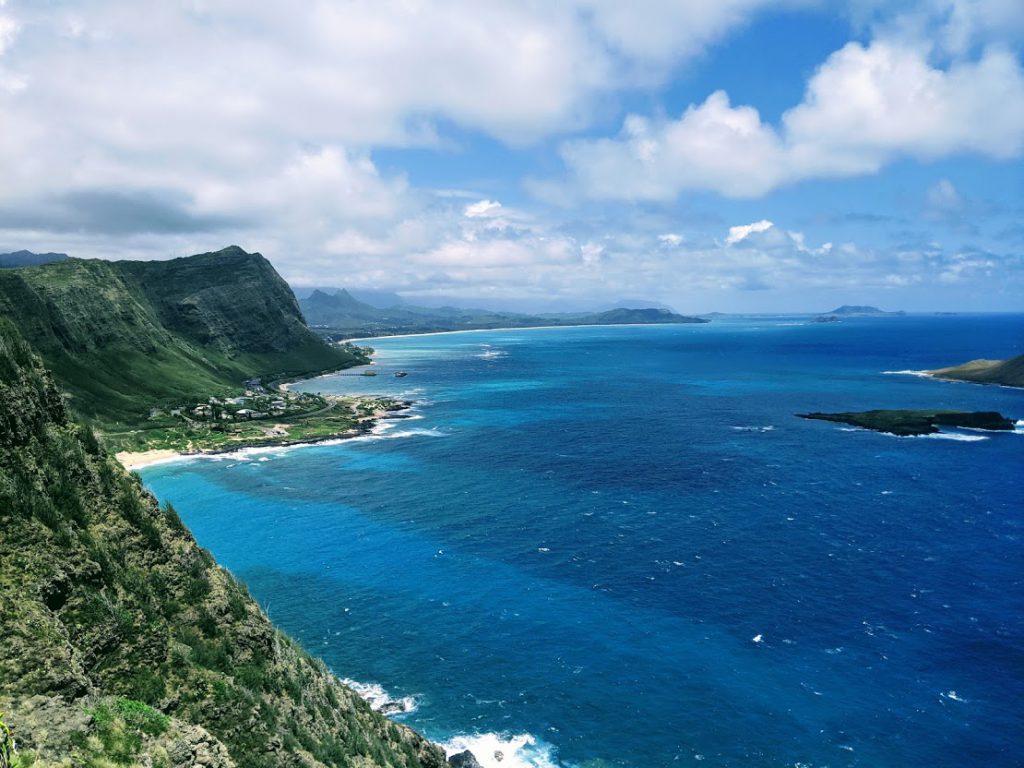 Makapu'u Point Lighthouse Trail is another great beginning level hike. Although this hike is an unrelenting uphill trek, it leads to a spectacular view of the coast.
You are treated to lovely views of the ocean for most of the hike which get better and better the higher you climb. At certain times of the year you can even see whales breaching at sea!
The path is wide and paved all the way to the top, making it easy to navigate. There are a few rest spots and lookouts on the way to the top.
We made it to the top in an hour, pushing a stroller and taking several breaks along the way.
Cost: Free
Stats: 2.5 miles roundtrip with a 505 ft elevation gain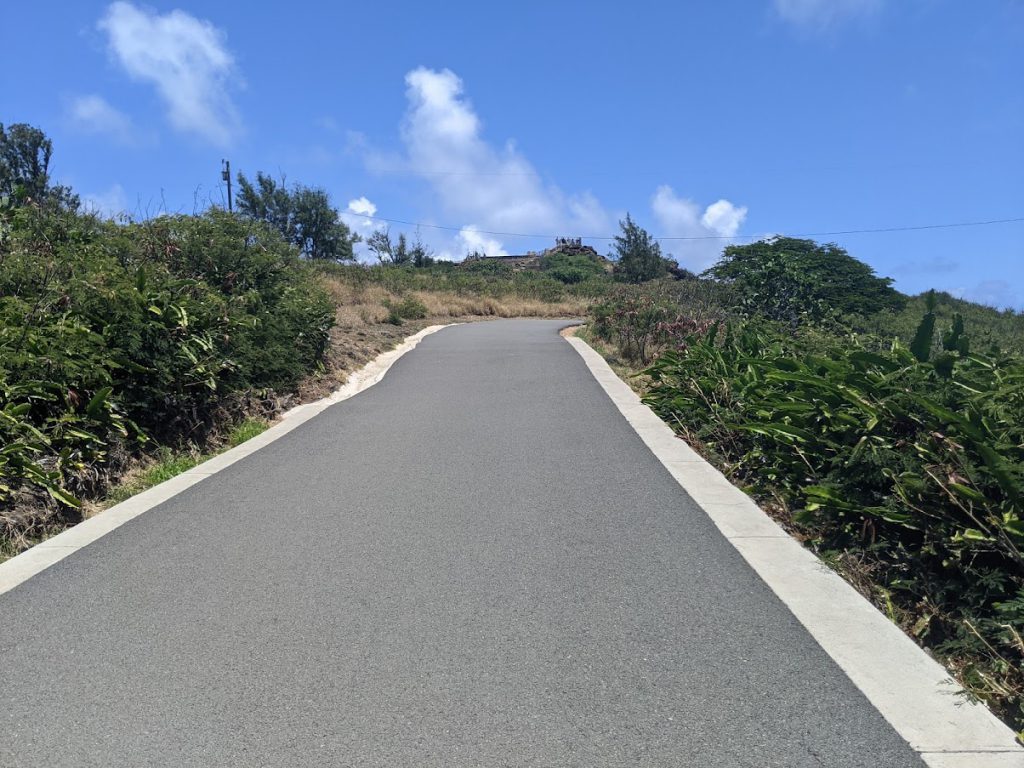 Tips for visiting Makapu'u Lighthouse
Wear shoes that are good for hiking– we saw a lot of people in flip-flops and I don't know how they managed it. The path is smooth but steep and you'll want the right shoes for the job.
Bring sun protection– this is an exposed hike with no shade, so be sure to bring sunscreen. It can get pretty breezy, so if you bring a hat try to choose one that straps on (we saw a couple of people lose their hats to the wind).
It is stroller accessible– because the whole hike is paved, it actually is possible to push a stroller right up to the top (but it's quite the workout!). We brought our stroller and saw a lot of others doing the same.
Mind the drop- There is not a guard rail until you get to the top, so keep little ones nearby (the path is wide and it's easy to stay away from the edge)
Other places to visit near Makapu'u Lighthouse
Located about 10 minutes from Makapu'u Lighthouse is Hanauma Bay State Park, one of the most popular tourist destinations on Oahu. The bay boasts a gorgeous beach and incredible snorkeling. A limited number of people are allowed entrance each day, so you must make reservations online in advance.
And along the road between Hanauma Bay and Makapu'u Lighthouse is Halona Blowhole Lookout. It's worth pulling off for a few minutes to see if you can see the water shooting from the lava tube. It's more dramatic the higher the surf is, but the jagged cliffs are stunning no matter what the blowhole is doing.
Waimea Falls Hike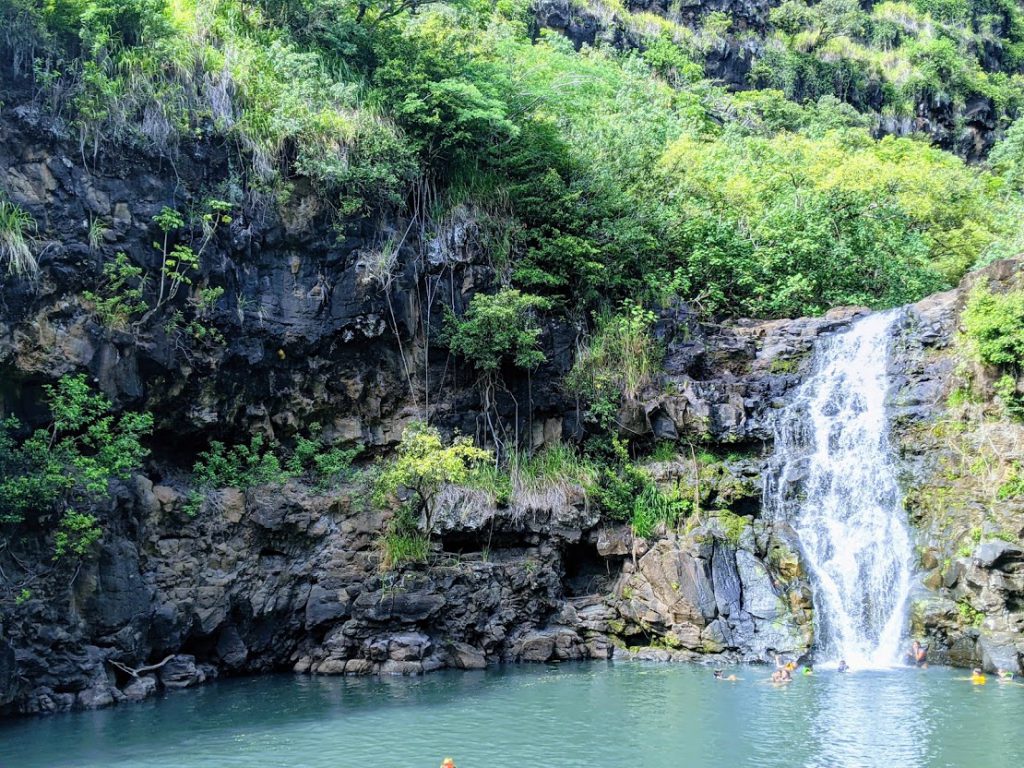 Waimea Falls Hike is a beautiful hike through a lush, forested valley. A paved path takes you all the way to the idyllic 45-foot waterfall where you can enjoy a refreshing swim in the pool beneath the waterfall.
This is a great hike to do with kids as it is easy and has lots of interesting birds and foliage to keep them interested. Our son loved trying to identify the birds we saw using the identification sheet provided at the entrance.
Along the way be sure to take some time to appreciate the exotic tropical plants. There are also some side trails for a scenic detour and plenty of nice spots for relaxing or enjoying a picnic, some with picnic tables.
Cost: $20 per adult, $12 for kids age 4-18, children under 4 are free
Hours: Tuesday through Sunday, 9 am to 4 pm (swimming stops at 3:30 pm)
Stats: 1.9 miles roundtrip with a 272 ft elevation gain
A note of caution: Freshwater in Hawaii always has a risk of containing the bacteria leptospirosis, so don't swim if you have any open cuts and try to avoid getting the water in your mouth and eyes.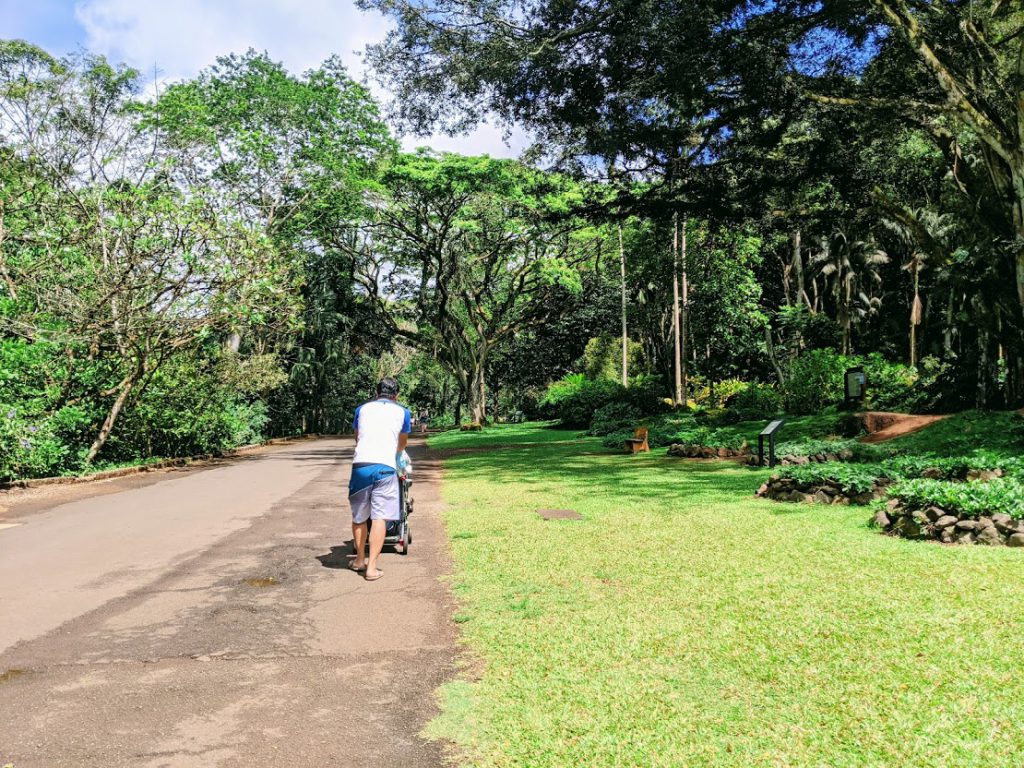 Tips for Hiking to Waimea Falls
It is stroller accessible-the main hike to the falls is on a paved path and is stroller accessible. However, there are some side trails that are not accessible for a stroller.
Lifejackets are required- if you plan on swimming, lifejackets are required for anyone in the water. Lifejackets are available for free at the waterfall.
There are bathrooms and changing rooms- if you need to change or use the restroom, you can find facilities both at the trailhead and at the waterfall
The weather can be temperamental– this is an area that gets a lot of rain, so be prepared for inclement weather. The day we were there it switched between bright and sunny and raining several times.
You can get a ride- For an extra $10 per person, you can get a ride on a golf cart all the way to the falls
Places to visit near Waimea Falls
Located nearby is Shark's Cove, a popular spot for snorkeling and swimming. And just a few minutes further down the road is Laniakea Beach, also known as Turtle Beach for the large sea turtles that frequent its sandy shores.
While you're on the North Shore, you can also stop in for a delicious cold treat at the famous Matsumoto Shave Ice, known for extra-fine shave ice that instantly melts in your mouth.
Hoʻomaluhia Botanical Garden Trails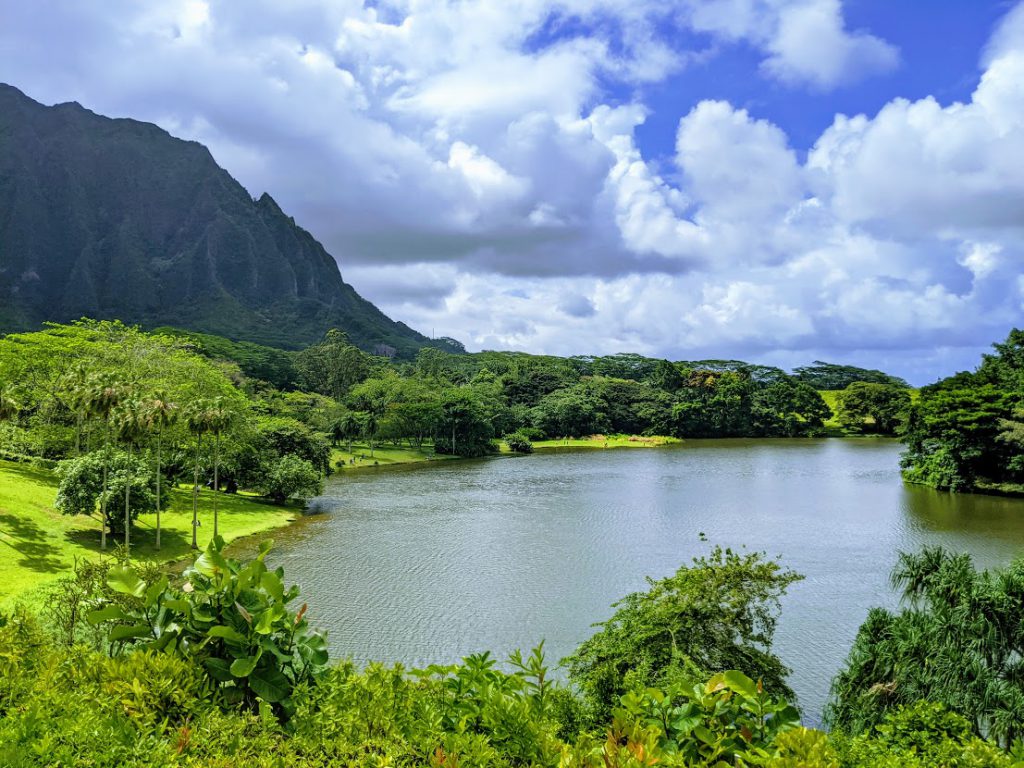 Hoʻomaluhia Botanical Garden is a stunning, 400-acre preserve located at the base of stunning mountains. The gardens are made up of a wide variety of plants from major tropical regions grouped together geographically.
One of the main features of the park is the scenic lake, which is a lovely place to relax or enjoy a picnic lunch.
When you first arrive, stop at the visitor's center to use the restrooms and get the lay of the land. It's also a perfect jumping-off point to visit the lake. The lake is about a 15-minute walk from the Visitor's Center.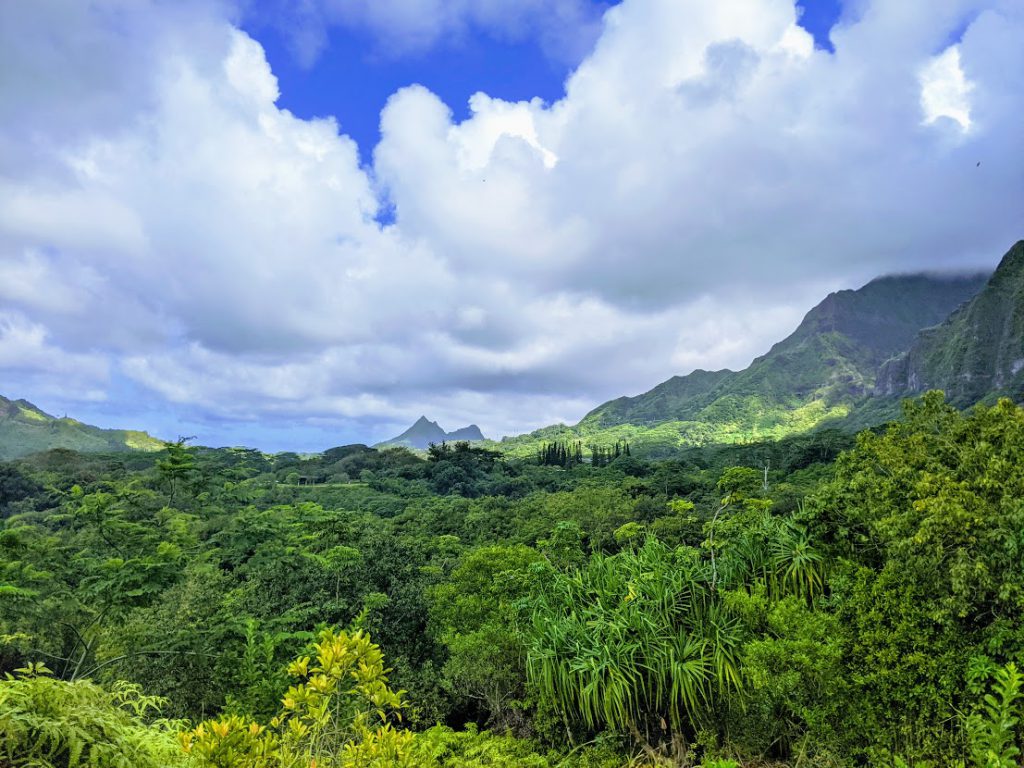 There are a variety of trails looping through the park and you can spend several hours traversing the paths and exploring the sights and flora. The paths connect back to parking lots along the main road, so you can choose to go as far as you would like before making your way back to your car. Or you can choose the shorter route of parking at the lot near the main sites you would like to see and walking from there.
There are lots of picnic tables, benches and shaded areas to relax.
Tips for visiting Hoʻomaluhia Botanical Garden
Bathrooms are available– you can find restrooms at the Visitor's Center and in several locations throughout the reserve.
The park is not stroller-friendly- Except for the area around the Visitor's Center, the majority of the park is not very stroller friendly. This is a great place to use a baby carrier to transport younger children.
Bring bug spray- There are areas where there are a lot of bugs, so you might want to use bug spray
Don't leave valuables in your car- we heard stories about cars getting broken into, so be sure to remove valuables or at least make sure they are out of sight
Cost: Free
Hours: 9 am to 4 pm
Places to visit near Hoʻomaluhia Botanical Garden
Located a 15-minute drive away is Byodo-In Temple, a Buddhist temple located within the Valley of the Temples Memorial Park. The stunning temple is located within a lush valley and surrounded by tranquil gardens and a koi pond.
Final Thoughts
Although there are many beautiful hikes to choose from, this list will get you to some of the best kid-friendly, easy hikes on Oahu.
While not as difficult as some other hikes, these options are beautiful, scenic hikes that are definitely worth a visit while on Oahu.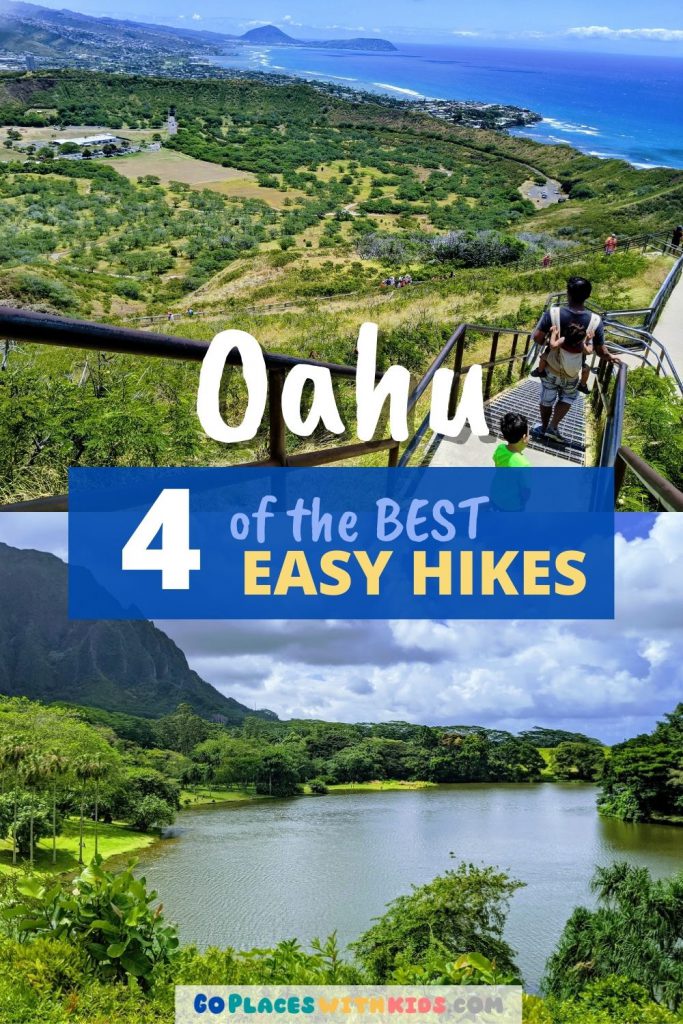 Other articles you might be interested in:
Beach Essentials for Toddlers and Babies
The BEST Toddler Carriers for Travel