This page may contain affiliate links, which means that we may earn from qualifying purchases at no additional cost to you.
When you're taking a road trip, bringing the right food can make a huge difference.
Not only is sustenance a necessity on a long trip, but it also breaks up the drive and gives everyone something to look forward to. Especially when you're traveling with kids!
There are a lot of factors to consider when picking food for a road trip. Which foods are best for eating on the road? How much should you pack? How should you store it? How can you stay organized and neat?
Not to worry, this guide has all the information you need to create a perfect road trip meal plan!
Road trip food
Everyone has different road trip strategies and traditions.
Some families prefer to bring food for breakfast and lunch and eat out for dinner, whereas others would rather bring all the food they will need for their entire trip.
Some families prefer to focus on healthy meal and snack options, while others see road trips as a perfect excuse to let loose and enjoy some "fun" food choices.
Whatever your preferences are, we've got you covered.
We've divided up our food ideas by meal, although there may be some overlap (a meal that's good for lunch can also be a great option for dinner, etc).
How to store your road trip food
For any road trip longer than a couple of hours, we highly recommend bringing a cooler with ice or ice packs. This allows you to bring food that needs to be kept refrigerated and greatly increases your meal and snack options.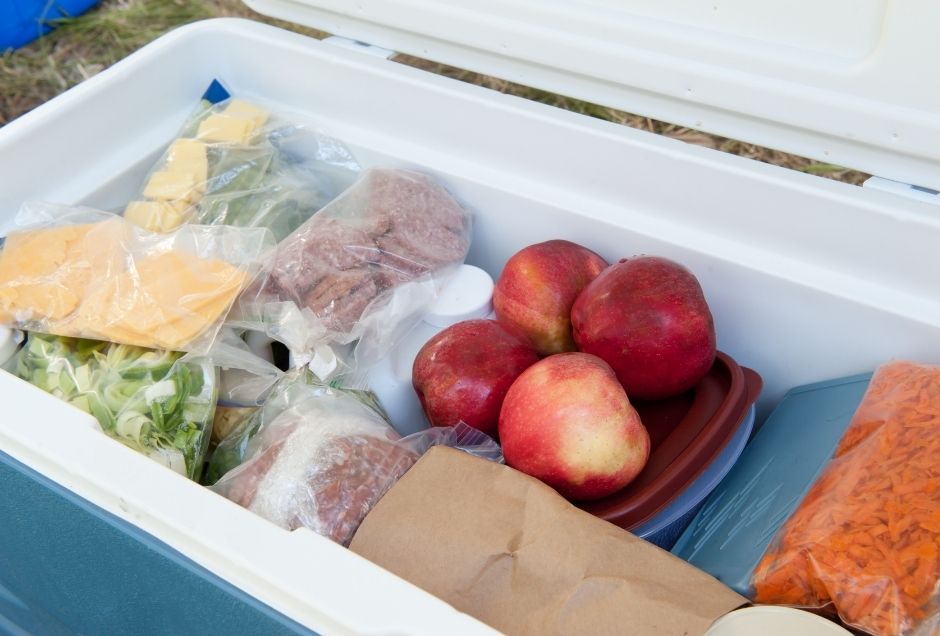 A few tips on coolers:
The ice in your cooler should last for several days, depending on the kind of cooler you have and how often you take the lid off.
If you find you need more ice, you can pick some up at a gas station or grocery store.
Avoid opening your cooler frequently to prevent the ice from melting quickly and to keep the food cool for longer.
Keep ice/ice packs on top of your food, not just at the bottom of the cooler. This will keep your food cool better and longer, as cold air sinks.
**Meat and dairy products should not be left at room temperature for longer than two hours. The warmer the room (or car), the shorter the time perishable food can be left out.
Road Trip Breakfast Ideas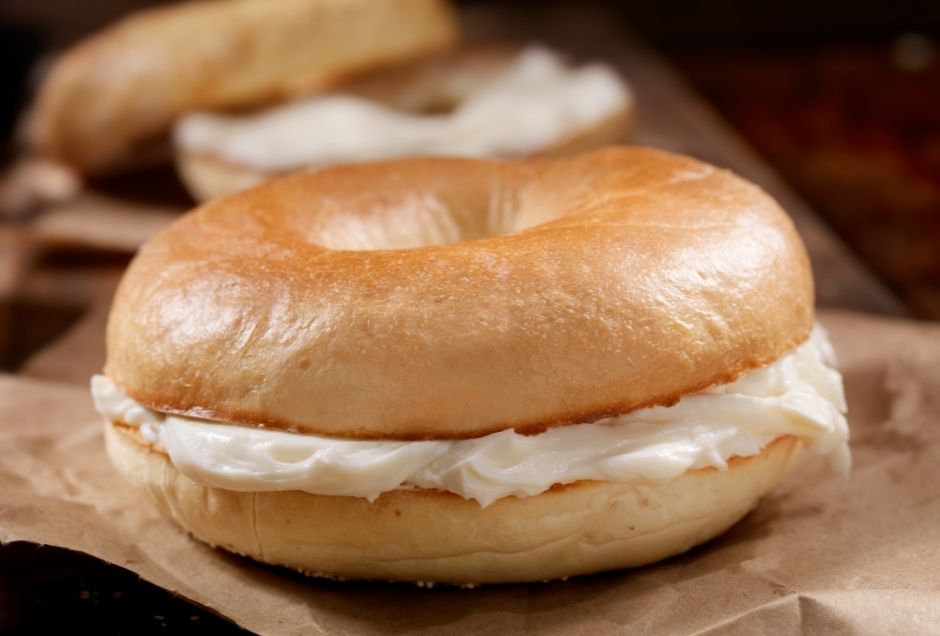 Breakfast is arguably one of the easiest road trip meals to plan for. There are a variety of breakfast foods that are simple to pack and convenient to eat on the go. Here are a few of our top choices.
Muffins
Banana bread
Banana with peanut butter
Fresh fruit
Donuts
Protein bars
Boiled eggs
Bagel and cream cheese
Yogurt parfait
Mini cereals
Road Trip Lunch Ideas
There are a lot of different options for lunch on a road trip. Some people might prefer light snacking throughout the day, whereas others might want a full lunch meal. If you prefer hearty snacks as opposed to a large meal, scroll down to the snack section for ideas of foods to supplement your lunch.
And even if you're packing a lunch instead of eating out, this still might be a convenient time to stop and get out of the car for a little bit. A park or rest stop is often a convenient place to stretch your legs and have a quick picnic lunch.
Sandwich tip– wait to add ingredients that have any moisture (tomatoes, condiments, avocado, etc) until right before you eat to prevent your bread from getting soggy.
Peanut butter and jelly sandwich
Sub sandwich with lunch meat and cheese
Cream cheese and raisin bread sandwiches- this has been a favorite of our family's for years. We would always have it for road trips growing up, but I've never seen anyone make it like we do, so I'm sharing the love by including the recipe here! Scroll to the bottom to learn the simple recipe. They are a huge hit with kids!
Hawaiian roll with cheese
Rotisserie chicken- presliced, great on a roll, bread, or just eaten plain
Crackers with cheese and summer sausage- precut cheese and sausage into slices before you leave
Tuna sandwich
Egg salad sandwich
Lunchables- kids love these and honestly, they can be fun for adults too
Salad- prepared from fresh ingredients before you leave (wait to add dressing until you're ready to eat) or from a salad kit
Road Trip Dinner Ideas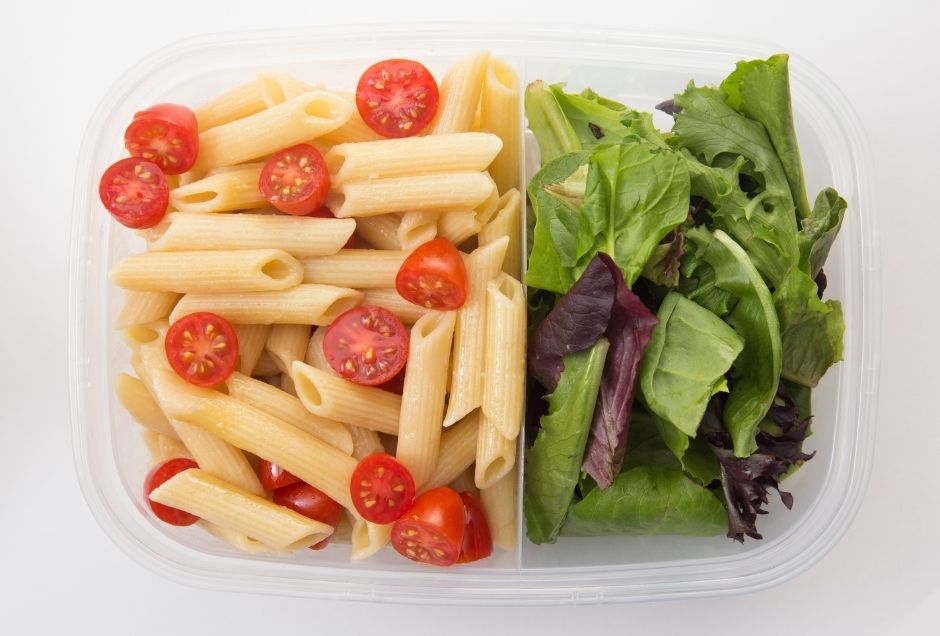 Dinner always seems like the hardest meal to plan for on the road. Many people are used to eating hot meals for dinner, but that's not really an option for a road trip unless you stop to heat something up at a gas station.
But there are some delicious meals you can prepare ahead of time for dinner, especially if you are bringing a cooler.
Dinner sandwiches

Chicken and cheese sandwich
Pita sandwiches
Chicken salad sandwiches
Turkey rollups– from Costco or homemade

Dinner salads

Premixed salad kit
Fruit salad
Chicken Caesar salad (Costco has a great premade kit)
Taco salad- store chopped ingredients separately, then combine and add dressing when you're ready to eat
Pasta salad
Potato salad
Road Trip Snack Ideas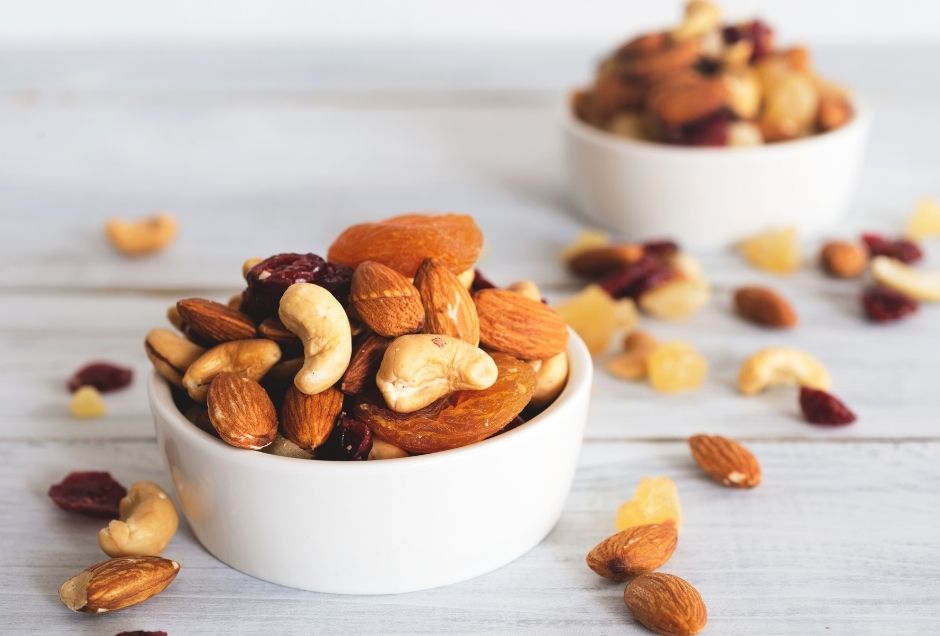 No road trip is complete without road trip snacks. Having something to snack on can prevent people from getting hungry and grumpy during the stretches between meals. It can also help to keep the driver awake if they start to feel drowsy while driving and keep kids entertained!
Granola bars- Lara bars, Cliff Bars, fig bars, Kind bars
Crackers- Goldfish, Pirates Booty, Wheat Thins, Cheez-Its, animal crackers
Pretzels- regular or peanut butter filled
Chex Mix
Pringles- a nice, non-greasy chip option
Yogurt- Gogurts are less mess and easy to eat in the car
Fresh fruit (apples, grapes, strawberries, mandarin oranges, blueberries, bananas)
Dried fruit (apricots, apples, bananas, mangoes, pineapple)
Celery and peanut butter- prepack the peanut butter in a condiment cup and dip the celery sticks
Veggies and hummus- carrots, broccoli, celery, cherry tomatoes
Trail mix
Fruit leather
Popcorn- Simply Pop brand or make a fresh batch before you leave and snack on it throughout your trip.
Beef jerky
Sunflower seeds- great for snacking on if you're starting to feel drowsy
Nuts- Mixed nuts, almonds, peanuts, cashews
Cheese- Babybel cheese, string cheese, cubed cheddar, mozzarella, and/or pepperjack
Rice cakes with peanut butter
If you're traveling with kids, plan a "movie night" during the drive and pull out the popcorn and treats while you watch a fun show the whole family can enjoy. It's a fun way to break up the drive!
Road Trip Desserts and Treats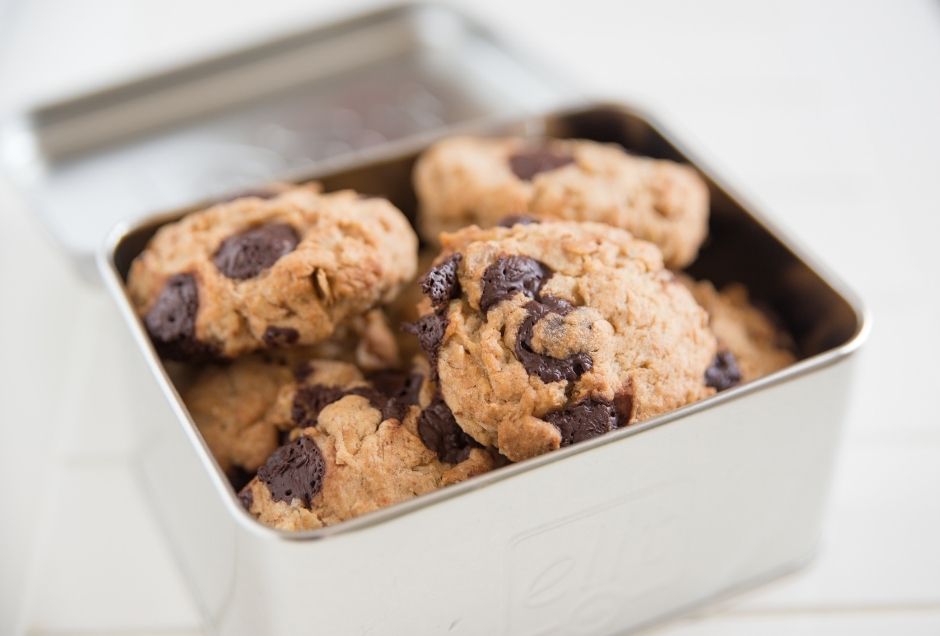 Sometimes it's nice to have some food that feels a little special when you're on a long driving trip. Pack a couple of these dessert foods for a fun treat to pull out during your drive.
Rice Krispie treats
Cookies (chocolate chip, peanut butter, snickerdoodles)- made in advance or store bought
Brownies- make and individually wrap before your trip
Candy- if you want something non-meltable choose a candy like Sourpatch Kids, Redvines, Starbursts
Fruit snacks
Don't forget to Bring…
In addition to meals and snacks, there are some other non-food essentials that you don't want to forget on a road trip. Skim through this list to make sure you aren't missing anything important.
Paper towels– a necessity for inevitable spills and messes
Wet wipes– for wiping hands and faces after eating
Reusable water bottles– it's important to stay hydrated on a road trip. Bring reusable water bottles and refill as necessary when you stop for gas.
Sandwich bags– useful for for divvying up food, storing leftovers, etc
Garbage bags– bring a couple of garbage bags for storing trash so you can keep you car clean and organized
Grocery bags- useful for organizing food, trash, etc
Hand sanitizer– prevent germs by cleaning everyone's hands before eating. Also very useful if the place you stop to go to the bathroom doesn't have soap…
Plates and bowls– may be a necessity, depending on your meals
Plastic utensils– forks, spoons, knife
Collapsible car organizer– hugely helpful for storing non-refrigerated food and staying organized, especially in a van
Condiment cups– These are amazing for dividing up condiments and dips in small portions
Salt/pepper packets, condiment packets– useful for adding flavor to your foods (depending on your meals). You can pack your own or buy small packets before your trip.
Snack catcher– If you're traveling with a toddler or young child, bring a snack catcher to use for crackers and other small foods. They are much less likely to spill their snack all over the car and create a mess. And it acts as an activity to keep them entertained trying to get their food out of the container!
Road Trip Food Tips
Keep a hand held vacuum in your car– you can easily vacuum up any spills and inevitable food crumbs, keeping your car feeling much cleaner.
Make food in advance and freeze it– there is so much to do to get ready for a road trip. Where possible, make food several weeks in advance and freeze it until you're ready to leave on your trip. This works great for muffins, breads, cookies, and some sandwiches and meat dishes.
Throw out your trash when you stop for gas. Regularly clearing out the garbage will prevent buildup of trash in your car and the stinky smell of rotting food.
Have a pre-filled road trip bag- If you're going on road trips frequently, have a bag ready with the nonperishable items you need for your road trip. Keep inside a list to restock the bag after a trip. It's much easier to just grab your bag when you're getting ready for a trip than having to repack it every time.
Try to avoid foods that are excessively greasy, sticky, or crumbly– messy foods can be a pain on a road trip. Minimize mess, minimize stress.
Bring a couple of water bottles and refill as necessary when you stop for gas. We try to stick to mostly water as our beverage of choice for road trips to avoid sticky spills.
Stock up on food and meals at a wholesale store before your trip. Costco has great pre-made meal options that you can buy right before your trip. We love the Costco sandwich rolls, Caesar salad, muffins, potato salad, and fruit bowls for road trips. And of course, you can't go wrong with their bulk snacks like trail mix, dried fruit, fruit leathers, popcorn, crackers, etc.
Benefits of packing your own food for a road trip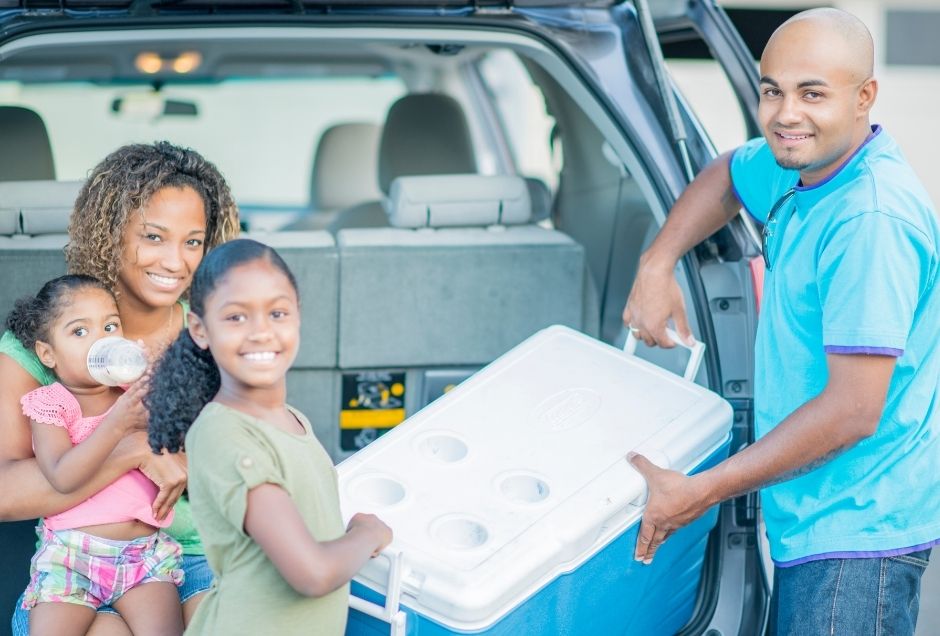 Although it's a little more work and preparation than stopping for food, there are a lot of benefits to bringing your own road trip food. Here are some reasons to skip the fast food and pack your meals.
It's more cost-effective
Eating out for every meal, even if it's at a fast-food restaurant, can get expensive. This is especially true if you're traveling with your whole family.
Save money by bringing your own food! If you plan ahead, you can buy most of your road trip foods at a wholesale store, then divide it up into the portions that you want.
It saves time
Stopping to order and pick up food takes time. Sometimes it can be nice to break up your trip with a food stop. But if you're trying to make good time, stopping for every meal adds extra hours to your road trip.
If you've packed all or most of the food you will need, you have snacks and meals to pull out when people get hungry without having to pull over!
It's often healthier
Eating out for every meal is often quite unhealthy. When you pack your own food, you have more options and control over what kinds of foods you are eating and how many sweets and treats you want to include.
Easier to Accommodate Preferences and Dietary Restrictions
If you're traveling with dietary restrictions, it can be risky leaving food to whatever you happen to find along the way. Packing your own meals ensures you have plenty of safe food to eat.
And if you're traveling as a family, you can easily cater to everyone's preferences by packing food you know everyone will enjoy. That way you don't have to spend a lot of time picking a place that everyone can agree on.
Cream Cheese and Raisin Bread Sandwich Recipe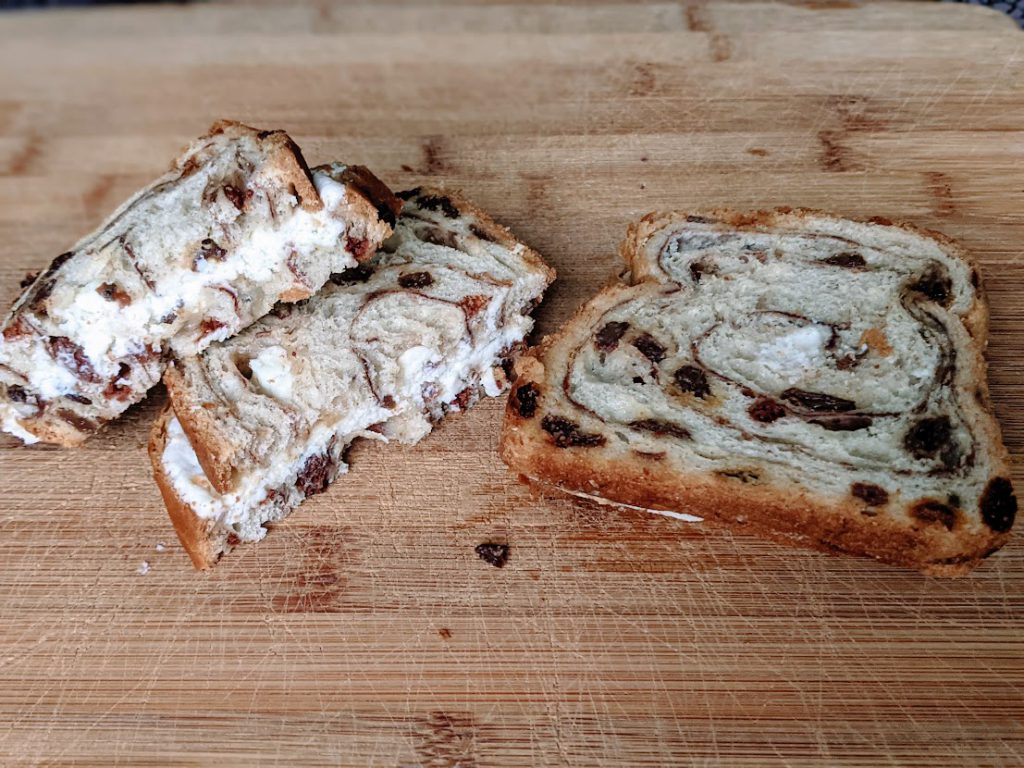 As promised, here is our family recipe of cream cheese and raisin bread sandwiches. They are sure to be a road trip hit for people of all ages!
Ingredients
8 oz cream cheese
¾ C powdered sugar
1 loaf cinnamon raisin bread
Instructions
Soften cream cheese to room temperature.
Using a mixer, combine cream cheese with powdered sugar.
Lay out half of the raisin bread and spread the cream cheese mixture evenly between all pieces.
Top the cream cheese with another piece of raisin bread to complete your sandwiches.
**You can freeze the whole premade loaf and pull it out when you want to use it, just let it come to room temperature before eating. This is perfect for road trips because you can pull it out in the morning and it's ready to eat by lunch!
Final Thoughts
Selecting and preparing road trip food can be stressful, but it doesn't have to be! With this list of food and road trip tips, you have everything you need to prepare for a great trip.
If you're planning on flying with kids, check out these awesome toddler airplane snacks!
Other posts you might be interested in:
How to Have a Successful Road Trip with a Toddler
Road Trip Activities for Toddlers (That They Will Really Love!)
7 Essential Tips for Road Tripping with a Baby