This page may contain affiliate links, which means that we may earn from qualifying purchases at no additional cost to you.
It's hard to pick a favorite city in Italy, but if I had to choose…it would probably be Florence. And visiting Florence with a baby, although challenging at times, made for a very memorable trip!
Florence was the first city we visited on our trip to Italy with our 11-month-old. We found it to be a great introduction to Italy and it set a very high bar.
This beautiful city was everything I had imagined Italy would be. Stunning architecture, fascinating history, gorgeous churches, and engaging museums… And despite being one of the top tourist destinations in Italy, this charming city somehow maintains a small-town feel.
We had a blast exploring the city with our little guy. If you are planning a trip with your baby, here are some tips to make it easier and some attractions you shouldn't miss!
For general tips on visiting Italy with a baby, see this post.
Is Florence Baby Friendly?
Florence is a great place to visit with a baby. It's safe (but keep an eye out for pickpockets), easy to get around, and the locals love babies. It's a perfect place to explore at your own speed, taking into account the needs of your baby.
How to get around in Florence with a baby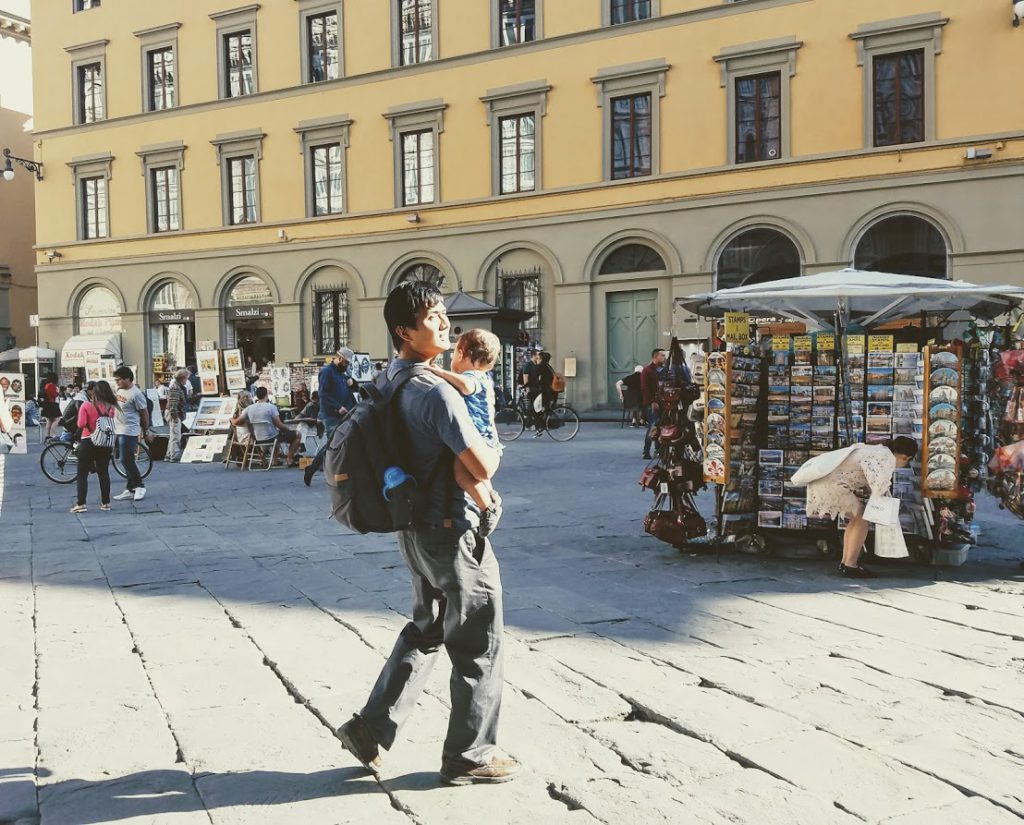 The best way to get around in Florence is by walking. It's a small city and most of the sights you will want to see are fairly close together. Plus, traversing the city on foot is the best way to take in the ambiance.
However, you can also use public transportation. The public transit is managed by a company called ATAF. Tickets are valid for both the city buses and trams and can be purchased at newspaper and convenience stands around the city.
Tips for visiting Florence with a Baby
Bring a great baby carrier or stroller
You will definitely want a way to transport your baby as you're seeing the sights in Florence. Our method of choice for our Italy trip was our Ergobaby carrier.
In fact, we didn't even bring a stroller for this trip. We found using a carrier exclusively to be convenient and space-saving. For tips on babywearing see this post.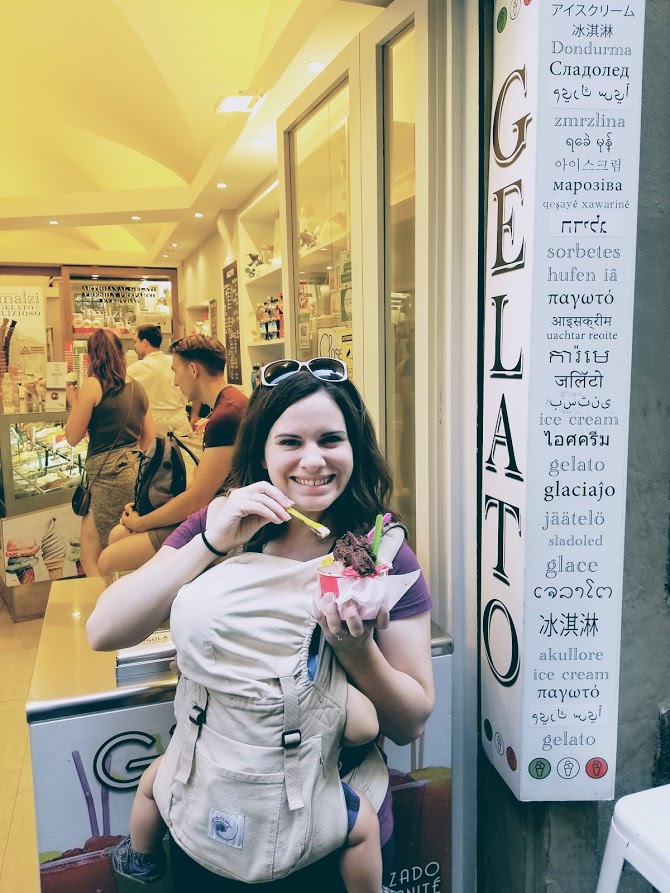 You can also choose to bring a stroller, just be aware of the limitations of a stroller in Florence. The cobblestone streets and crowds can make it tricky to navigate. And there are some places you can't bring a stroller, like climbing the Duomo and Giotto's Bell Tower.
Prepare to explore museums and churches
The museums and churches in Florence are phenomenal but can take a little extra effort when navigating them with a baby. See our tips and tricks here.
Use audio guides
Audioguides are a great way to have your own personal tour when traveling with a baby. You can go at your own pace, take breaks when needed, or just skip sections entirely.
The Rick Steves audio guides are a useful tool for visiting many of the historic sites. We downloaded the free app and enjoyed the informative walking tours, especially of the Uffizi and Galleria dell'Accademia.
Get a local SIM
You might want to consider getting a local SIM when you first arrive in Italy. Typically, it's cheaper and you get better coverage.
However, if you have T-Mobile, they have great plans for international travel. They have free limited speed data access, so you don't have to worry about having a big phone bill when you get home.
If you don't have T-Mobile (or Google Fi), be sure you know what your data roaming options are. We found the local SIM to be the best option for us in price, speed, and coverage (we went with TIM, a domestic telco provider). To buy a SIM, make sure your phone is not carrier-locked.
Also, make sure you have a global-ready phone (meaning that the phone supports the frequencies of your destination).
Being connected online is extremely helpful for looking up information about sites, times, tickets, bookings, etc.
Things to do in Florence with a baby
Take in the ambiance of the Piazza del Duomo
Located at the heart of Florence, the Piazza del Duomo contains some of the top tourist attractions in the city, including the Duomo, Giotto's Bell Tower, and the Baptistery of St. John.
The square is also lined with eateries and souvenir shops. It's a great jumping-off point to start your visit to Florence.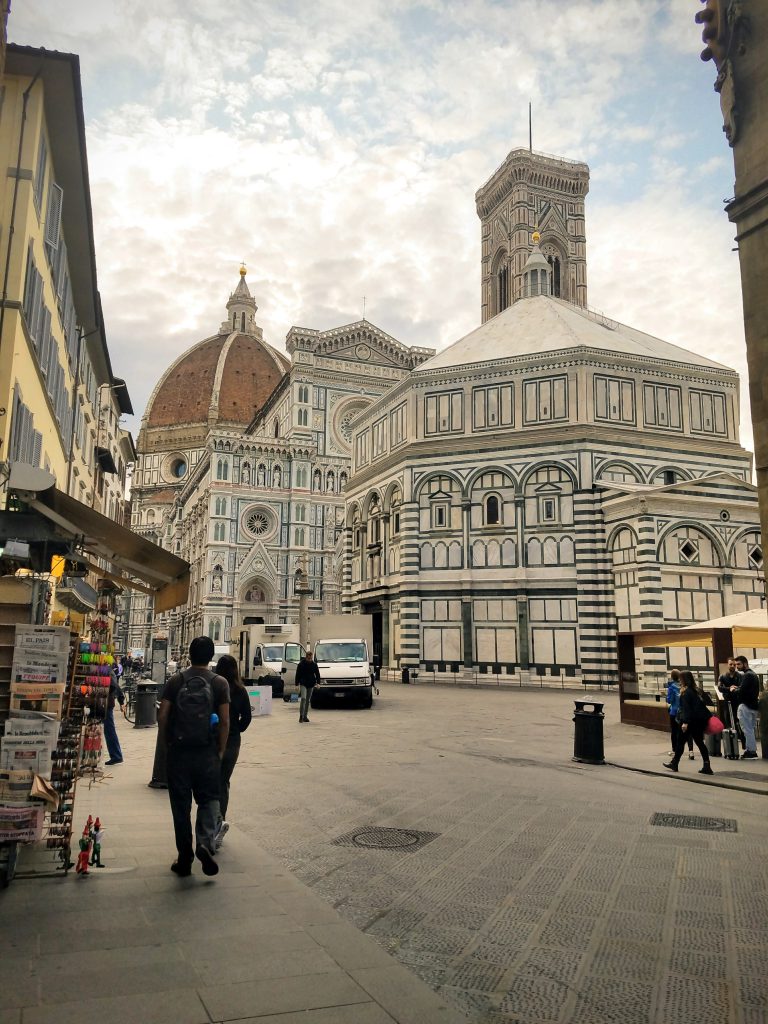 Visit the Duomo
Officially called the Cattedrale di Santa Maria del Fiore, the Duomo is a sight you have to see to believe. Designed by Filippo Brunelleschi, it's iconic dome is one of the masterpieces of the Renaissance.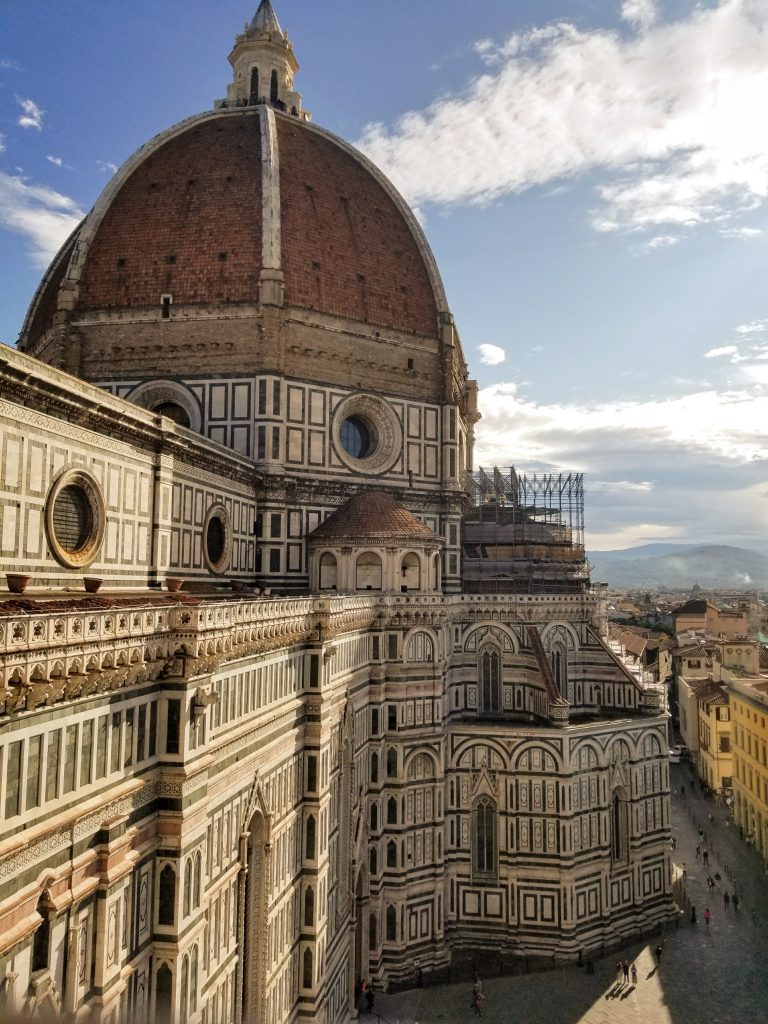 If you're up for a climb, you can also make the trek to the top of cupola for spectacular views of the city. The route to the top circles up through the inside of the dome, so you get a bird's-eye view of the inside of the cathedral and an up-close look at Giorgio Vasari's fresco of the Last Judgement.
At parts it is quite close quarters, so consider yourself warned if you are claustrophobic at all.
Climb to the top of Giotto's Bell Tower
Giotto's Campanile is probably the most famous bell tower in Italy. It is covered in the same striking pink, green, and white marble as the Duomo. Although it's quite a climb to reach the top, it provides great views of the city and the Duomo next door.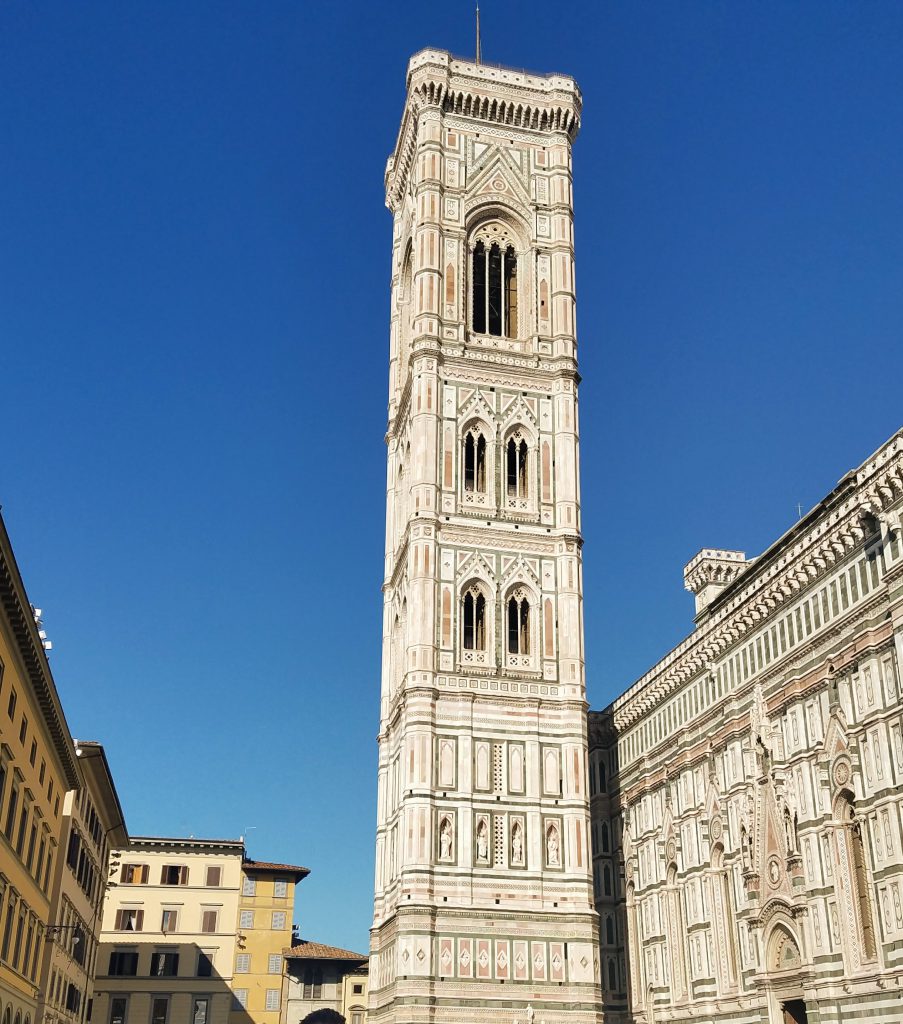 Stroll across Ponte Vecchio
Ponte Vecchio, or "Old Bridge", is a bridge spanning the Arno River in Florence. Initially built in Roman times, it is known for the shops built along the length of the bridge, as was traditionally common. It can get extremely crowded but is still worth a visit.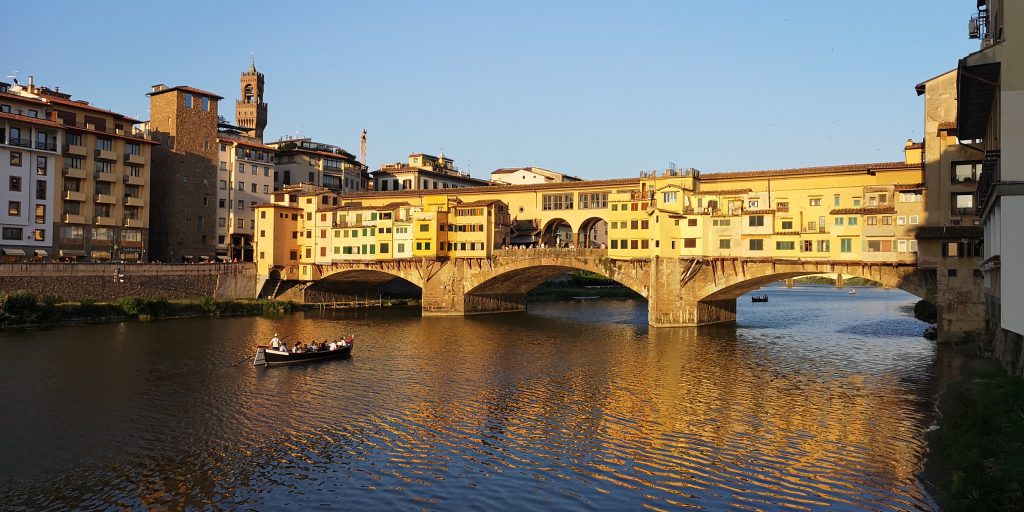 Take in the masterpieces of the Uffizi Gallery
The Uffizi Gallery is considered one of the top art museums in the world and holds some of the most acclaimed works of the Renaissance. With art from the likes of Michelangelo, Leonardo da Vinci, Raphael, and Sandro Botticelli, this museum is a must-see for any art aficionado.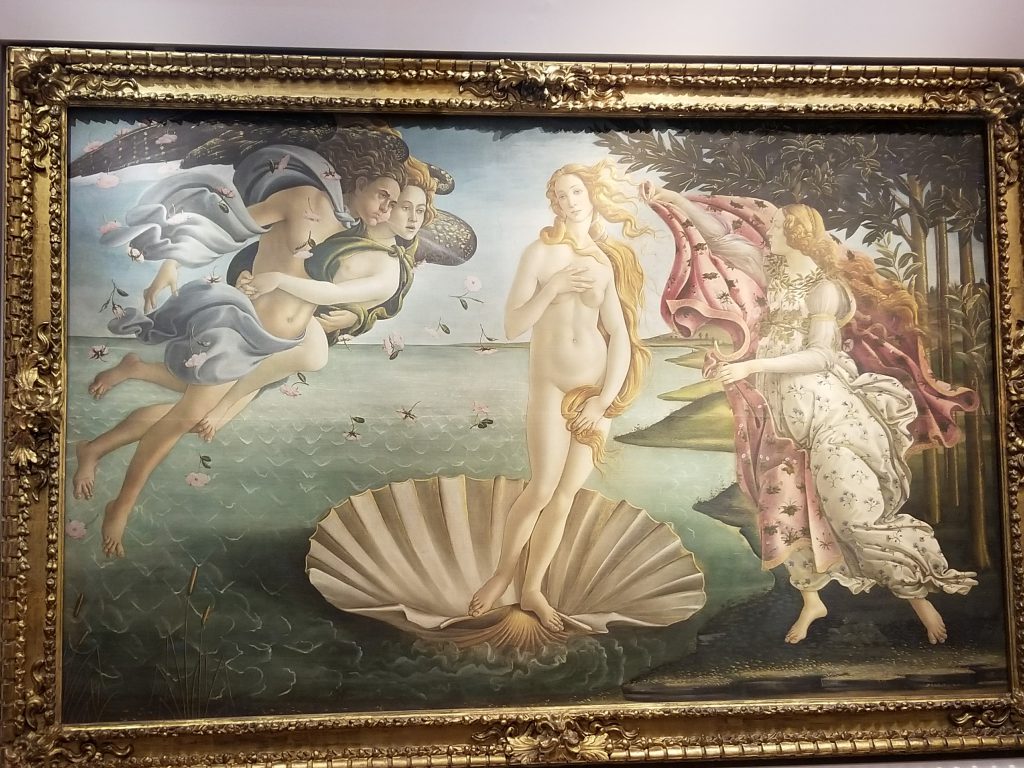 There are so many masterpieces to see that you should try to dedicate several hours or even an afternoon to really do the museum justice.
We used the Rick Steves audio tour to help us get a better understanding of the background and significance of the art we were seeing.
Drop in on David at the Galleria dell'Accademia
The Galleria dell'Accademia is most famous for being home to Michelangelo's David. The sculpture is spectacular and well worth a visit.
While there you can also take in some of Michelangelo's other works as well as the large collection of paintings. It's a much smaller museum than the Uffizi and a little quicker to get through.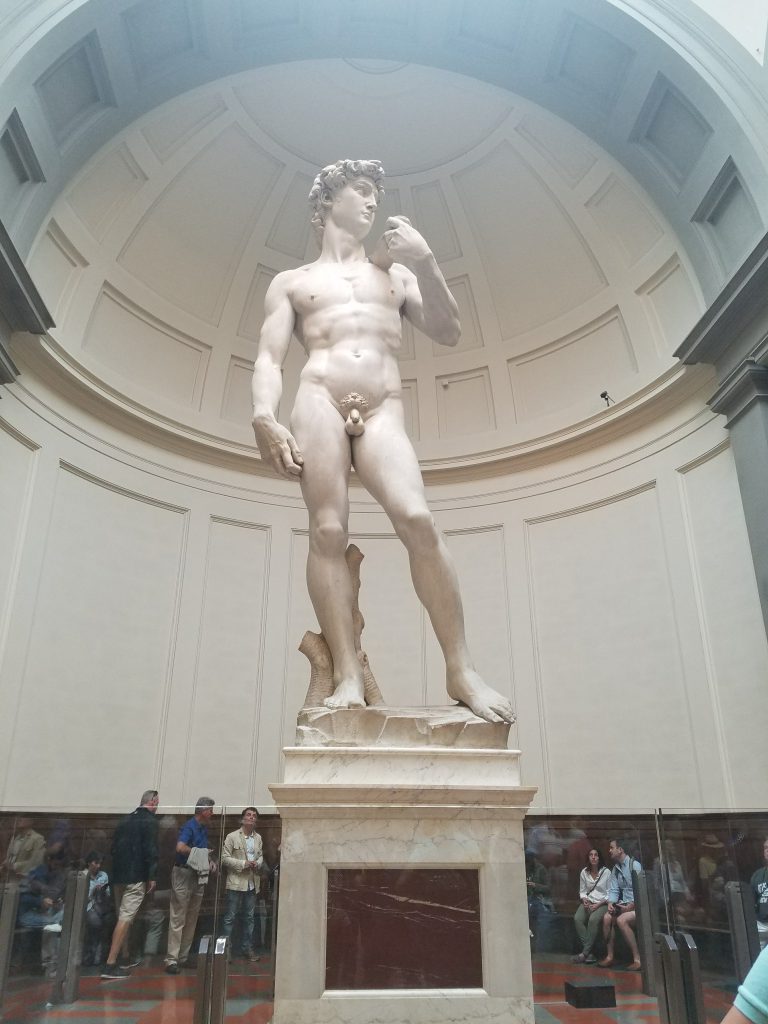 Enjoy delicious local food
Like most of the cities we visited in Italy, the food in Florence is delicious. It's worth your time to make a stop at the famous All'antico Vinaio for an iconic Florentine sandwich.
These sandwiches are massive and taste heavenly. However, the lines are also massive, so make sure you get there early or are prepared to wait in line for a while.
There are actually two All'antico Vinaio restaurants on the same street, so just pick the shorter line to get the same food.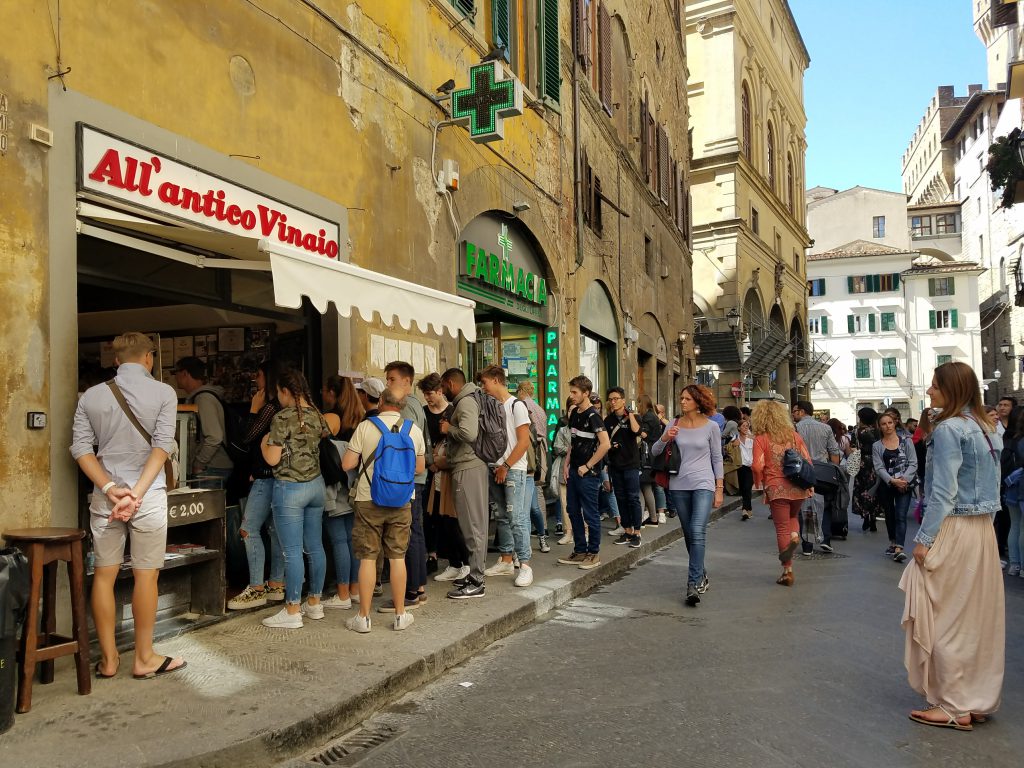 And if you want a great local dish, you can't go wrong with the Bistecca alla Fiorentina, a Florentine classic. This huge steak was a nice break from all of the pasta that we were eating…and it was delicious!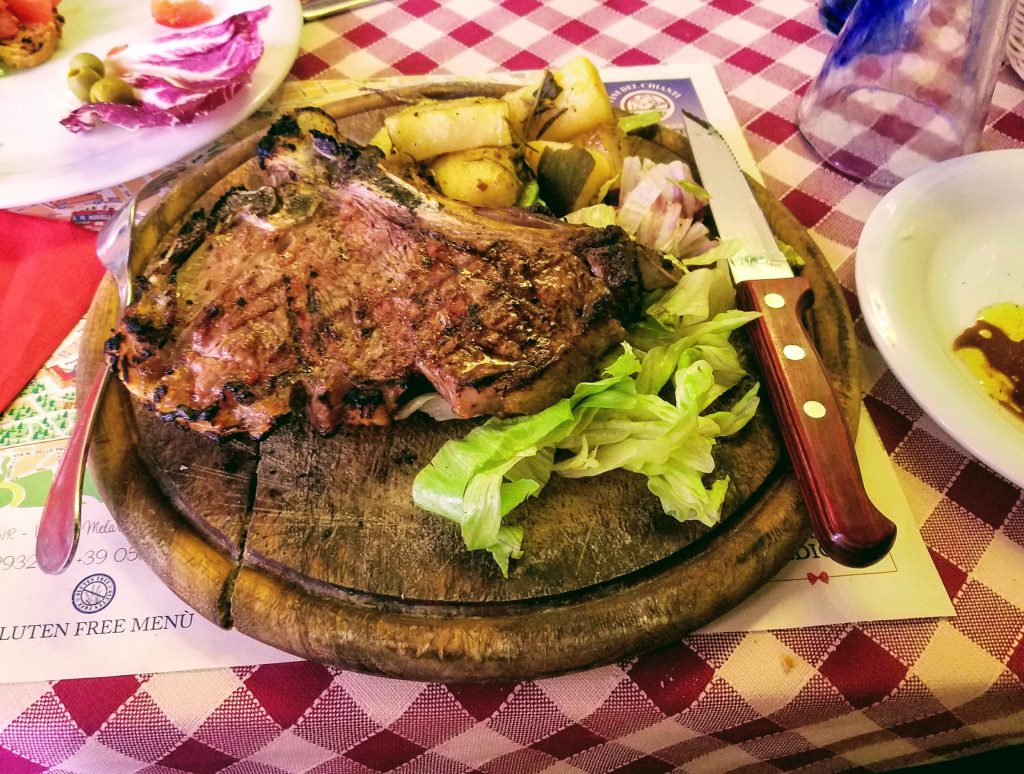 Final Thoughts
Really, Florence is the city of any tourist's dreams. It is such a fun place to visit because it has such a unique and totally Italian vibe. We loved our time there and hopefully can go back to visit again in the future!