This page may contain affiliate links, which means that we may earn from qualifying purchases at no additional cost to you.
Two weeks in Italy. One typical almost-one-year-old. Two naively optimistic parents. A new city every couple of days. No stroller. No place for daytime naps. And a jam-packed schedule full of museums and historical site visits from dawn until dusk. Sounds like recipe for disaster. Or the script to a bad comedy film. Surprisingly it was neither!
I still look back on that trip and wonder first of all what we were thinking when we planned it (I think it was a lot of my husband saying, "this will be awesome, we can totally do this!" and me saying, "okay?…") and second of all how we survived it.
And not only did we survive, it actually ended up being one of my favorite trips! One of the key ingredients to our success on this whirlwind trip: babywearing.
'What is babywearing?' you ask. It's a convenient way of transporting your baby by carrying them on your person. Get yourself a baby carrier (the right carrier!- but more on that later), strap your baby in, and boom! You're on your way to hands-free, hassle-free traveling. Or as hassle-free as travel can be with a baby in tow…
If I haven't sold you on the wonders of babywearing yet, let me do a little pro-pro analysis (there are very few cons here).
Benefits of using a baby carrier while traveling:
1. Your hands are free
It is super helpful to have your hands available to deal with anything that might come up while traveling, especially if you have more than one child with you. When you're on the go, oftentimes there isn't anywhere to set the baby if you need to take care of something else.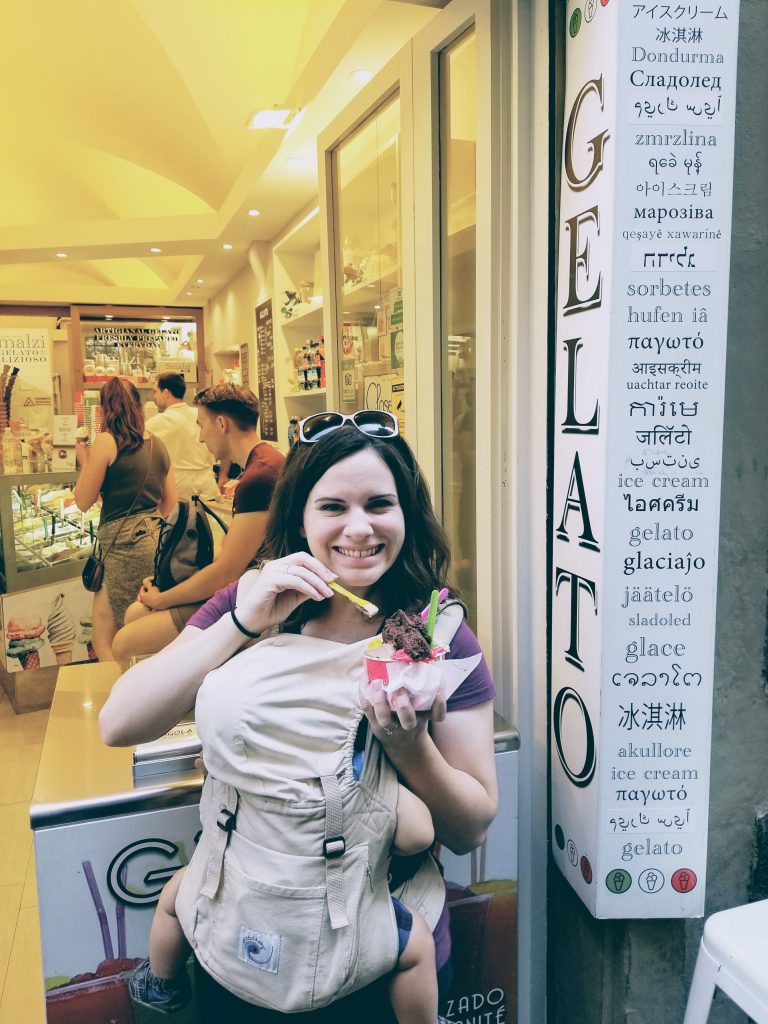 2. One less thing to keep track of
There is so much involved with traveling, especially with kids! Having your baby conveniently strapped to you frees up a lot of mental space for all the other things you have to think about.
This is especially helpful when going through the airport or transferring between locations. Between the suitcases, passports, money for taxis, children, snacks…there's a lot to juggle! Wearing your baby means one less thing to worry about.
3. Convenient naps
Unless you want to spend the whole afternoon in the hotel while the baby naps, you need a way for baby to nap while you're out and about. A baby carrier can be a great way for your baby to get a little shut-eye while you continue on with your trip adventures!
My kids have slept super well in a baby carrier, which makes it really convenient when we don't have the time (or location) to put our baby down for a nap.
I've also used it several times when one of my babies is adjusting to jet lag and having trouble sleeping at night. After putting them in the carrier and bouncing them around for a while they will usually fall right asleep and I can put them down in the crib.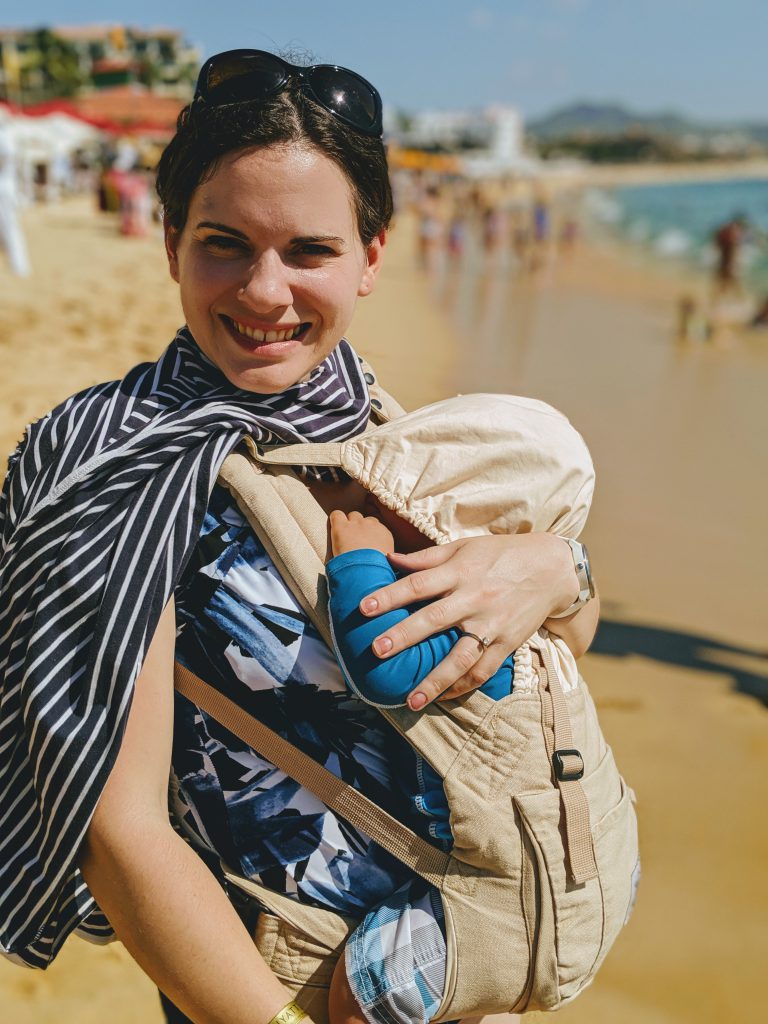 4. An easy way to nurse on the go
I love using a baby carrier for nursing when traveling!
It allows you to keep your baby fed and happy while you continue on with your trip activities. That way everything doesn't have to come grinding to a halt every time the baby needs to eat.
And nursing in a baby carrier is much easier than people often think! It's a strategy that I often use even when we aren't traveling. I have a whole post that breaks it down really simply, check it out here.
5. Helpful for airport security checks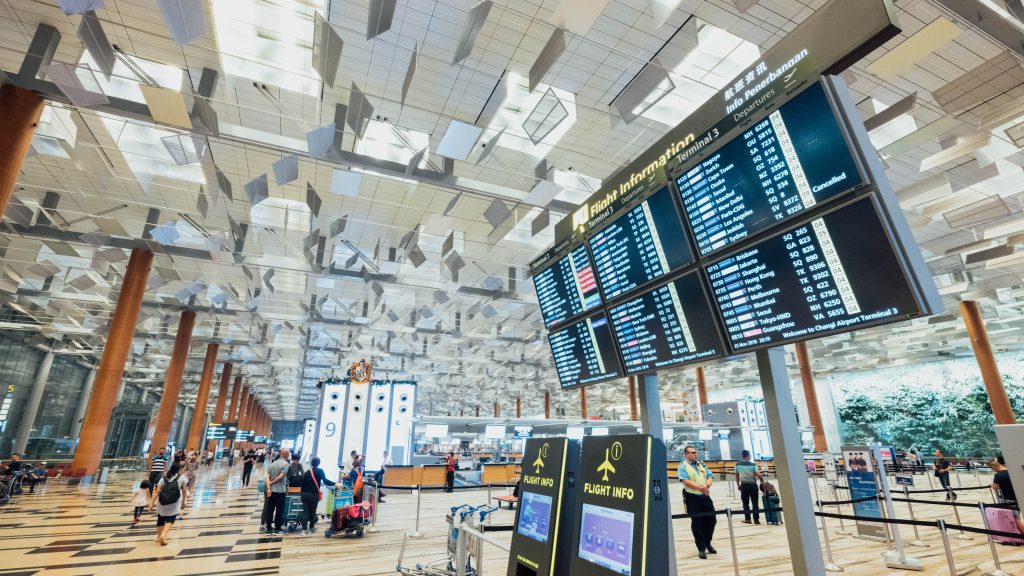 Usually if you have your baby in a carrier they will not make you take them out to go through security. This is a handy trick that we learned early on that has saved us a lot of headaches. And anything that makes airport security less stressful is a win in my books!
Car seats and strollers always have to go through the X-ray machine (at least in the US, sometime they will make an exception abroad). But if you have the baby in the carrier usually they will just use a metal detector wand.
That means that you can have your hands free to frantically try to get everything else through security without holding up the line. And if your baby is napping, you don't have to wake them up! Hallelujah!
6. Great if you can't/don't want to bring a stroller
There are certain places where it just doesn't make sense to bring a stroller. If you're in very rural areas, or jumping on and off of buses or boats, or navigating treacherous terrain, a stroller might not be your best bet. Enter the baby carrier!
With a carrier, you can explore ancient ruins and climb tall towers and easily manage public transportation. Depending on the kind of trip you're taking, it can really make life a lot easier.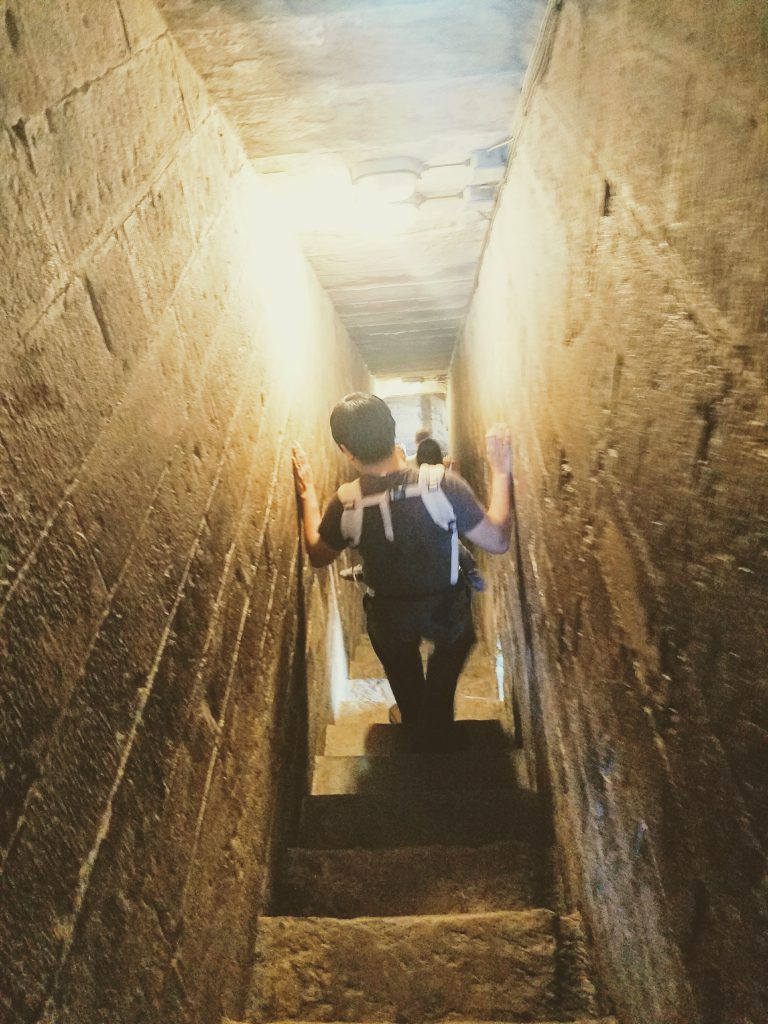 Often for trips we will bring both a stroller and a baby carrier. Then we can decide which option works best any given day. But there are a lot of instances where we will choose to ditch the stroller in favor of the baby carrier.
Okay, maybe I will mention a couple of drawbacks:
1. It can be tiring
I mean, you're carrying another little person, so yeah. But just think about all the extra calories you're burning!
Although it can be tiring, it doesn't have to be painful. But if you get the wrong carrier, it WILL be (I've been there and it is pure torture).
This is why it's important to invest in a comfortable, high-quality baby carrier. It also helps if you can share the load. My husband and I trade off wearing the carrier.
2. Can be challenging if you're getting in and out of cars a lot
If you're using public transportation, the carrier is awesome. Your baby can nap, nurse, hang out, etc. as you go from place to place.
However, a carrier can be a pain if you're strapping your baby in and out of a car seat a lot. Often they will have just fallen asleep and you have to pull them out and wake them up to switch them to either the car seat or carrier.
In that case, what is really helpful is a lightweight stroller frame for the car seat. If the baby falls asleep in the car seat you can pull out the whole car seat and click it right into the stroller and vice versa. Very convenient as long as you're going someplace stroller friendly.
Tips for picking the right carrier: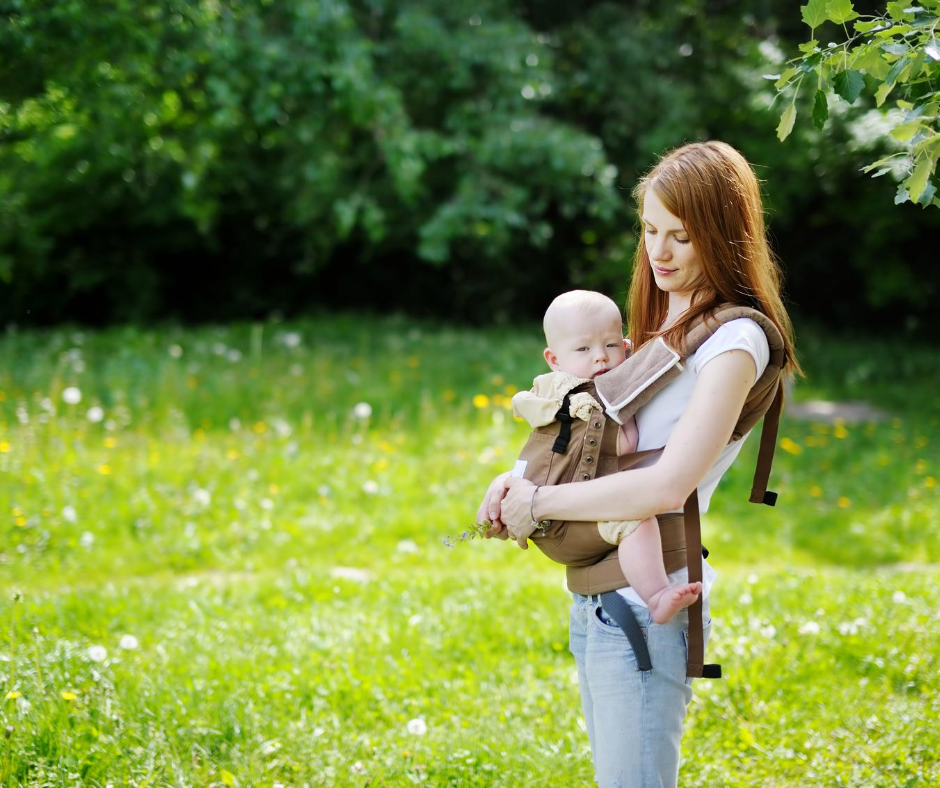 I can't emphasize this point enough: get the right carrier!
All baby carriers are not created equal and this is one area where it just isn't worth it to pinch pennies. Trust me, your back will thank you. And so will your baby. Or at least they would if they could talk…
1. Thick straps with padding
Thin straps will dig into your shoulders and can cause a lot of discomfort. Make sure you get something that is really comfortable, especially if you're going to be wearing it for long stretches.
2. Easy to get on and off
In my experience, trips go much more smoothly if you have a carrier that buckles on and off easily.
And it helps if you can adjust the length of the straps easily too, that way you can easily adjust it to whoever is wearing the baby. My husband and I switch back and forth baby wearing a lot and ours is a cinch to adapt to a new person.
I love wraps for infants; they are super snug and cozy for little babies. That being said, I'm not such a fan of wraps for travel- especially a long trip. They can be complicated to get on and off when you're in a rush and tend to get tangled or come loose and need to be re-tied. And I find them trickier to nurse in.
3. Has a sleep hood for naps and nursing
To me, this is an essential feature. It makes for a less stimulating environment for naps and provides some extra head support while sleeping. It also allows you to have some extra privacy if you're nursing.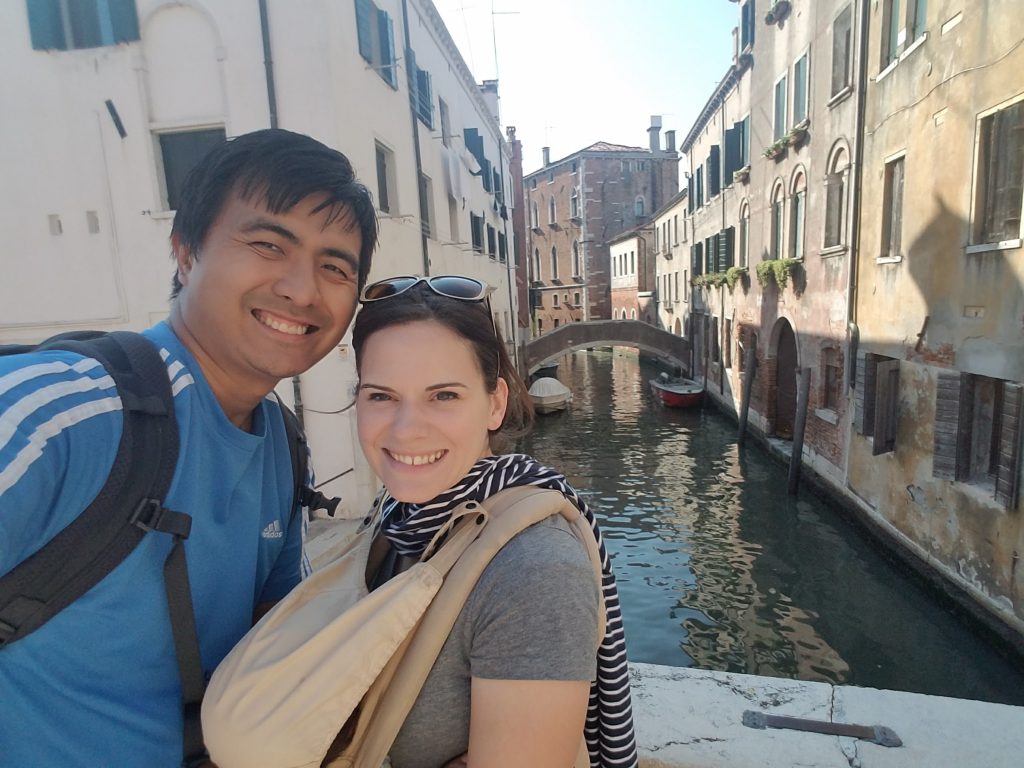 4. Has the option to wear baby forward-facing
Many babies do much better if they can face forward and see what's going on. This is especially true as they get older.
If you want this option, you need to get a carrier that specifically states that it can be used forward-facing. Turning baby forward-facing in a carrier that isn't designed for it can be very bad for their hips.
My top choice:
There are a lot of good carriers out there, but my go-to is the Ergobaby.
It's comfortable, simple to get on and off, easy to nurse in, and durable. It ticks all of the boxes for me!
Our Ergobaby carrier has been all over the world with us and lasted through multiple children. I see it as a necessity when traveling with a baby or young toddler.
Even if it's a trip where we do bring a stroller, we always bring the carrier too. You never know when it's going to come in handy!
Final Thoughts
A baby carrier is a great asset when you're traveling with a baby. It provides an easy way to transport your baby and can also simplify your trip in a lot of ways.
We're always glad to have out baby carrier along when traveling with young children!