This page may contain affiliate links, which means that we may earn from qualifying purchases at no additional cost to you.
Cinque Terre is made up of five villages built into the seashore along the Italian Riviera. The only way to access the towns is by train, boat, or on foot.
This place is the definition of picturesque. Quaint little homes in various pastel hues are nestled into the cliffside overlooking the sea. Small winding paths climb their way up into the hills, passing garden terraces bursting with olives and grapes. The aroma of fresh bread drifts out of bakeries and restaurants. It all felt quintessentially Italian and almost too charming to be real.
Cinque Terre is a perfect laid-back side trip when traveling with a baby. You can spend your time exploring the hillside, strolling along the coast, or visiting a few local sites.
Most of the things to do are outdoors, so you don't have to worry about frantically hushing your baby if he has, say, a shrieking meltdown in a tranquil museum (not that I've ever experienced that…ahem, ahem…).
What You Need for Baby:
A baby carrier- This is pretty much a must-have to enjoy this trip with a baby. This is not a place that is stroller friendly- from the bumpy cobblestone streets to the never-ending stairs to get up the hillside…. Trust me on this one.
A jacket- If you're going in the summertime it tends to be pretty warm (we were there in September), but it can get a little breezy by the water and up on the hills.
Sunscreen or a hat- There's not always a lot of shade when you're hiking around Cinque Terre, so it's good to be prepared.
Trip Tips
We got a local SIM with TIM (a domestic telco provider) for our phone when we arrived in Italy because it's cheaper and you get better coverage. (Although we weren't T-Mobile customers at the time, being on a T-Mobile plan is great for international travel- they have free limited speed data access, so you don't have to worry about having a big phone bill when you get home). Being connected online is really helpful to look up information about sites, times, tickets, bookings, etc.
Things To Do in Cinque Terre
1. Hike up into the hills for breathtaking views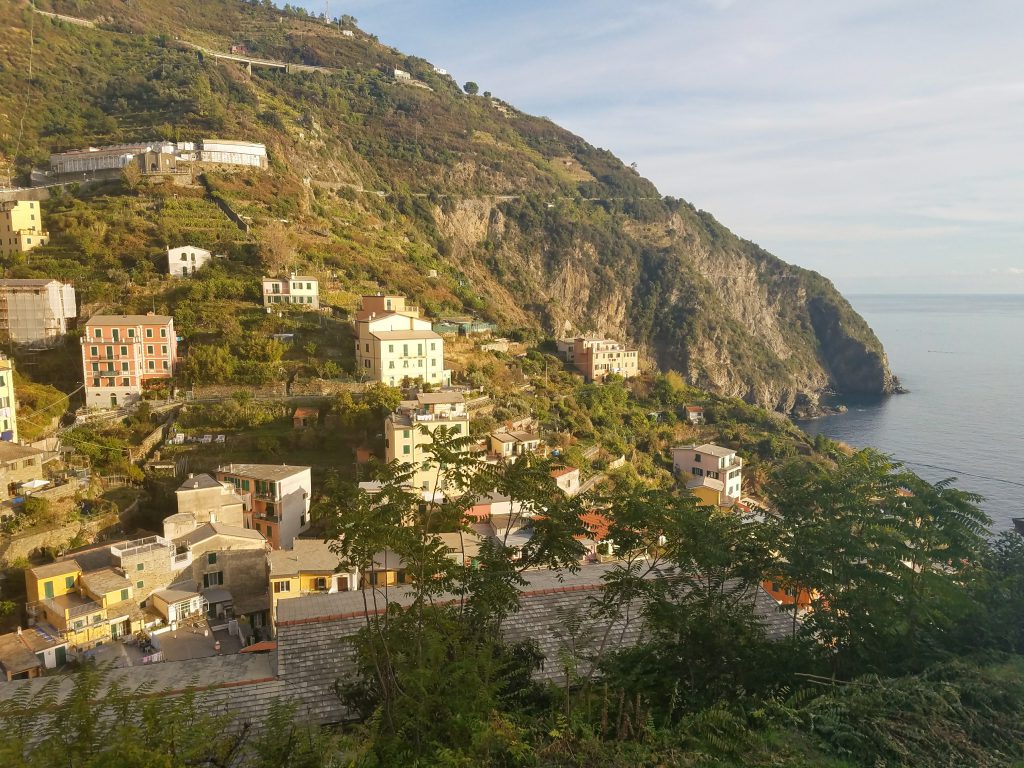 I'm being generous with the word "hike" here. Don't get me wrong, there are lots of hiking trails in the area, but what we did was more of a leisurely stroll through the hillside. With a baby to pack around, that was more our speed. In both Riomaggiore and Manarola we followed paths that led us up, up, and up to some stunning views of the city and the ocean.
2. Eat delicious local food
Fresh seafood is a must-try (I mean, these are fishing villages…) and the region is also famous for its pesto. But really, you can't go wrong here, we loved all of the food we tried. I never say no to a chance to eat gelato or anything with Nutella on it (did you know that Nutella originated in Italy? So yeah, don't feel guilty eating it by the spoonful- it's a cultural experience!).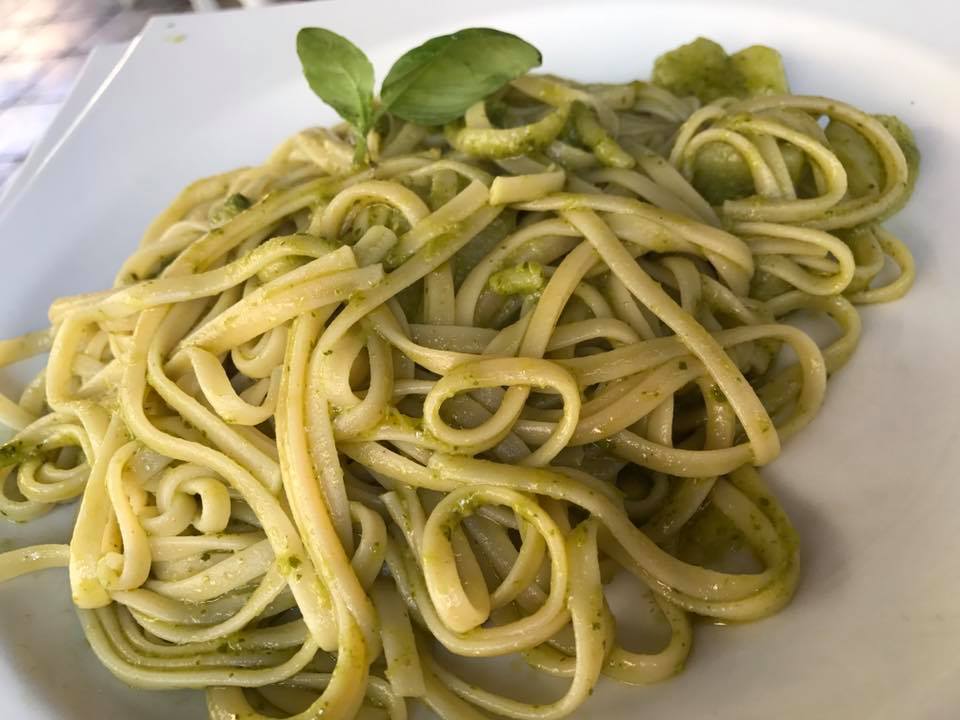 3. Visit the local churches
The village churches are also a sight worth seeing when you're in Cinque Terre. Although smaller and less ornate than the towering edifices in places like Rome or Florence, there is something impressive about the amount of craftsmanship and work that went into creating these beautiful places of worship in such remote villages.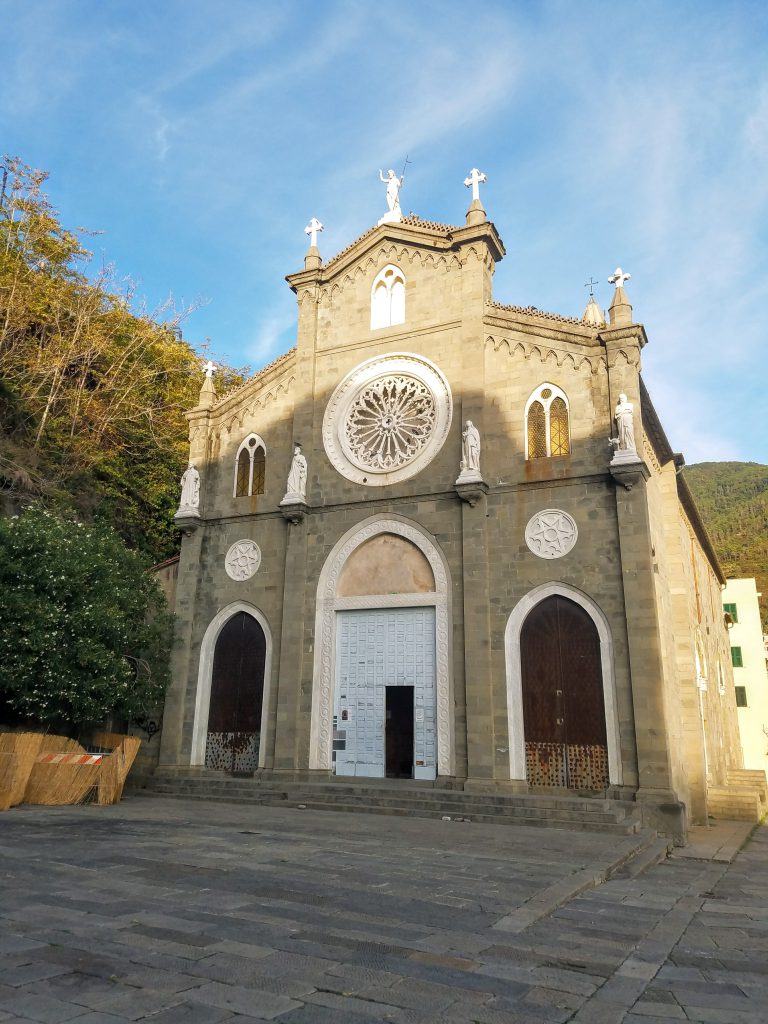 4. Check out the back streets and shops
There are so many cool little shops and eateries tucked away in unassuming back streets. Go exploring and you'll be surprised at the things you might stumble across.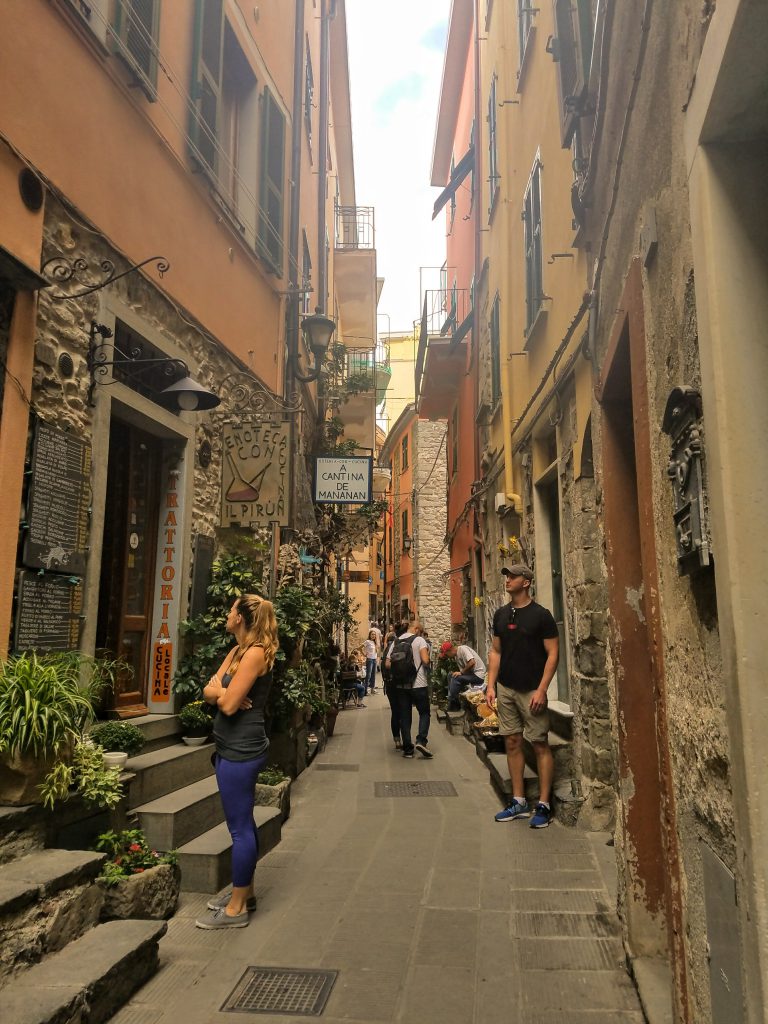 5. Take a stroll along the coast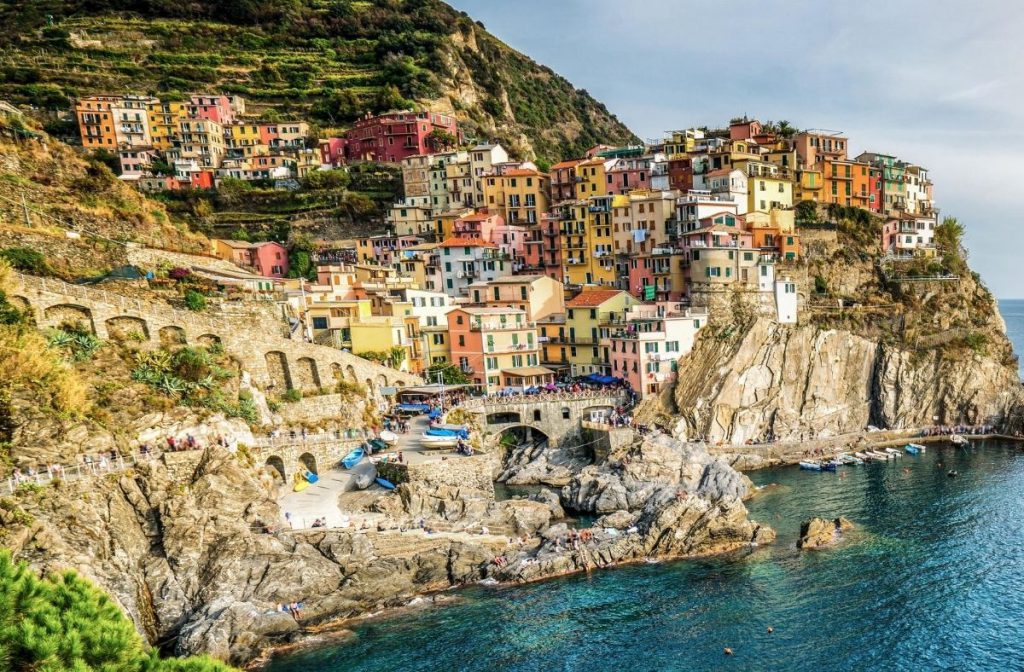 Arguably one of the best places to stroll the coast is near the waterfront in Manarola. If you walk a short distance along the path you get a perfect view of the village (a lot of the pictures you see of Cinque Terre are taken from this very spot!).
6. Watch the sunset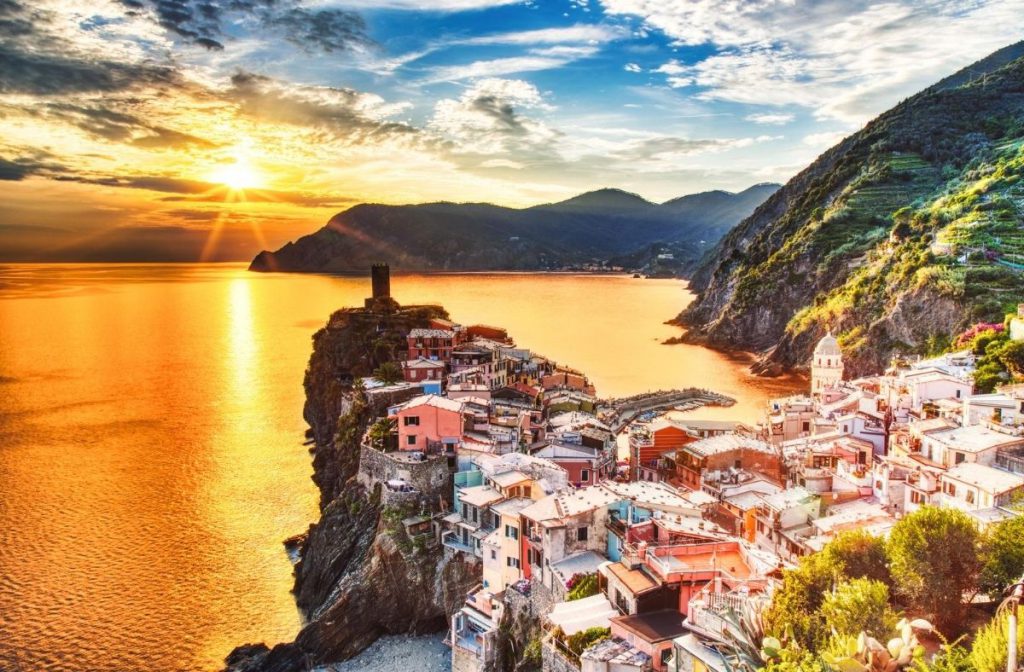 There are so many perfect spots in Cinque Terre to watch the sun set (or rise for that matter). Any of the villages will have a beautiful location to settle in and watch the sun sink down over the horizon.
7. Visit scenic overlooks

There are lots of places to get good views in Cinque Terre. One of our favorites was lookout at the Castello Doria in Vernazza. It's a bit of a climb to get up there, but once you do you are favored with sweeping views of the sea and the city.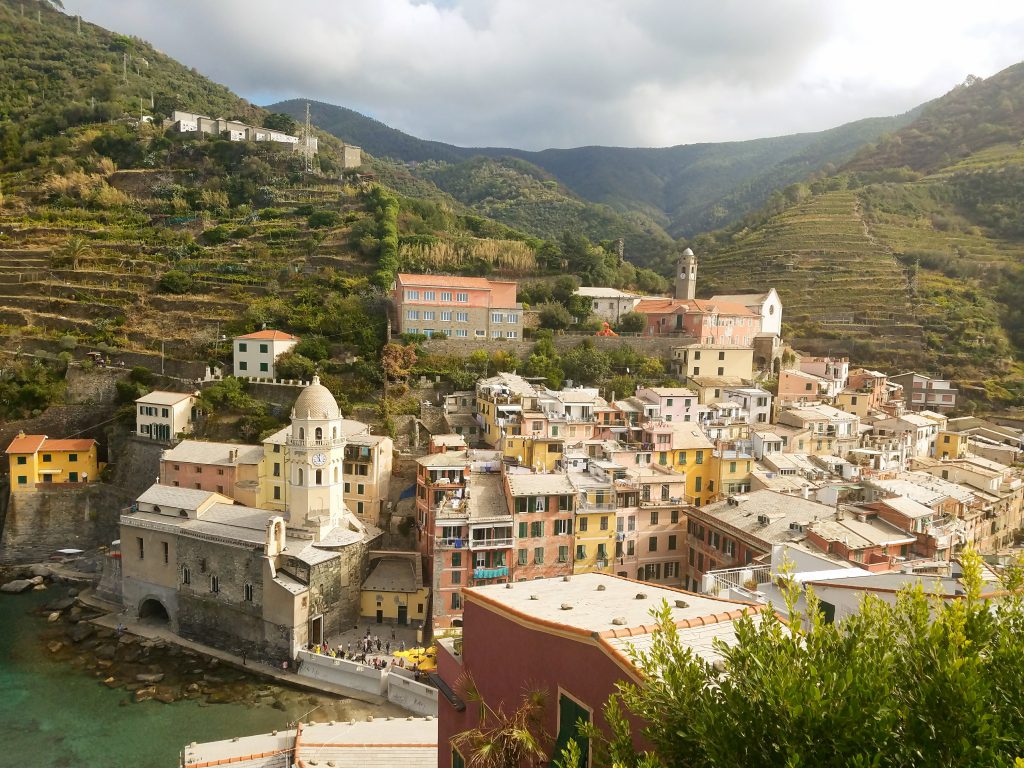 For a small fee, you can climb the narrow staircase up to the top of the castle itself to get the best view possible. Honestly, I didn't think the view was that much better and the very close quarters on the staircase made me feel like the walls were closing in on me, but then again I might have a touch of claustrophobia…
The nice thing about Cinque Terre is that you can really play it by ear. Don't over plan it, just start exploring and see where your feet take you!