This page may contain affiliate links, which means that we may earn from qualifying purchases at no additional cost to you.
In this article we'll review one of our favorite, most-used travel aids: the Ergobaby Omni 360 carrier!
The Ergobaby carrier has a lightweight, ergonomic design that makes it easy to take with you when traveling and comfortable to wear for long periods of time.
It also has one of the widest age ranges of any carrier out there, allowing you to use it from the newborn stage well into the toddler and even preschool years.
Our Ergobaby Omni 360 has been all over the world with us. We sometimes trade out our travel gear depending on the kind of trip we're taking, but one item that I ALWAYS bring when I travel is our Ergobaby carrier.
Not only is this carrier great for transporting your child through the airport, on hikes, to attractions, and so on, it also is ideal for napping and nursing on the go.
If you've been considering this carrier, we'll break down all of the important features to help you make your decision.
Read on for our detailed review of the Ergobaby Omni 360 carrier.
This post is not sponsored in any way; all opinions are our own.
Ergobaby Omni 360 Carrier Review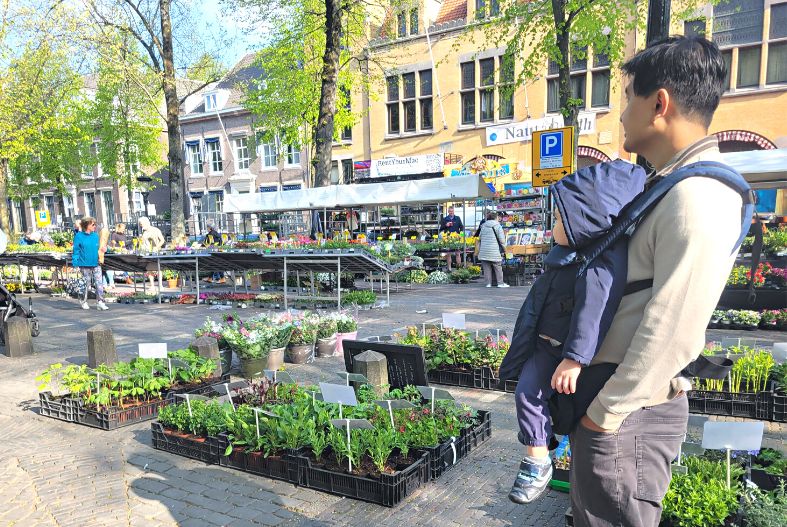 The Ergobaby Omni 360 carrier is one of the most popular baby carrier options on the market, and for good reason.
This carrier can be used from the time your baby is a newborn up until they reach 45 pounds, which provides a lot of years of use. It can be used in four carry positions, including forward facing.
The carrier is easy to adjust for different wearers and has padded straps and lumbar support for added comfort.
It's also perfect for nursing and napping on the go and comes with a sleep hood for added privacy.
Product description
Product weight: 1.7 lbs
Weight recommendation: 7- 45 lbs
Pros
Forward facing option
High weight limit
No newborn insert needed
Easy to breastfeed in
Many carry positions
Padded straps and lumbar support
Sleep hood
Detachable storage pocket
Straps can also be worn crossed
Machine washable
Possible drawbacks
High price point
Back carry position can be hard to do without help
Mesh can feel scratchy
Features of the Ergobaby Omni 360
In this part of our Ergobaby Omni 360 review, we'll break down some of the most important features of the carrier and provide our opinion based on our own personal experience using the carrier.
Ease of use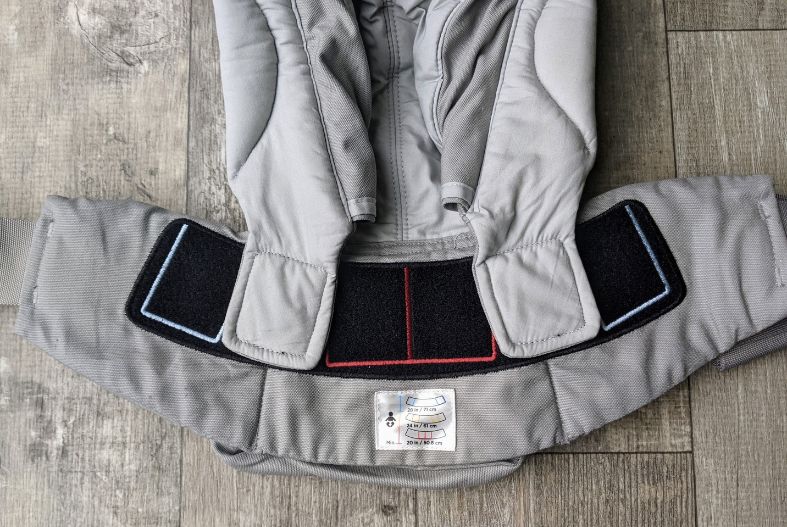 The Ergobaby Omni 360 is quite straightforward to use, even with the many adjustable features.
After you've worn it a few times, it becomes second nature and you'll find that you can quickly put it on, take it off, and adjust it as needed.
To wear the carrier, start by buckling the waist strap around your waist. After placing your child against your chest, pull the top of the carrier up, put the shoulder straps on, and buckle the back strap behind your shoulders. Then tighten the shoulder straps as needed.
To adjust the size and fit of the carrier, you have a few different options. For basic adjustments, you'll use the waistband and shoulder straps. To tighten the waistband, you need to pull the on each end of the waistband until it's tight on your waist in order to keep the lumbar support centered on your back.
In order to switch your child between facing in and facing out, there is a slider on the front of the carrier that you can move in or out depending on which way your child is facing. This is really easy to adjust and a big improvement from the previous button design.
There are also velcro tabs on the inside of the waistband that adjust the size of the seat as your child grows.
One complaint I've heard about the Ergobaby is that the back strap is difficult to fasten and unfasten by yourself. However, I haven't had too much trouble with this. The key is to loosen the shoulder straps first, which raises the back strap to where you can reach it. Then once it's buckled you can tighten the straps again.
It's also easy to adjust the carrier quickly if you are switching wearers. My husband and I often take turns babywearing. With a few adjustments of the waist and shoulder straps, we can quickly change the sizing to fit whoever is wearing it.
Comfort for child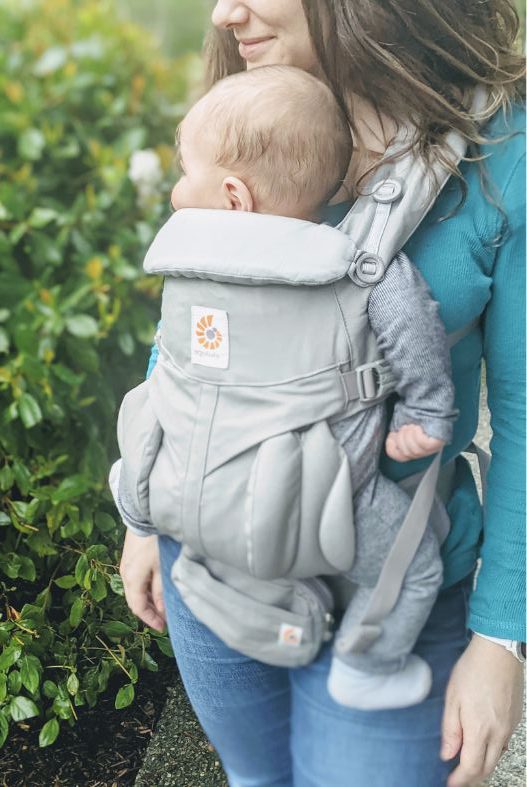 As far as comfort goes, the Ergobaby has a lot of padding and support for your child. The carrier is very adjustable, so you can get the perfect fit for your baby or toddler.
The seat is designed to support your baby's growing hips by placing them in an ergonomic "M" position. The carrier is certified hip healthy by the International Hip Dysplasia Institute.
My children have been in the carrier for long stretches of time while traveling and they always seem to stay comfortable and cozy.
I will say that the mesh is a bit stiff and at times can feel a little scratchy. The only times I've really noticed this is if my child is wearing shorts, and then sometimes the carrier can chafe against his legs.
However, I have heard that the new Ergobaby Omni Breeze has solved this problem by using a much softer mesh material.
Comfort for parent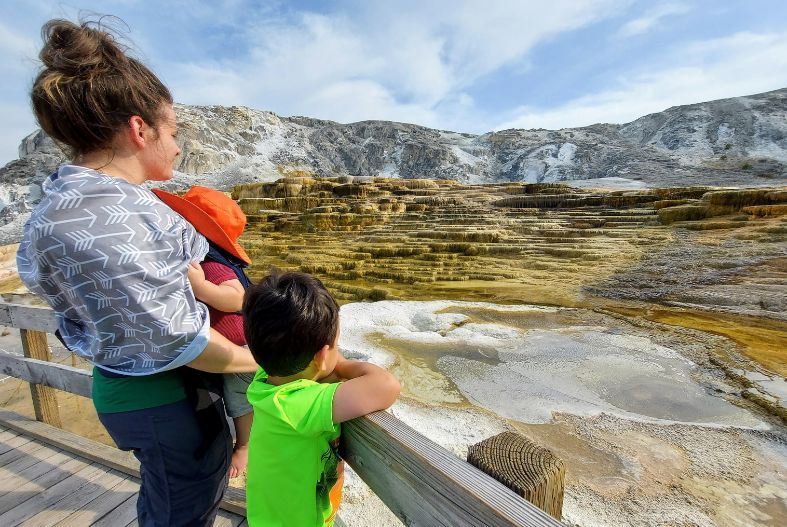 The Ergobaby Omni 360 also has several features that make it a comfortable carrier for parents as well.
The waistband is padded and has lumbar support for your lower back. The straps also have thick padding and can be worn crossed or backpack style so you can find the position that is most comfortable for you.
The mesh fabric is quite breathable and allows for greater airflow for both you and your child. Obviously if it's extremely hot you will still feel warm from your child being pressed against you, but you'd have that problem with any carrier.
I've worn my young children in the carrier for extended periods and I personally find the Ergobaby to be more comfortable than other carriers that I've tried.
As my toddlers get heavier I do find that it pulls on my shoulders a bit if I wear them in front and it's more comfortable if I wear them on my back instead.
Carry Positions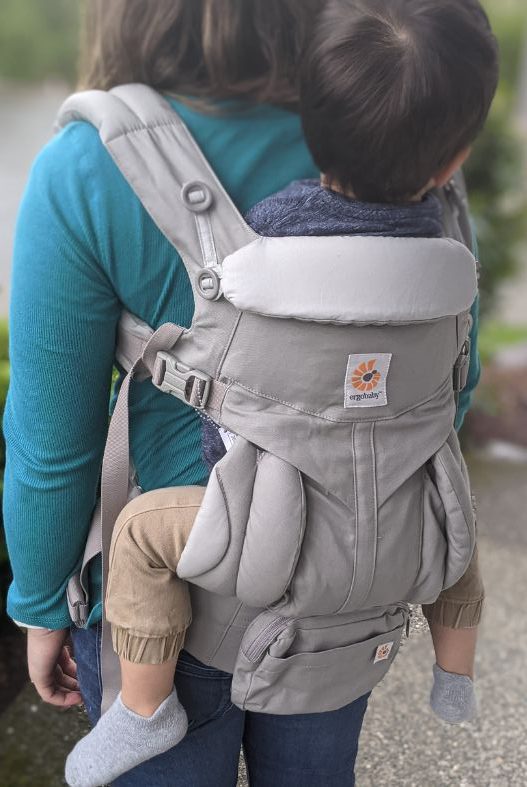 There are several different positioning options with the Ergobaby Omni 360. These include facing in, facing out, hip carry, and back carry.
Facing in is the typical baby carrier position where you and your baby are face to face. This position is ideal for newborns, naps, and when you want a more snuggly carrying option.
Once your child is at least five months old, you can start wearing them facing out. This gives your child a better position to see what is going on around them while they are being carried.
Our first Ergobaby carrier that we got for our first son was an original model, which does not have the outward facing option. I wasn't sure how much I would use the outward facing option when I first got the Omni 360, but let me tell you, it is a gamechanger.
For older babies and toddlers, I've found that when they're facing outward and able to see what is going on, they are much more content in the carrier and last a lot longer before wanting to get out. To me, this is an essential carry option to have for toddlers.
Another option is the back carry. This position is great for older toddlers who are heavier and longer, especially for someone who is on the short side (like me!). It seems to distribute the weight more evenly, which helps with balance and comfort. I do personally find it a little tricky to get my child into this position by myself, so I usually enlist my husband or friend to help me get situated. Your child needs to be at least six months old to use this carry position.
The last carry option is the hip carry. Honestly, I haven't had much use for this carry position, but it might be a nice option for some people. This is also for babies six months old and up.
Longevity
One of the best features of the Ergobaby Omni 360 is the wide weight range. Because this carrier can be used from newborn to 45 pounds, you don't need to buy additional carriers as your child gets bigger.
The carrier is also sturdy and well-made, so you can expect it to last. Our carrier takes a beating and it is still in like-new condition after several years of use.
I also love that because I have multiple children that are close in age, I can bring one carrier and have the option to use it for either my toddler or preschooler (or baby or toddler when they were younger), depending on our needs for that day.
Nursing-friendly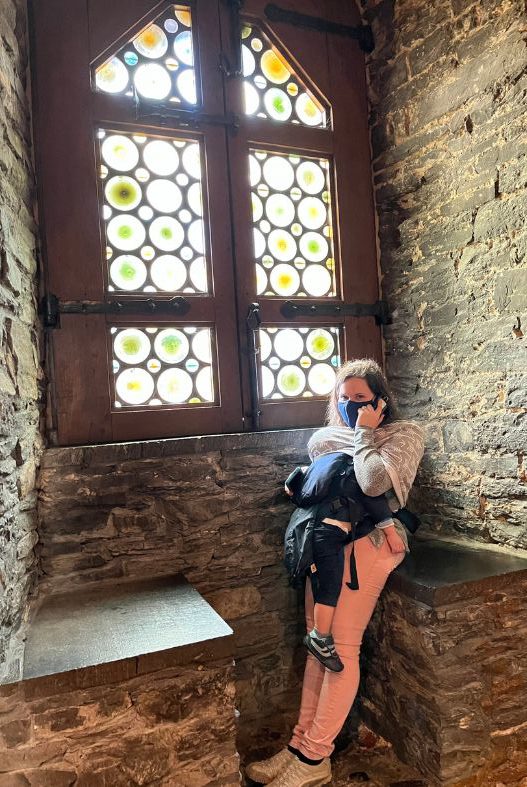 The Ergobaby Omni 360 makes nursing on the go simple and straightforward. The design allows you to easily adjust the carrier for comfortable nursing without having to remove your baby before or after nursing.
In order to nurse in the carrier, loosen the shoulder straps to lower your baby into a comfortable position, help them latch on, and off you go! (for a more detailed description, see our post explaining how to nurse in a baby carrier)
You can also use the sleep hood for some privacy, although I will typically also use a nursing cover to prevent my baby from getting distracted.
My Ergobaby carrier is my go-to option for nursing when traveling (and I often use it at home as well). I love that I can nurse my baby or toddler while still being completely mobile and hands free!
I don't have to take any time away from whatever activity we're participating in to stop and nurse. This is especially helpful in the early stages when it seems like babies are nursing alllll the time.
It's also a great way to transition to a nap, as young children will often fall asleep after nursing and you can just leave them in the carrier for their nap as you continue on with your plans.
Additional features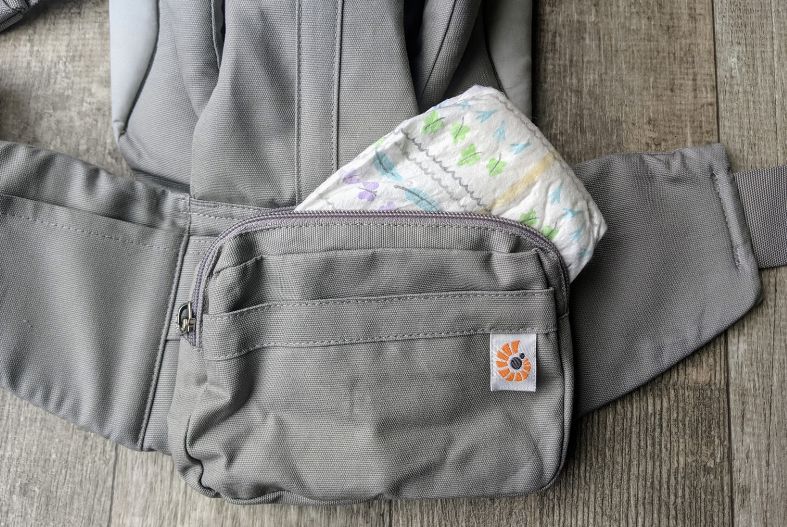 There are a few extra features on this carrier that are nice to have.
The first is the sleep hood. This is a cover that you can pull up over your child's head and snap to the shoulder straps, allowing you to cover your child while they are nursing or napping.
I do find this to be a helpful feature, especially for stabilizing my child's head while they are nursing or napping. However, because it is open on the sides I will usually use a nursing cover as well so that my child won't get distracted.
Another useful feature is the storage pouch. This is a detachable storage pouch that attaches to the front of the waistband. The large pouch that can easily fit your phone, a diaper, and a small snack if you don't want to carry a bag with you.
The one problem I have with the pouch is that I find it a bit hard to access when I'm wearing a toddler because the pouch gets tucked underneath them. That's one feature I miss about my original Ergobaby carrier, where the pouch was on the front of the carrier and I could whip my phone out on a moment's notice. But having the pouch on the waistband does allow for a larger storage pouch, so it's a bit of a tradeoff.
Price
One of the downsides to the Ergobaby Omni 360 is that it is more expensive than many of the other carriers out there.
If you don't think that you're going to be using your carrier all that frequently, there are less expensive options that will probably work just fine.
However, if you see yourself using a carrier often, I think it is well worth the price to invest in a high-quality carrier like the Omni 360.
Between the sturdy design and the high weight limit, you know that you will get years of use out of that one carrier. Our carrier has seen years of heavy use by multiple children and is still in amazing condition.
For me, the price of the carrier is worth the investment.
Common questions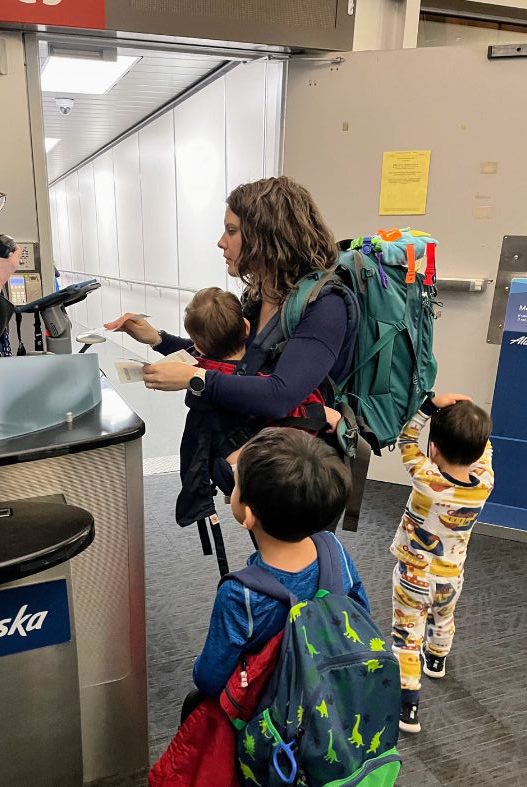 What is the difference between Ergo 360 and Ergo Omni 360?
There are a few differences between the Ergo 360 and the Ergo Omni 360.
Probably the biggest difference is that the Ergo 360 requires a newborn insert, whereas the Omni 360 does not.
A few other additional features on the Omni 360 that you won't find on the 360 are crossable shoulder straps and a detachable storage pocket.
Is Ergo 360 Omni good for a newborn?
The Ergobaby Omni 360 is made to be used with a newborn as long as they are at least 7 pounds. No infant insert is required, but you will need to adjust the carrier to its smallest settings.
The seat height can be adjusted using the velcro tabs on the waistband. You'll also want to adjust the neck cushion to provide support for your newborn's head. For babies younger than 6 weeks, you'll fasten the neck cushion inwards to provide them most support, but when they can hold their head up on their own for a few seconds at a time you can move the cushion to the outside of the carrier.
How long can you use the Ergobaby Omni 360?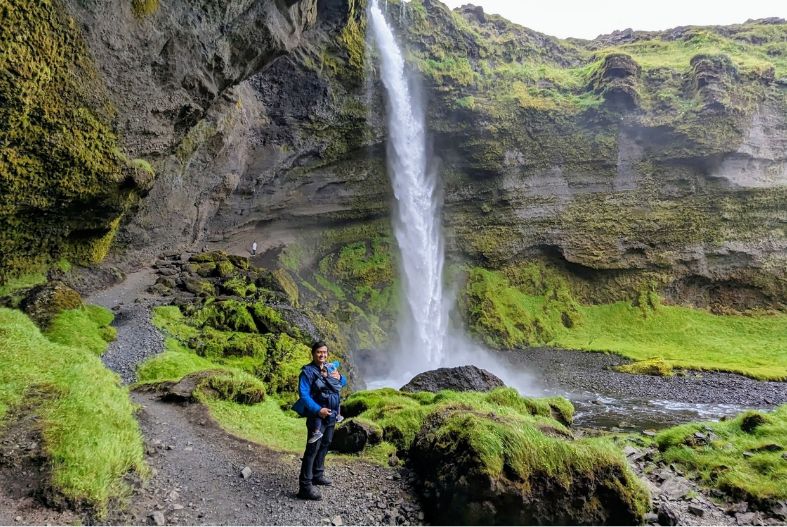 The Ergobaby Omni 360 can be used by children between 7 and 45 pounds. It has one of the widest age ranges of any carrier out there, allowing you to use it from the newborn stage well into the toddler and even preschool years.
Can you breastfeed in Ergobaby Omni 360?
Yes, you can easily breastfeed in the Ergobaby Omni 360. The adjustable straps make it easy to position your child for nursing in the carrier.
Nursing in a baby carrier can take a little practice to get used to, but once you do it can be a total gamechanger, allowing you to continue on with other activities while your baby is nursing.
Final Thoughts
If you're looking for a comfortable, adjustable carrier that will grow with your child, look no further than the Ergobaby Omni 360!
As you can see in this Ergobaby Omni 360 review, this carrier is versatile and functional, perfect for use at home or while traveling.
We've had our carrier for years and it's one of the few baby and toddler travel accessories that we just can't do without!
Other posts you might be interested in:
The BEST Toddler Carriers for Travel
Baby Bjorn vs Ergobaby- The Ultimate Comparison Guide (2023)
The Ultimate List of Toddler Travel Essentials (+Toddler Packing List!)