This page may contain affiliate links, which means that we may earn from qualifying purchases at no additional cost to you.
Not only is Chichen Itza one of the largest and most famous of the Mayan archeological sites, it's also one of the New Seven Wonders of the World and a UNESCO World Heritage Site. And it definitely lives up to the hype!
If you're planning on visiting Chichen Itza with kids, we have all the information you need for an amazing visit! We visited the ruins with our 3 young kids and had an incredible experience exploring this ancient site.
When we were planning our trip we realized that sometimes it can be hard to find the information you need to plan a trip there with kids and there's a few things that we wished we would have known before our visit. That's why we've compiled this handy guide with everything you need to know before visiting Chichen Itza with kids.
Tips for visiting Chichen Itza with kids
Get there early!
Our biggest tip for visiting Chichen Itza is to get there early! As the most popular Mayan archeological site in Mexico, Chichen Itza can get extremely crowded.
A great way to do that is to spend the night before nearby. You can either stay in Valladolid, which is about a 45 minute drive away, or stay in a nearby motel (which is what we did), which puts you only 15 minutes away from the park. That way you can arrive first thing in the morning (the ruins open at 8 am) to beat the crowds without waking your children up at an unholy hour of the morning.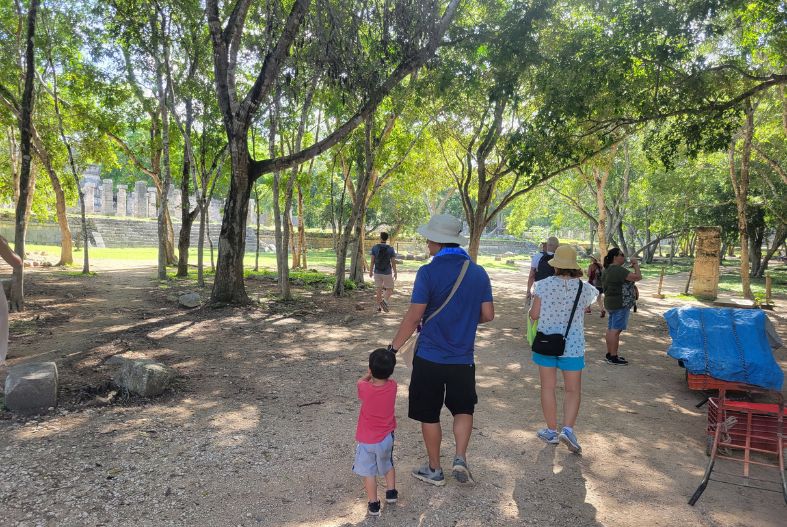 We arrived shortly after the site opened and were pleasantly surprised to find that the lines were short, the place felt quiet and peaceful, and the vendors were just arriving and in the process of setting up.
Another benefit of arriving early is to beat the heat, as much of the ruins are not shaded and it can get extremely hot.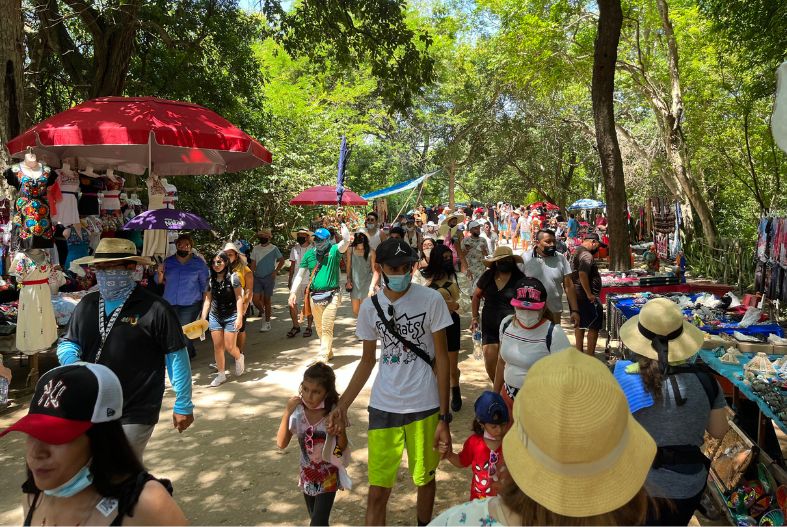 By the time we left four hours later, it was hot, crowded, and swarming with vendors loudly selling their wares. We were grateful for those first couple of hours we had before the tour buses arrived from Cancun and Playa del Carmen to swamp the place.
Consider getting a guide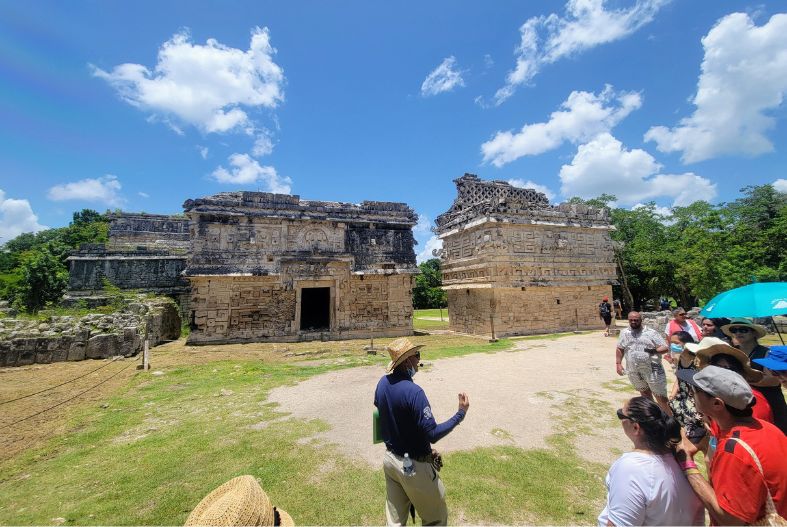 When you arrive at the ruins you have the option of hiring a guide to show you around and share the history of the ruins. We've heard really positive things about people's experience with the guides. It gives you the opportunity to learn about the buildings and history of the area and really connect with what you're experiencing.
An official guide costs 900 to 1200 pesos (depending on language, English is 1000 pesos) for an hour and a half long tour.
We opted not to get a guide, as we had three little kids under five and we felt we were better off going at our own pace. Instead, we looked up information about the ruins so that we could tell our kids about what they were seeing.
If you're not getting a guide, make sure you know a bit about the ruins so that you can help your kids understand more about the history and significance of the site. This makes it a much more engaging and interesting experience for kids (and adults!).
Go to the pyramid first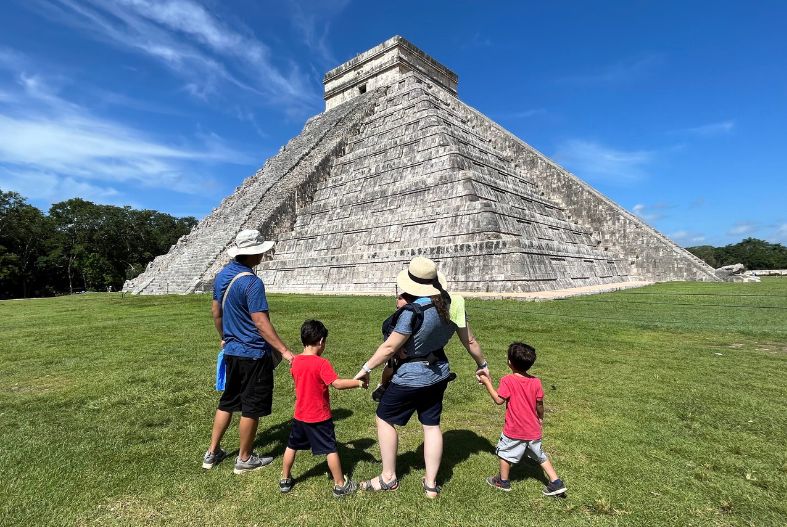 When you first arrive, head straight to the pyramid. The Temple of Kukulcán, also known as El Castillo, is the most popular feature of the ruins. If you get there early you can have some time there before the crowds descend.
We were amazed to find that there were hardly any people there when we first arrived, making it easy to get pictures without anyone else in them.
When we left a few hours later that was no longer the case.
Wear comfortable shoes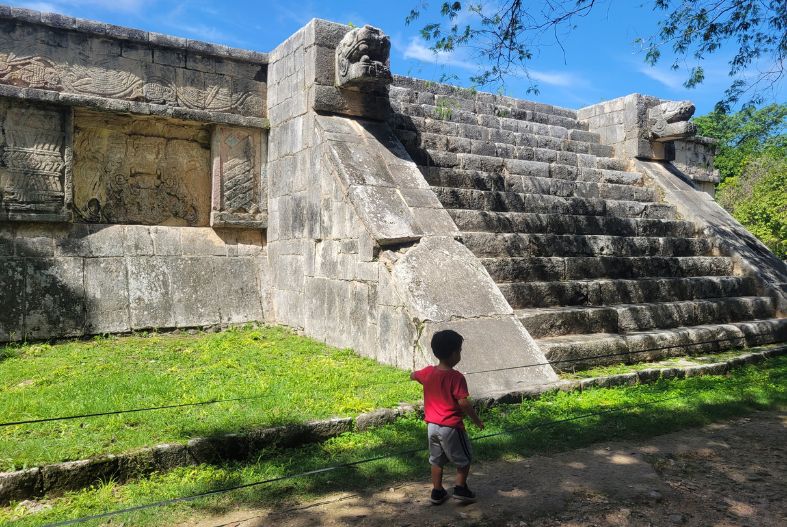 The city of Chichen Itza spans four square miles, meaning there's a lot of ground to cover when you're visiting.
Plan on wearing comfortable shoes for both yourself and your kiddos to make traversing the ruins a pleasant experience.
Prepare for the heat
Much of Chichen Itza is not shaded, and it gets HOT! Bring lots of water to make sure everyone stays hydrated during your visit. Also plan on bringing sunscreen, sunglasses, and a hat to provide everyone some protection and relief from the sun.
It was extremely hot on the day in August that we visited. Two additional items we were glad we had were electrolyte add-ins for our water and cooling towels to prevent everyone from getting overheated. It really made a big difference.
Explore the less popular areas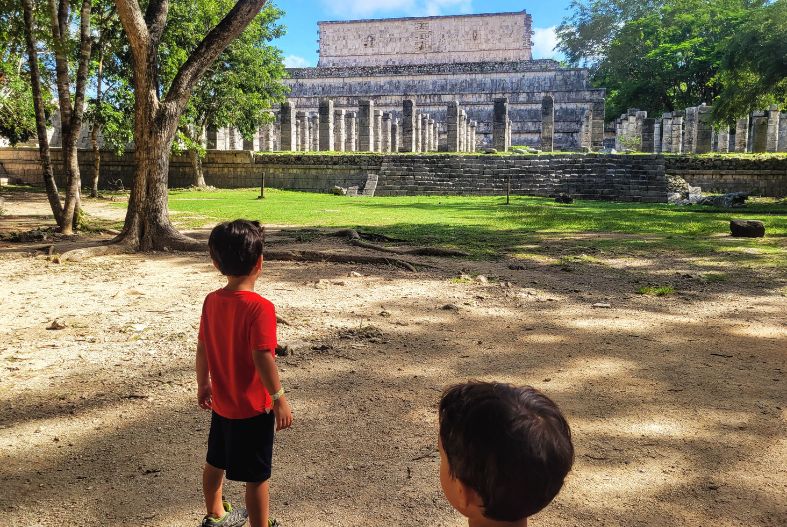 While the main areas, such as the pyramid and the ball court, get very crowded, the ruins are large and there are a lot of other parts that tend to be much quieter.
Explore off the beaten path a bit to find areas that are a bit more secluded to get a better sense of the ruins away from the crowds.
Be prepared for the vendors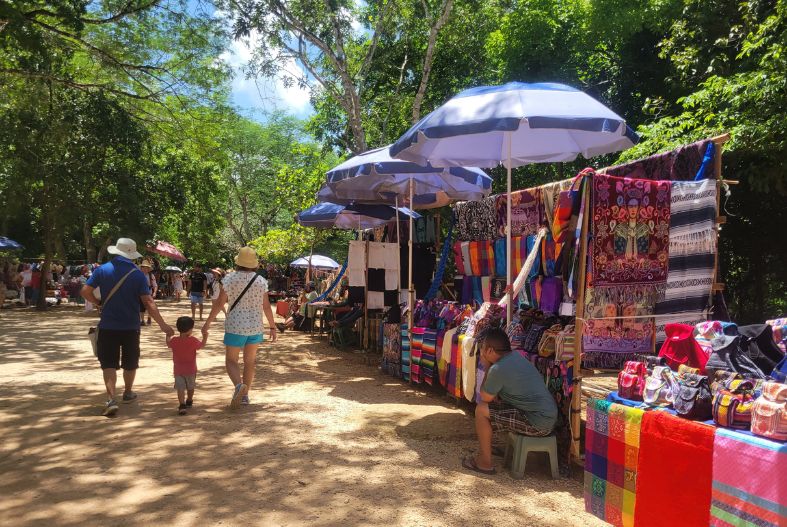 Unlike the other archeological sites we visited in the area where vendors are only allowed at the entrance, at Chichen Itza the vendors are allowed into the site itself.
That means that the walkways between the various ruins are lined with vendors eagerly trying to sell their goods.
One of the benefits of arriving early is that hardly any of the vendors have finished setting up, so you can stroll through the paths in relative peace.
There are some nice wares being offered though, so if you want to buy souvenirs it's not a bad place to do so. Everyone is selling the same things, so don't buy from the first person that you see. Ask the price as you go and see how far you can talk the seller down. This will give you an idea of an actual fair price for when you actually want to buy. Never accept the first offer, as it will be an inflated tourist price.
Use the bathrooms inside the park
There are bathrooms right before you enter the park, near where you buy tickets, but there are also restrooms inside the site as well.
Especially after the tour buses start arriving, the ones near the entrance have massive lines and a long wait time. In contrast, the ones inside the park had much shorter lines.
If you find the lines to be long near the entrance, just hold off for the ones inside.
Practical Information for visiting Chichen Itza with kids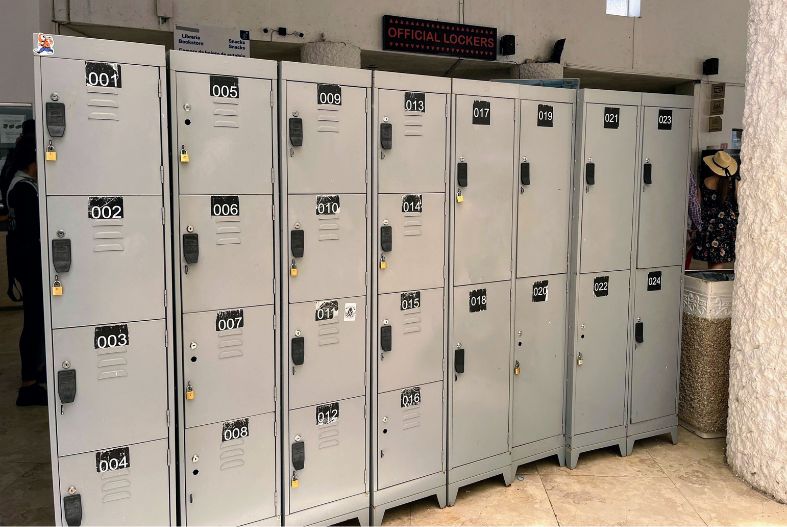 A few practical notes about visiting the ruins with kids:
The ruins are open from 8 am to 5 pm (last entry is at 4 pm)
Lockers are available on site. When we were there, it cost 50 pesos for a small locker and 100 pesos for a large.
Parking is easy to find if you get there early. However, if you're later in the day it will fill off and you'll be left to circle the parking lot until someone leaves or park a long ways away and walk- not ideal with kids.
When we were there, masks were required when buying tickets and at the entrance, but they weren't strict once you were inside and most people too them off.
There are several places to buy basic food, snacks, or water at the ruins, both at the entrance and inside the archeological site itself.
Common questions
How much does it cost to visit Chichen Itza?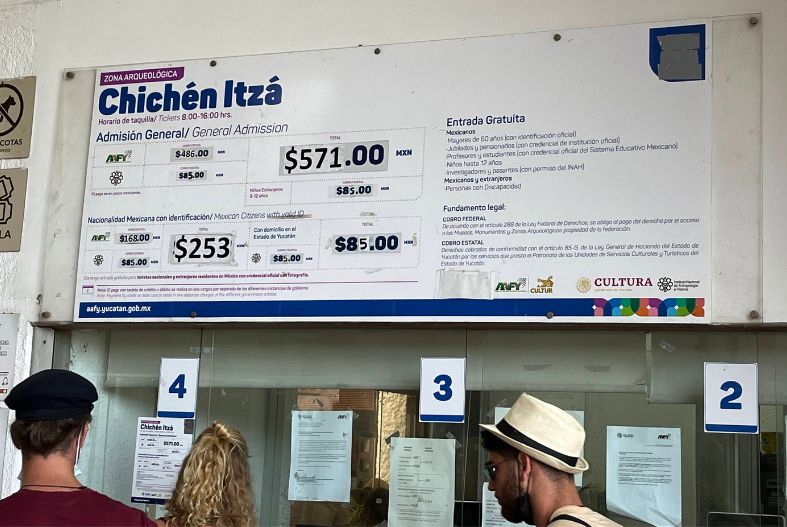 To enter the Chichen Itza Archeological Zone, ages 13 and up cost 571 pesos, and ages 3-12 cost 85 pesos. Children 2 and under are free. If you're driving, parking for cars is another 80 pesos. There is also an additional fee if you want to record video or use a GoPro.
Credit cards are accepted, however you have to pay twice at two different windows because they have to break it down into two payments for two different companies.
How do you get to Chichen Itza?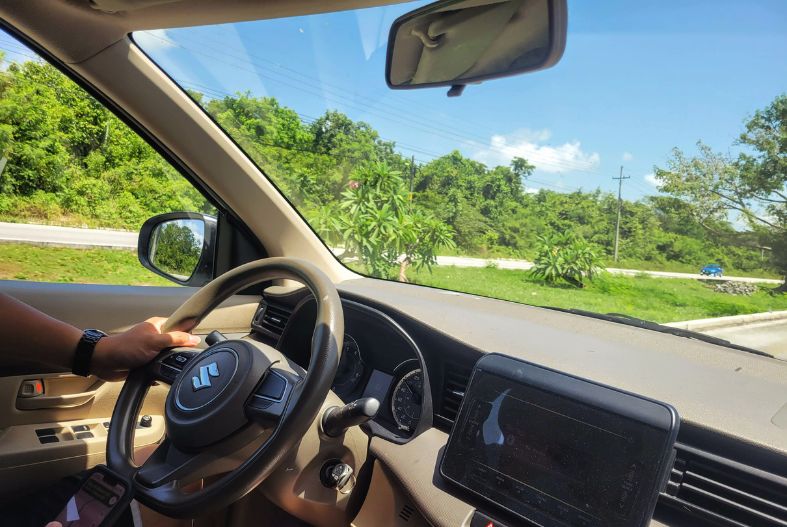 Chichen Itza is about a two and a half hour drive from Cancun and only slightly less than that from Playa del Carmen.
One of the best ways to get to Chichen Itza is to rent a car and drive there yourself, which is what we did. We found a great local rental company (Yes! Rent a Car) that was very reasonably priced and accommodating to work with. We were slightly concerned about driving in Mexico, but on arrival found it to not be that different from driving in the US.
One of the biggest benefits of driving yourself is that you can arrive the night before, stay at a hotel nearby, and be up early to beat the crowds and the heat.
There are two routes for driving to Chichen Itza from Cancun or Playa del Carmen, a shorter one with a toll and a longer one without a toll. The toll costs 363 pesos when we went through, which could only be paid in cash and in Mexican pesos.
You can also go with either a private or group tour group. This tends to be a more expensive and less flexible option, but you don't have to worry about the added stress of driving yourself if that's something that concerns you.
Is Chichen Itza worth it with kids?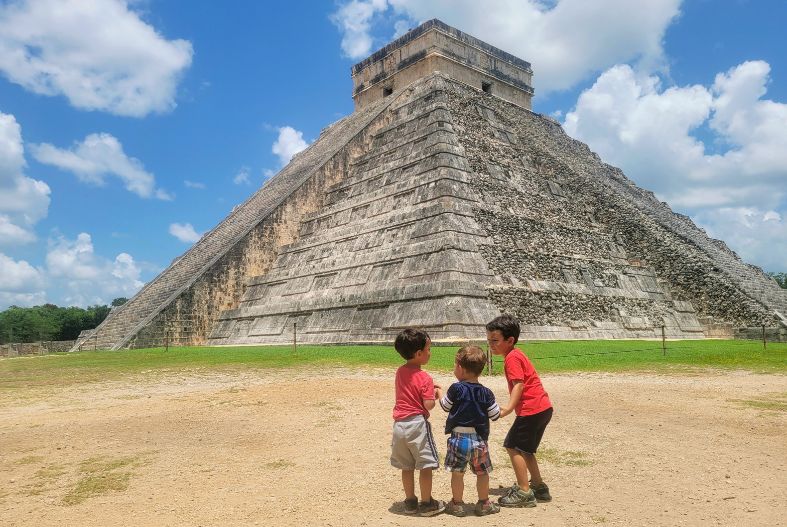 After our experience visiting Chichen Itza with our kids, we'd say that it is absolutely worth visiting with children.
It's a fascinating place to visit and even young children can start to understand how unique and different it is from what they've seen before. And if and when they get bored, there's plenty of space for them to run around until they find a new and interesting thing to pull their attention back again.
Our kids had a great time during our visit and were especially impressed with the size of the pyramid. That being said, their very favorite of the ruins we visited was the Coba ruins, which is an amazing place to visit with kids.
How much time do you need in Chichen Itza?
In order to really get the most out of Chichen Itza, you'll need at least 2-4 hours. We visited every part of the ruins and were there for four hours.
Give yourself plenty of time because there really is so much to see at this massive archaeological site, you don't want to miss anything!
Final Thoughts
If you're considering visiting Chichen Itza with kids, know that it can be a really rewarding experience for everyone in the family. If you're prepared before you go, it's bound to be a positive experience that everyone will remember for years to come!
Other posts you might be interested in:
Driving in the Yucatan: What to Know (+ Tips for Renting a Car in Mexico)
Playa del Carmen with Kids- Best Things to Do and Tips for a Great Trip!
Xcaret Park Review- Best Attractions and Helpful Tips for a Amazing Visit!