This page may contain affiliate links, which means that we may earn from qualifying purchases at no additional cost to you.
Hiking with a toddler can be a great way to get your child outside in nature, burn some energy, and spend time together. And one of the most important elements of to a successful hike with a toddler is bringing the right toddler hiking gear.
Over the years we've had some very memorable experiences hiking with our three young boys. We love hiking when we travel (and a little closer to home), so we learned how to hike with our children starting at a young age.
We've had some hikes with our toddlers where we are more prepared than others…and let me just tell you that a hiking outing with a toddler goes much better when you've brought the right toddler hiking gear!
Nobody wants to be in the middle of the forest with their toddler wishing they'd remembered the snacks or brought better shoes.
If you're not sure where to start, we have you covered. In this list, we've broken down everything you need for a successful hike with your toddler!
Be sure to also check out our helpful tips for hiking with a toddler!
Essential Toddler Hiking Gear
Toddler carrier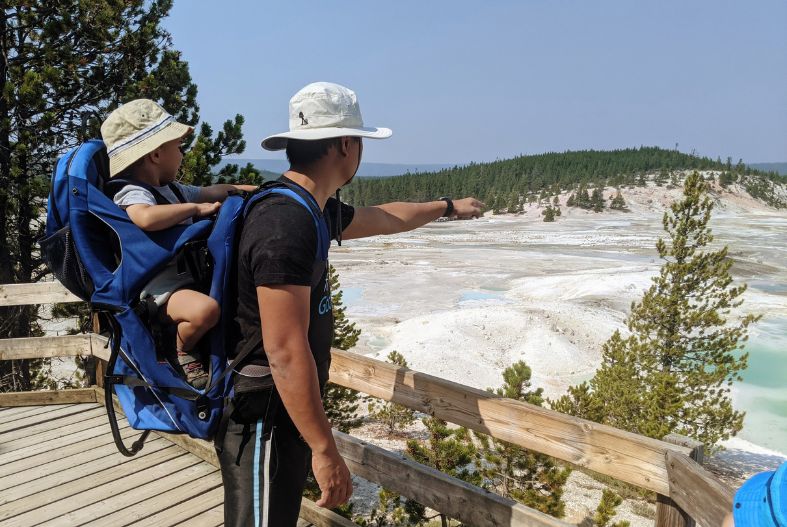 A carrier is one of the most important pieces of gear that you can bring when hiking with a toddler. Although there might be those times where your toddler walks the whole hike, that isn't something you want to count on. Be prepared by bringing a carrier so that you don't end up carrying your toddler in your arms the whole hike. Not comfortable!
There are many different options for toddler carriers, with the two main categories being soft carriers and structured carriers.
Frame backpack toddler carrier for hiking
Probably the most comfortable option for your child is a frame backpack carrier. They are a little more spacious for your child and provide more airflow while hiking, which can keep both of you cooler. They also provide a nice perspective for your child to view their surroundings, providing a more engaging experience for your toddler.
And for parents, they typically distribute the weight of your child more evenly and prevent you from getting overheated by holding your child away from your body. The big downside to frame carriers is that they are bulky and heavy.
One of the best options for a frame backpack carrier is the Osprey Poco. It's comfortable and sturdy with a built-in sunshade and plenty of pockets for storing your gear.
Soft toddler carrier for hiking
If you're not sold on the frame carrier, soft carriers have advantages as well. We have actually done a lot of hiking with our toddlers using soft carriers, as we do a lot of our hiking while we are traveling. For us, it's just not practical to bring our frame hiking carrier with us if we're traveling by plane, so we opt for our soft carrier when we fly. And the truth is that it works just fine.
Besides being more lightweight and packable, soft carriers are also usually less expensive and more versatile for everyday use.
One of the main downsides to soft carriers for hiking is that they strap your child right to your body, which not only might feel uncomfortable for your child, but it can also obstruct your child's view and get very warm on a hot day.
When using a soft carrier for hiking with a toddler, the most comfortable position is typically to place them on your back, but you also have the option to wear them in front as well.
Our favorite soft carrier for hiking with a toddler is the Ergobaby Omni 360. It's comfortable, packs easily, and has a long lifespan as it can be used from the infant to the toddler years.
Hiking shoes
Another important item of toddler hiking gear is good hiking shoes. If your child does end up doing a lot of walking, you want to make sure it's a comfortable experience for them.
At this age it's typically best to choose shoes that are flexible and lightweight as opposed to a bulky hiking boot. Toddlers are just figuring out the whole walking thing and you want your toddler to be confident walking over uneven ground.
And while it can be tempting to size up in shoes so that they will fit your child longer, when hiking you want shoes that fit your child well so that they don't chafe and create blisters.
A great toddler hiking shoe is the Merrell hiking sneaker. If you're hiking in hot weather, sandals with a closed toe box provide breathability while still protecting the toe from trips and stumbles.
Hiking pants
When considering hiking pants for your toddler, the most important factors are comfort and mobility. You'll want to choose pants that are lightweight and quick drying so that your child barely notices they're there as they run off to explore on their hiking adventure.
Water bottle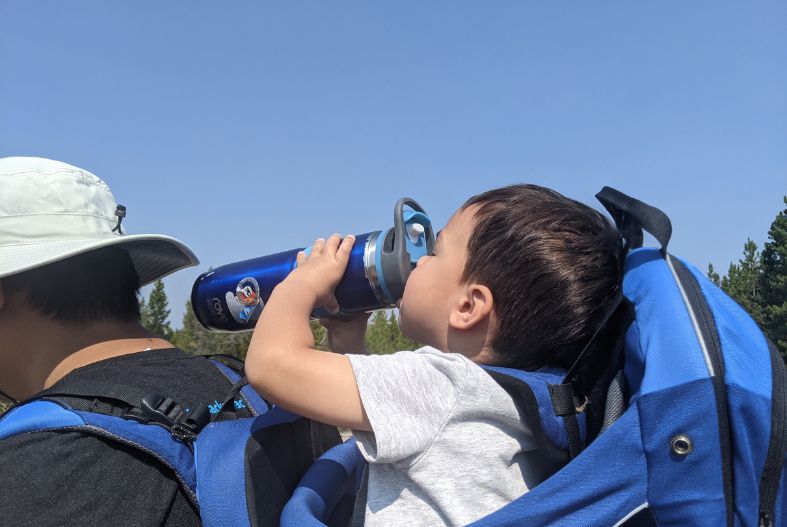 Hydration is an important factor to consider in any hiking experience, but this is especially true when hiking with a toddler.
You can choose to share your water bottle with your toddler or bring water bottle specifically for your child, just be sure to bring enough water for everyone.
Before going on your hike, check that the water bottle you bring is easy for your child to get water from. Sometimes wide-mouth bottles are harder for toddlers to drink from than a bottle with a straw. See what works best for your child.
If you have a backpack with a hydration pack you can also teach your toddler to drink from that so that you don't have to carry an extra water bottle with you.
Snacks
Snacks are a must when hiking with a toddler. Plan on bringing snacks that are easy to pack and not too messy. Some of our favorites include granola or fruit bars, fruit and veggie pouches, sandwiches, and fresh fruit.
Snack catcher
A snack catcher is a helpful way to feed your toddler snacks on the go. The hike can continue while your toddler feeds themselves snacks (and the handy flaps on the lid prevent the snack from spilling everywhere!). This prevents a hungry child and also gives your child something to do during the hike. It's a win-win!
I like to attach the snack catcher to the carrier with a pacifier clip so that if it does get dropped it doesn't end up in the dirt.
Sunscreen/sun hat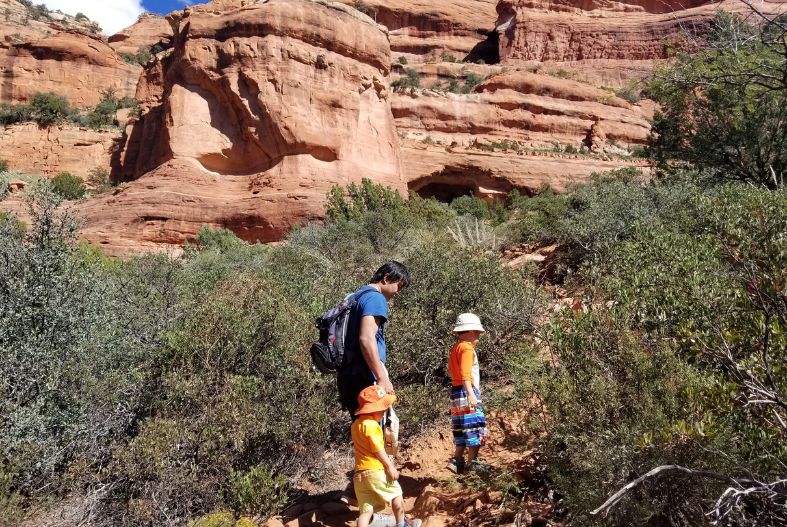 If you plan to be out hiking on a sunny day, be sure to bring sun protection for your child.
We love Blue Lizard sunscreen because it doesn't contain the questionable ingredients found in so many sunscreens. A sun hat is also a good way to protect your child's face and shield their eyes from bright sunlight. Choose a sun hat that has a chin strap so it doesn't blow off on a windy day.
Diaper/wipes/wet bag
If your child is not potty trained, you'll definitely want to remember diapers and wipes. Bring a few more diapers than you think you'll need just to be safe. Also plan on bringing a wet bag for carrying out dirty diapers.
Hand sanitizer
If your kids are anything like mine, they love picking up dirt, sticks, rocks…basically anything they can get their hands on. Which I'm not opposed to, but I do try to bring some hand sanitizer so that I can clean their hands before they eat their snacks.
First aid kit
It's best practice to always bring a first aid kit when hiking. You never know when you'll need to do a little patching up and it's always a good idea to be prepared.
Change of clothes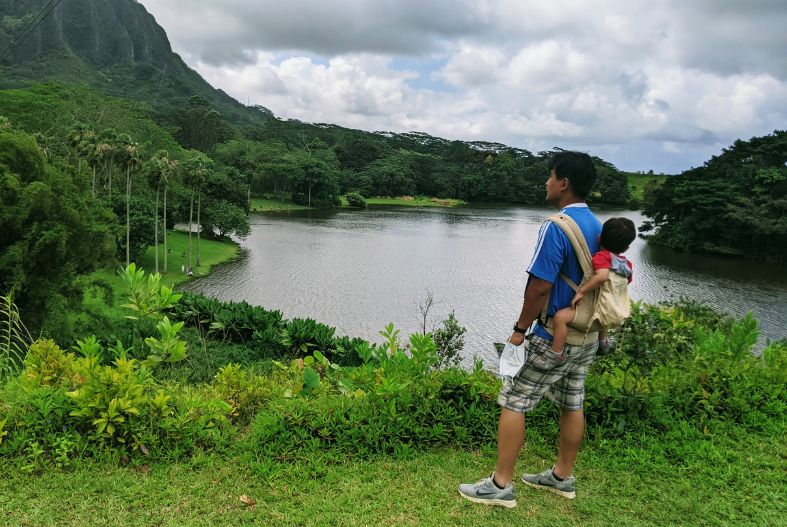 It's always a good idea to bring a change of clothes when hiking with a toddler. This will come in handy if your child has an accident, jumps in the mud, falls in a stream…you get the idea.
At the very least you'll want to bring extra socks. Wet socks are very uncomfortable to hike in and chances are your child won't be able to resist jumping in that puddle they see along the trail.
Jacket
The temperature can change quickly while hiking, so it's best to always bring a jacket for your toddler, even if you're hiking on a warm day. It's better to be over prepared than end up with a cold little one.
Bug spray
You don't always need bug spray while hiking, but it sure is nice to have on hand when you do end up needing it. Insect repellent wipes are useful in this situation because they don't take up any space in your backpack and you can keep them available in case you need them.
Toddler hiking toys
Now you don't really need toys when you're hiking with a toddler, because they are likely to find lots to keep them entertained along the way (sticks, rocks…).
However, I do like to bring a couple of toys that I'll only pull out if my child is having a hard time (no need to distract them if they're fine just enjoying nature!).
These toys would be something small and lightweight that I can attach to the carrier with a pacifier clip so that they aren't constantly being dropped in the dirt.
Toddler hiking gear checklist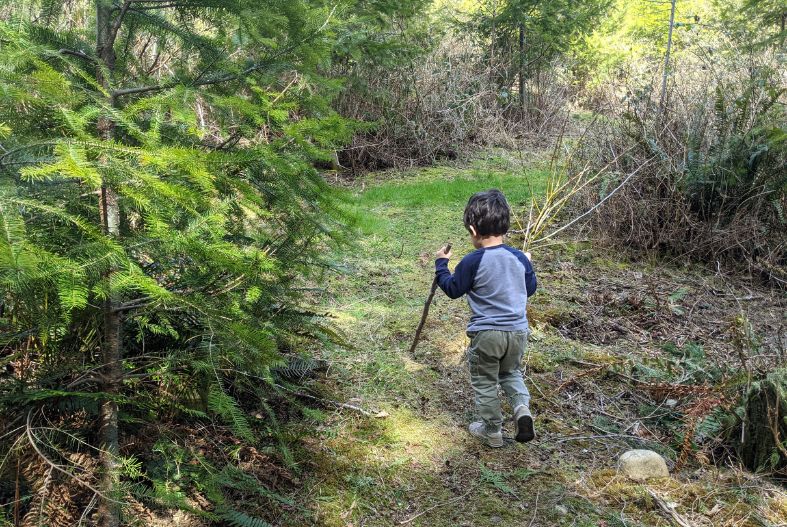 Below we've provided a checklist of all the toddler hiking gear essentials so that you don't forget anything important when hiking with your toddler!
Toddler carrier
Hiking shoes
Hiking pants
Water bottle
Snacks
Snack catcher
Sunscreen
Sunhat
Diapers/wipes
Wet bag
Hand sanitizer
First aid kit
Change of clothes
Jacket
Bug spray
Toys (optional)
Common questions
What should a toddler wear hiking?
When hiking, toddlers should wear clothes that are comfortable and lightweight. Dress your child in layers so that you can take off or add outer layers if they get too warm or cold. Also aim for clothes that are quick drying and weather-appropriate.
Can a 2 year old go on a hike?
A 2 year old can definitely go hiking! You'll probably be surprised about how capable they are and how much fun they can have hiking.
Of course, be ready to carry them in a carrier when they get tired, but give they will love the opportunity to explore and have adventures outdoors.
How far can a 2 year old hike?
A 2 year old should generally be able to hike up to 2 miles in a given day. But that's not to say you can't go on hikes longer than that. In fact, you can go on long hikes with a toddler, just be prepared to carry your child if you're planning a hike longer than 2 miles or so.
Final Thoughts
Hiking with a toddler can be a fun experience for everyone, if you bring the right toddler hiking gear. Some of our favorite memories are of times spent hiking with our young kids.
With a little preparation you'll soon be on your way to an awesome outdoor adventure with your child!
Other posts you might be interested in:
11 Helpful Tips for Hiking with a Toddler
Road Trip Activities for Toddlers (That They Will Really Love!)
The BEST Toddler Carriers for Travel
The Ultimate List of Toddler Travel Essentials (+Toddler Packing List!)