This page may contain affiliate links, which means that we may earn from qualifying purchases at no additional cost to you.
Planning a trip for one day in Arches National Park? Then this is the guide for you!
In one day in Arches National Park, you can see some truly incredible sights, including the most iconic features of the park.
Located within the park you can find over 2,000 arches, along with other striking rock formations such as sandstone spires, fins, pinnacles, and precariously balanced rocks.
Is one day in Arches National Park really enough? Well, to complete the all the main hikes in Arches and see all the best features, you'd need at least two days.
But if you only have one day, there is plenty to see to make your visit more than worth it!
Arches is not a huge national park; the road through the park only covers 22 miles. And because everything is fairly close together, you can really fit a lot into a short period of time.
But you need to be prepared to make the most of your limited time in the park. This guide has everything you need for a perfect day in Arches National Park!
For tips on visiting Arches with kids, see this post!
One Day in Arches National Park Itinerary
Overview of Arches National Park 1 Day Itinerary
Here is a quick overview of your one day in Arches National Park. Although it might seem like a lot to fit into one day, some of the items are just quick stops.
Included is a rough estimate of how long you will need at each stop, which will of course need to be adjusted based on how long you choose to stay at each of the features.
Scenic Drive (completed while seeing the other sights)
Delicate Arch Hike (2-3 hours)
Fiery Furnace Viewpoint (5 minutes)
Sand Dune Arch (15-30 minutes)
Landscape Arch (1 hour)
Windows Loop (30-60 minutes)
Double Arch (15-30 minutes)
Balance Rock (15-30 minutes)
Park Avenue Viewpoint (5 minutes)
Arches Scenic Drive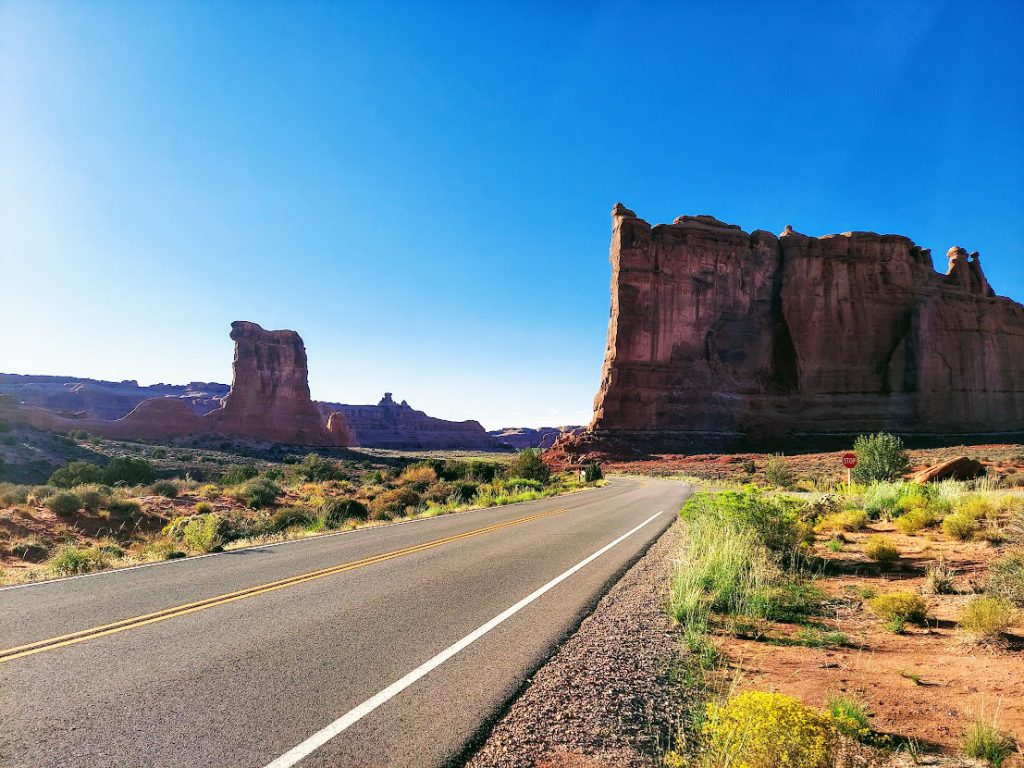 Arches Scenic Drive is the main road leading through the park. It's about 22 miles long and stretches the length of the park (plus a few side roads), with various hikes and scenic overlooks along the way.
The drive through the park is not to be missed. The towering rock walls and open, sweeping landscapes are truly awe-inspiring to the point of having an almost otherworldly feel. Along the way you can see rock spires and fins, arches and gravity-defying rock formations.
Because there are so many impressive things to see from the road, some people will do the drive alone without even venturing out on any of the trails. We don't recommend that option because of how much you'd be missing, but it just goes to show how amazing a drive through Arches really is.
Just in visiting the other hikes and rock formations in the park, you'll be completing most (if not all) of the scenic drive, but make sure appreciate the drive for what it is, rather than just a way to get from point to point.
Delicate Arch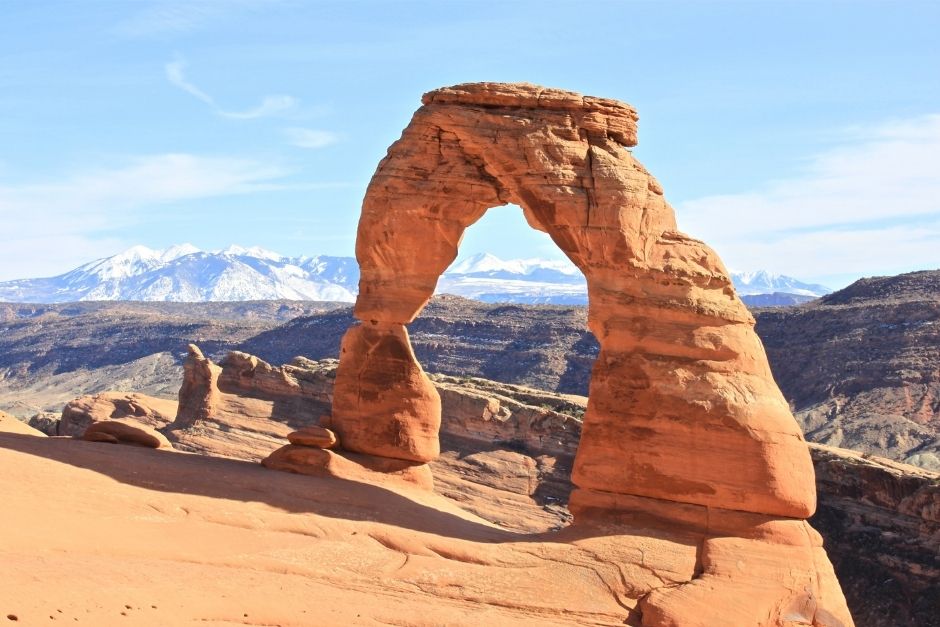 For many people, the main reason to come to Arches is to see Delicate Arch.
Delicate Arch is one of the most famous arches in the world and widely considered the symbol of Utah. It's the largest freestanding arch in the park, standing at 32 feet wide and 46 feet high.
The hike to view the arch up close is 3 miles roundtrip. It's a moderately difficult hike with an elevation gain of 480 feet. Most of the hike is an uphill climb on an exposed rockface, so bring sun protection and plenty of water. Be sure to follow the cairns so you don't lose the trail.
Towards the top there is a 200 yard stretch with a steep drop-off on one side, so be extremely careful if you are hiking with young children.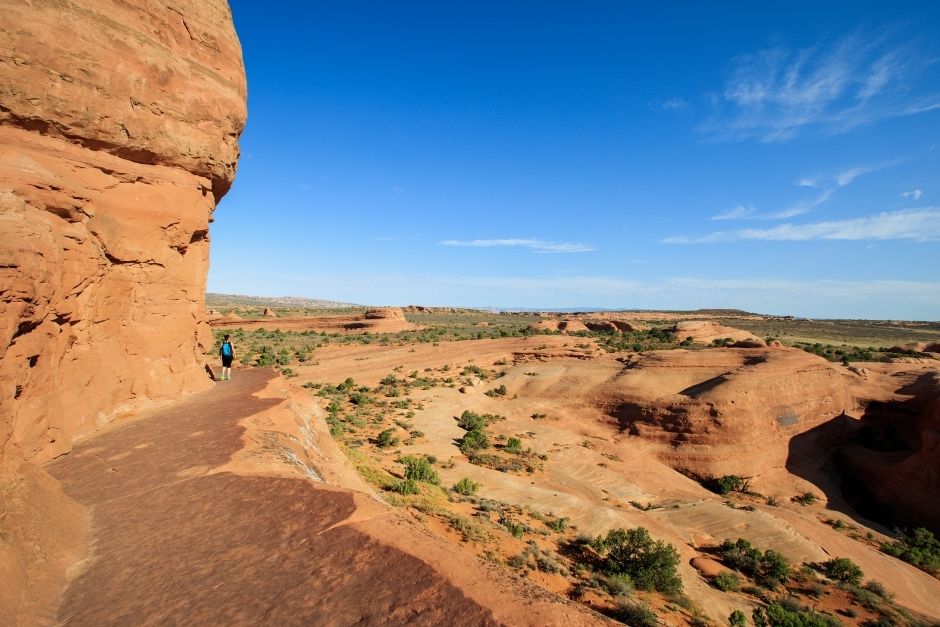 Given it's popularity, the Delicate Arch hike is usually quite crowded and the parking lot can fill up quickly.
People tend to hike Delicate Arch later in the day because the sun lights up the arch better in the afternoon. So if you want to avoid the crowds, go first thing in the morning. As a bonus, that's the coolest time of day to go in the summer.
If you prefer braving the crowds to get that perfect picture or to see the sunset, go later in the day.
Note that if you choose not to do the hike, you can still see Delicate Arch from two viewpoints, one of which is only a short walk from the parking lot and the other a .5 mile scramble up a hill. Both of these will give you a distant view of Delicate Arch from across a canyon.
Fiery Furnace Viewpoint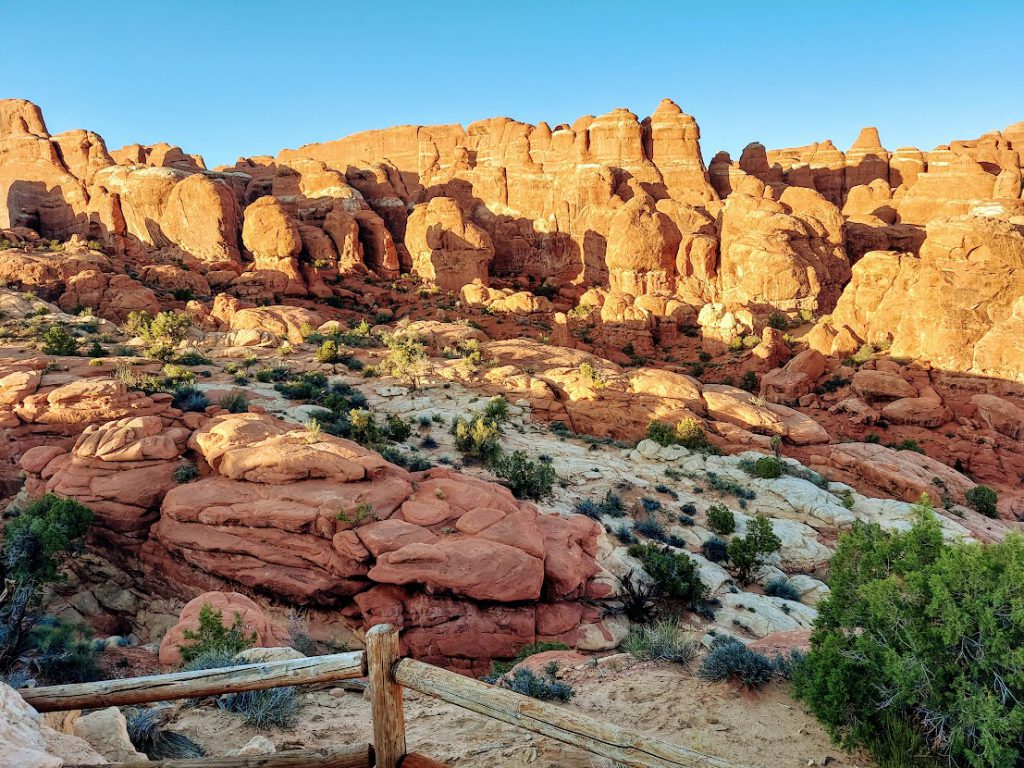 After you see Delicate Arch, stop for a few minutes to admire the nearby Fiery Furnace, a maze of narrow sandstone canyons.
To enter the Fiery Furnace, you can take a tour guided by a ranger through the sandstone fins, as it is easy to get lost in the labyrinth.
But you can easily view the Fiery Furnance from the outside by taking a quick walk from your car to the observation point. If you're at the viewpoint near sunset, the angle of the light makes it look like the rocks are glowing flames.
Sand Dune Arch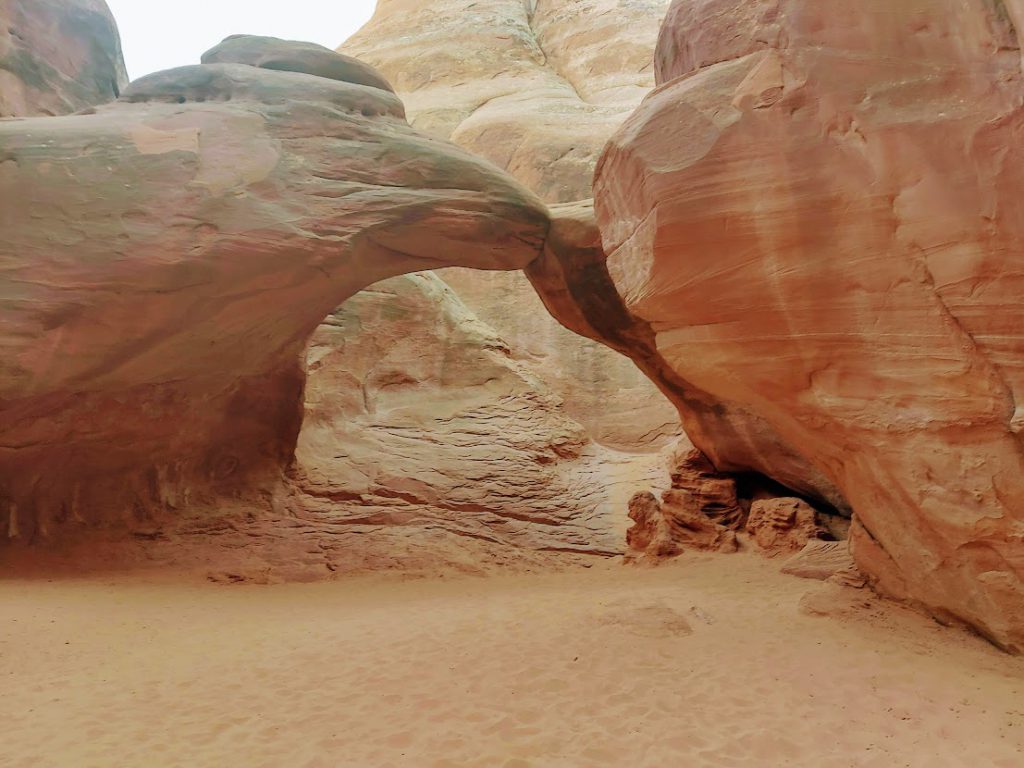 A few miles north of the Fiery Furnace Viewpoint is the trailhead for Sand Dune Arch.
Although it's only a short walk from the road (.3 miles roundtrip), Sand Dune Arch feels much more secluded than many the other arches. That probably has to do with the fact that it's hidden from view by towering sandstone fins.
After a short walk through a meadow, you'll make your way between the rock fins to find the small arch nestled between the rock walls.
As you might guess from the name, the area is completely covered in a fine red sand. This is a perfect place for families with young kids who will love playing in the sand. This was our kids' favorite spot we visited in the whole park and they could have stayed there for hours.
The tall fins also offer shade and a bit of a cooler temperature, making Sand Dune Arch a ideal spot to escape the heat of the day.
Landscape Arch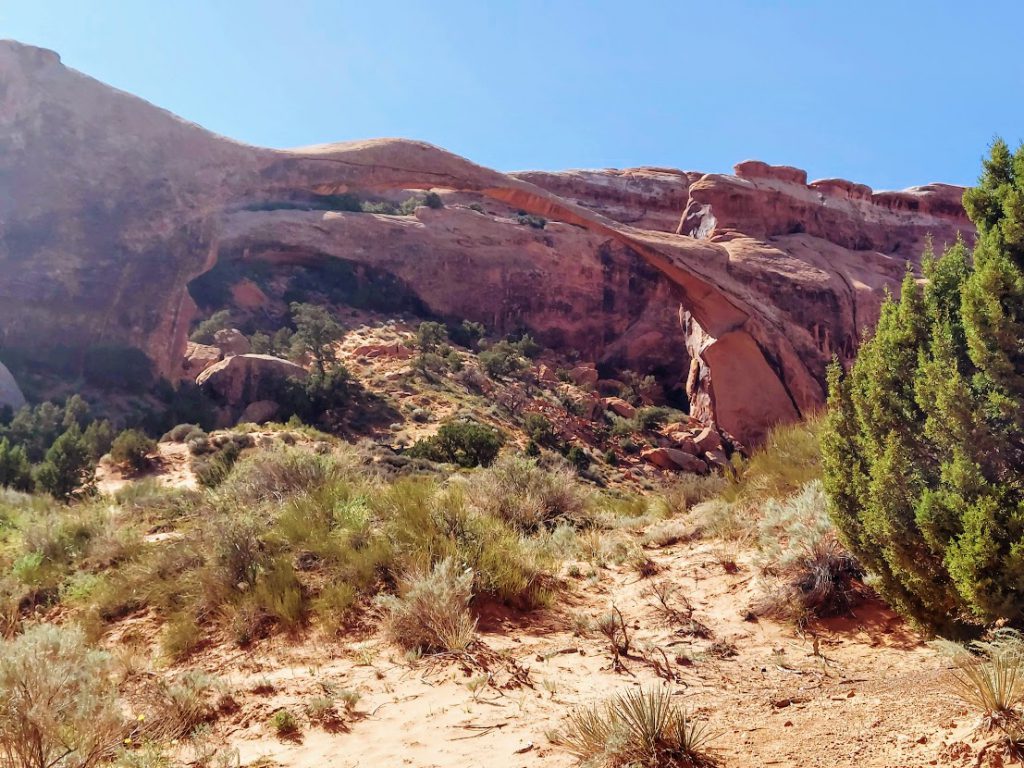 At the end of the paved road through Arches National Park is the Devil's Garden Trailhead, which leads to Landscape Arch.
Landscape Arch is the longest arch in the park. At 306 feet wide, it's longer than a football field!
The hike starts at the Devil's Garden Trailhead and is an easy 1.9 miles roundtrip. At the trailhead, you can also find water to fill up your water bottles.
Along the way, you'll also see two more impressive arches, Tunnel Arch and Pine Tree Arch, as well as pass some stunning rock formations and scenery.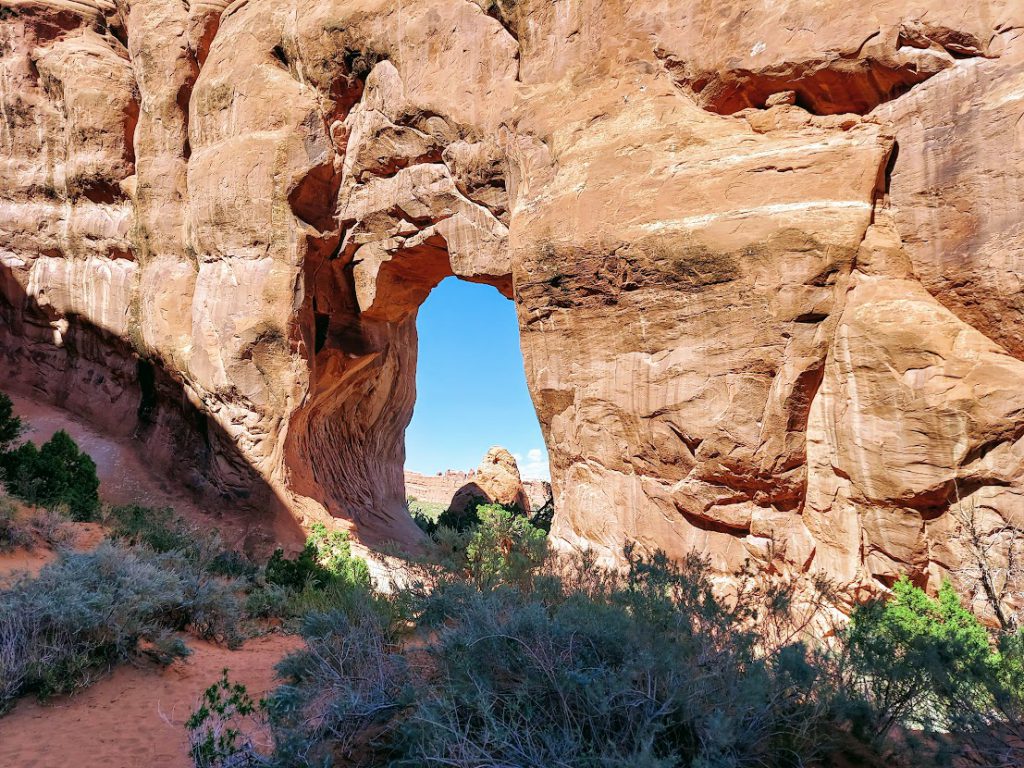 Once you reach Landscape Arch, you can also choose to turn back or continue on to complete the Devil's Garden Trail.
The entire Devil's Garden trail system (including the hike to landscape Arch) is 7.8 miles roundtrip and includes the Double O Arch and Dark Angel, along with several other arches. This is the longest hike in Arches National Park and also the most challenging.
Along this hike you will find narrow ledges and steep dropoffs. You'll also have to scramble up sandstone fins and navitage the primitive path, which can be difficult to follow at times. Bring plenty of water.
Although this is a longer, most difficult hike, its a truly unique experience that allows you to see some of the best sights in the park. And you'll have most of it to yourself, as it is much less crowded than other trails in the park. If you plan to do the entire hike, factor in 3-5 hours.
Windows Loop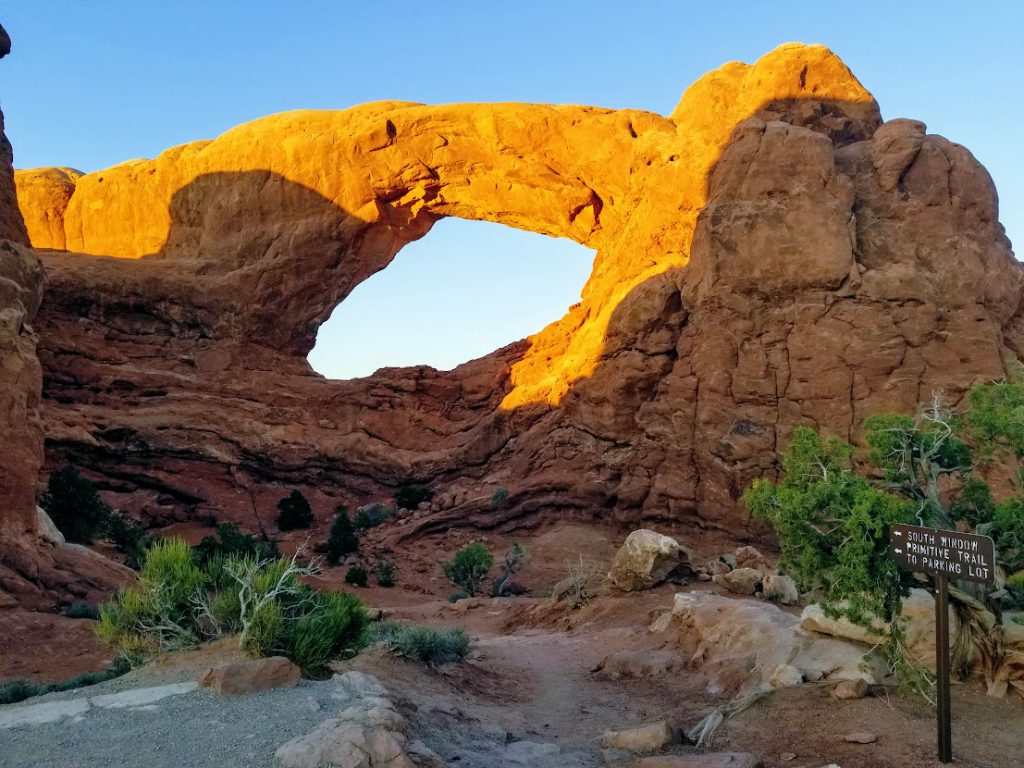 As you follow the road back down south, follow the sideroad toward the Windows Section to complete the Windows Loop.
The Windows Trail is a short hike with a big payout. Along the trail you will see three impressive arches and gorgeous panoramic views out over the park.
The 1-mile roundtrip hike first takes you past North Window and South Window. Both arches are located in the same rock fin and if you look at them from far away they look like a pair of spectacles.
As you continue along the trail you can also see Turret Arch. The smallest of the nearby arches, it's a charming formation that almost looks like part of a crumbling castle.
You can return on the same path or take a slightly longer, more primitive trail behind South Window to get back to the parking lot.
Double Arch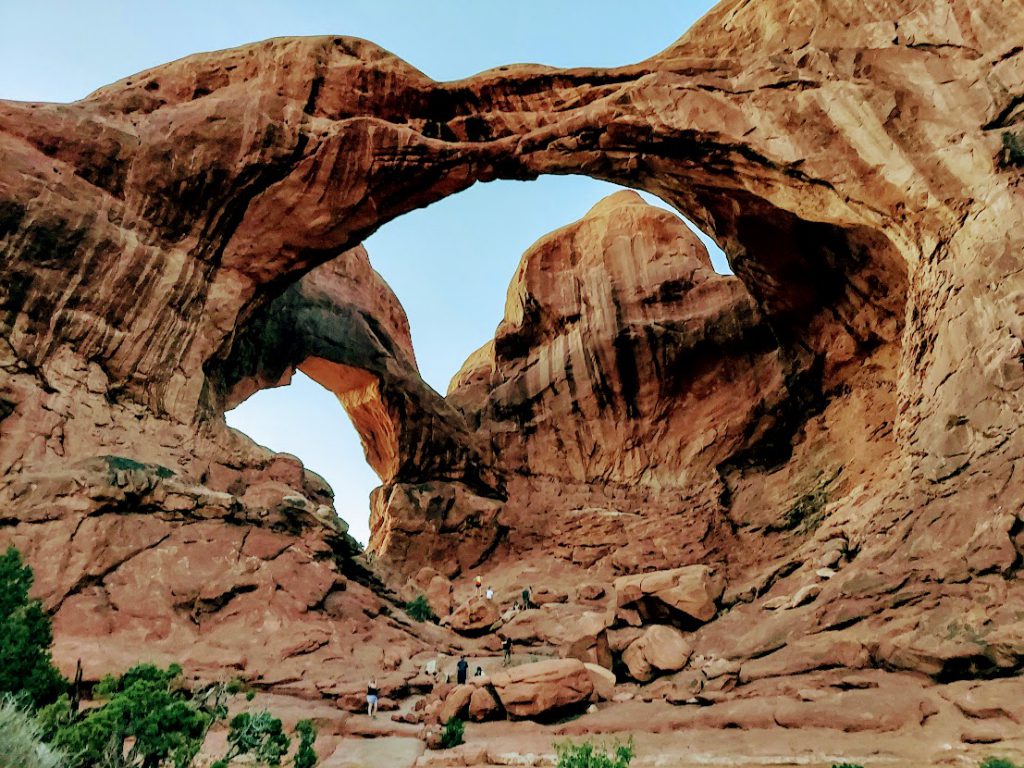 Located just across the parking lot from the Windows Arches is Double Arch.
Double Arch is a sight you definitely do not want to miss when visiting Arches. Two arches connect at one end to form this impressive rock formation.
This is one place where you can actually climb up underneath the massive arch, which is really a sight to behold up close.
At 112 feet, Double Arch is the tallest arch in the park and also the second longest after Landscape Arch. It's only a .5 mile walk roundtrip on a flat, packed trail to reach the arch.
In this case, pictures really do not do justice to the sheer size of this arch. Don't miss this stop, Double Arch really is one of the most impressive sights you will see in Arches National Park.
Balanced Rock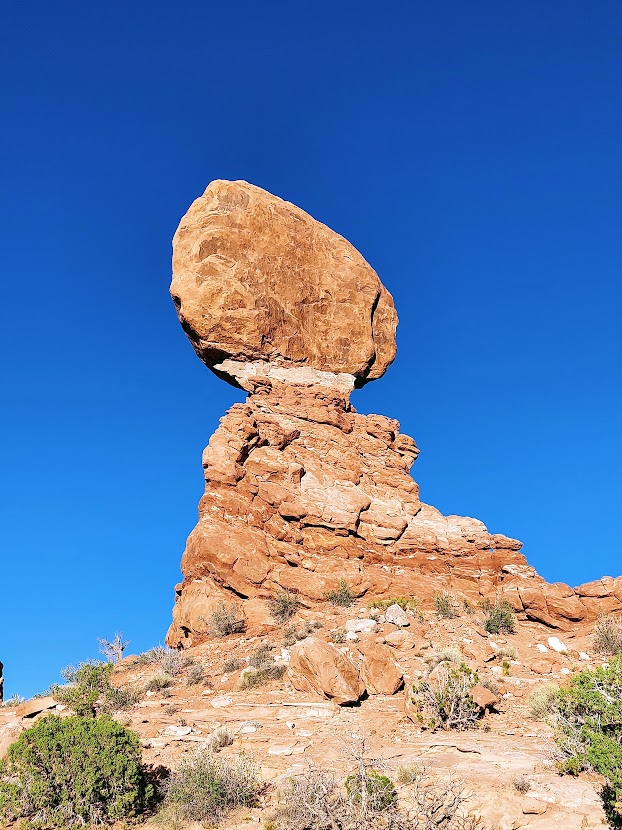 Once you get back to the main road, it's only half a mile drive to Balanced Rock.
Balanced Rock is a massive 3,600 ton boulder that looks like it is balanced precariously on the spire of rock beneath it. In reality, the two pieces of rock are actually attached but the lower pedestal has eroded away over time, leaving just a narrow strip of rock. Not that it makes the visual any less impressive.
Although this rock formation can be seen from the road, it's worth making a quick stop to take the .3 mile stroll around base of Balanced Rock.
The beginning of the trail around Balanced Rock is flat and wheelchair and stroller accessible, although if you continue around behind the rock formation you will encounter some rock steps and uneven ground.
Park Avenue Viewpoint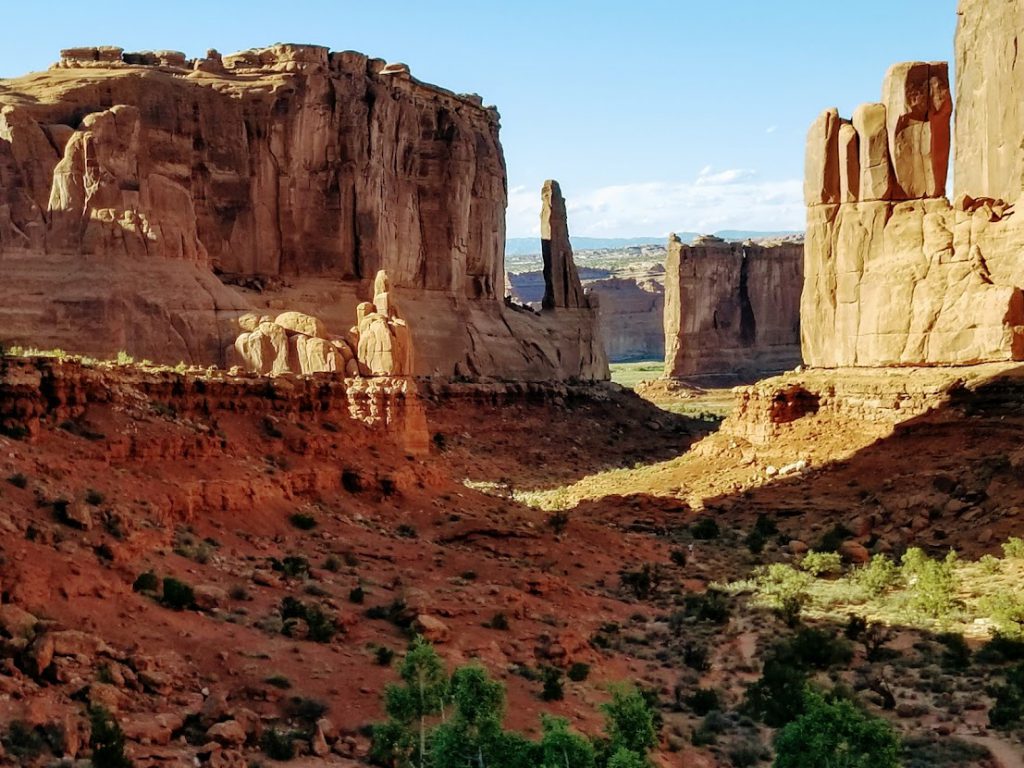 Located only a few miles from the Visitor Center, this viewpoint is a perfect first or last stop on your one day in Arches National Park.
From the viewpoint, you'll see a canyon framed by towering sandstone walls. The many towers and fins along the canyon edge are reminiscent of a city skyline, hence the name.
If you want a closer look at the impressive features, you can also take the one-mile path through the canyon, which connects to the main road on the other side (have someone pick you up there if possible so that you don't have to make the return hike).
Useful things to know
It costs $30 for a seven-day pass. If you're planning on visiting other national parks within the year, consider getting the America the Beautiful Pass, which grants access to all national parks for an $80 annual fee.
There is no gas or food available in the park. You can find plenty of gas stations and places to eat in Moab, about a 10-minute drive from the park.
Water is available at the Visitor Center and Devil's Garden Campground and Trailhead.
Cell phone service is typically nonexistent throughout the park.
The park is open 24 hours a day, but will close temporarily if it gets too crowded.
Tips for Spending One Day in Arches National Park
Get there early
If you only have one day in Arches, make the most of it by arriving early. Not only will you have more time to explore in the coolest part of the day, you reduce the chance that you might not make it into the park.
Only so many visitors are allowed into the park at one time, so during busy times the park closes for several hours once it reaches capacity, often starting as early as 8:30 or 9 am. Typically it won't be opened again for new visitors until after noon.
Note: From April 3 to October 3, 2022 a timed-entry ticket is required for entrance to Arches National Park. Tickets are per vehicle (with a $2.00 registration fee), not per person and each visitor can have one vehicle reservation per day. Those arriving on foot or by bicycle don't need a timed-entry reservation. Tickets are available on the hour between 6 am and 5 pm and you must arrive during the hour you reserve. Once you enter the park, you can exit and reenter during that day. Entrance on a different day requires another ticket.
Be prepared for the heat
If you're visiting during the summer months, the park can reach up to 110 degrees in the heat of the day. Even in the more moderate spring and fall months, highs are typically in the 80's or even into the 90's.
Prepare yourself by bringing plenty of water (it's recommended that each person drink a gallon of water every day), sunscreen, and sun protection (sunglasses, hats, etc). You might also want to bring some electrolyte add-ins for your water to help you stay hydrated.
Best time to go to Arches National Park
The best time for visiting Arches is in the spring or fall. In May-April and September-October, the temperatures are moderate (typically between 60-80 degrees during the day), making for a pleasant climate to explore the park.
In the summer, temperatures are scorching (into the 100's), which if you're not cautious can lead to heatstroke or heat exhaustion. And a miserable hiking experience.
Winters can be quite frigid but have the benefit of being much less crowded.
Where to stay when visiting Arches National Park
If you want to stay in the park, there is one campground for visitors. The Devil's Garden Campground is located 18 miles from the park entrance. Book in advance, as the campground does fill up in the peak season.
For details on camping in arches, see this site.
For those who aren't wanting to camp, nearby Moab has lots of lodging options.
What do bring when visiting Arches National Park
Hydration pack– If you forget everything else, make sure that you bring a hydration pack or good water bottle. It's easy to get dehydrated in Arches, so make sure have a way to easily carry and drink water during your trip.
Electrolyte supplements– To prevent dehydration, consider bringing an electrolyte drink supplement to mix into your water.
Sun hat– The sun can be quite unrelenting at Arches, and a hat can go a long way towards providing some shade and preventing sunburn.
Sunglasses– Prevent sun glare in your eyes by bringing a pair of sunglasses for your trip.
Sunscreen– You'll probably be out in the sun for a lot of the day, so bring some sunscreen to protect your skin from the UV rays.
Hiking shoes– Bring a pair of good hiking shoes or boots to ensure a comfortable hiking experience.
Camera– We just used the cameras on our phones, but if you have an aptitude for photography this would be a perfect opportunity to bring a professional camera for some amazing pictures.
Final Thoughts
If you only have one day in Arches National Park, you'll want to be sure to use your limited time wisely. This guide will make sure you don't miss any of the best sights in the park.
There is so much you can see in one day at Arches, we guarantee you'll be impressed with all that this amazing park has to offer!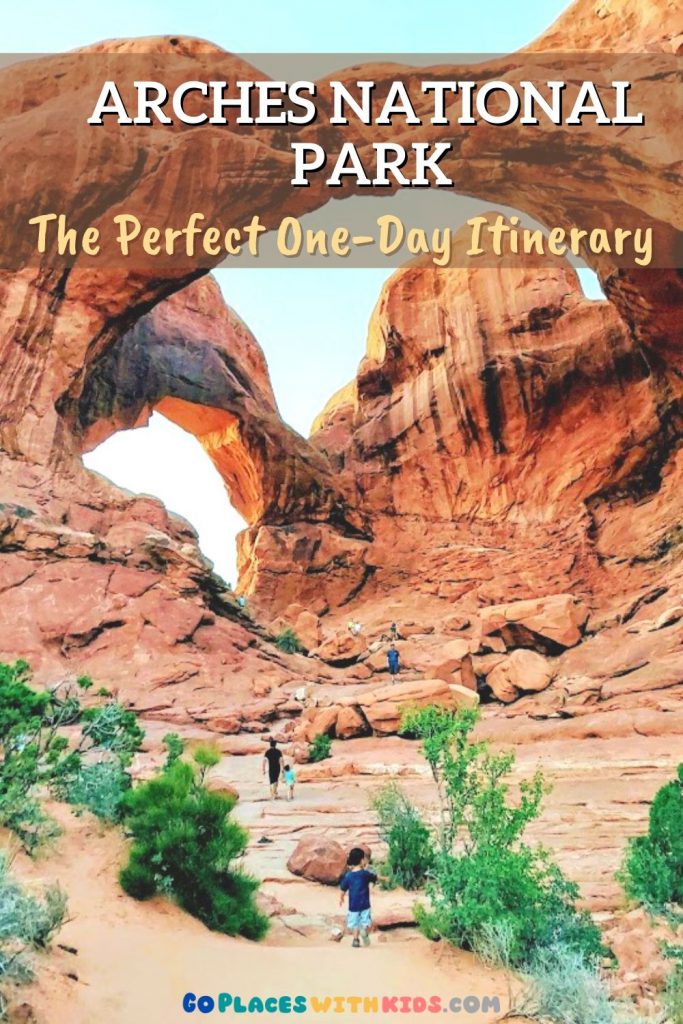 Other posts you might be interested in:
The Ultimate Guide to Arches National Park with Kids
Complete 3 Day Yellowstone Itinerary- The Best Sights and Experiences!