This page may contain affiliate links, which means that we may earn from qualifying purchases at no additional cost to you.
If you're in Italy, you have to visit this beautiful and unique city. The views are gorgeous, the history is fascinating, and the food is delicious. What's not to love? And visiting Venice with a baby can be a great experience as well.
Our time in Venice felt almost magical as we strolled along the waterways and enjoyed the atmosphere of this iconic Italian city.
Although the popular destinations can get very crowded, it's amazing how the crowds drop away if you follow the canals into the city's depths and visit some of the less touristy sites.
And while our son was too young to fully appreciate it, we enjoyed having him along as we took in the sights.
How to get around in Venice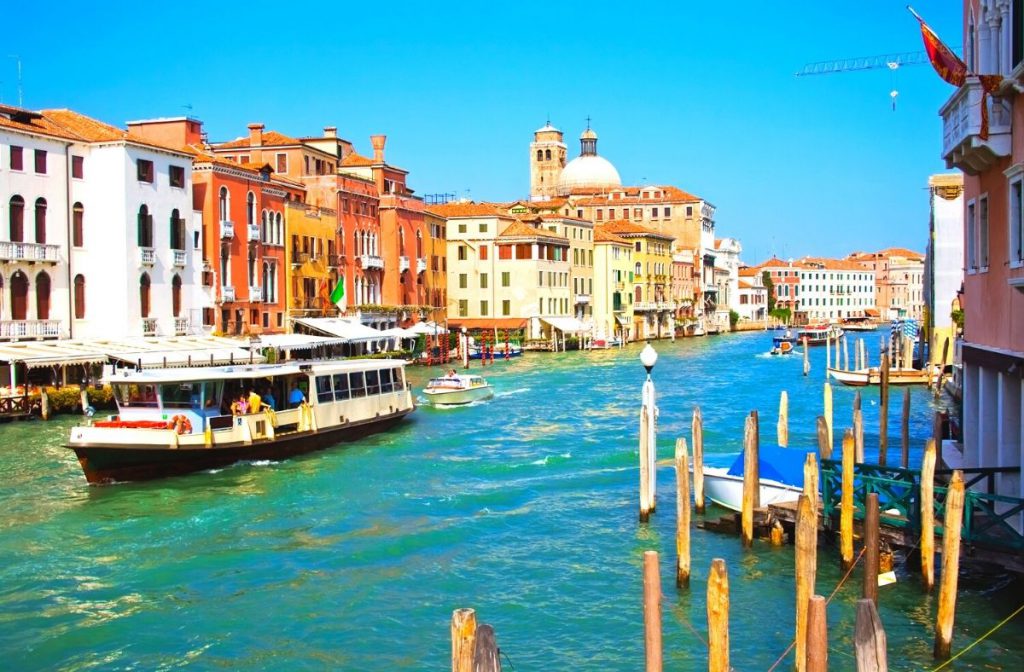 In a city with no cars, either you end up doing a lot of walking or you take to the water! Or both, which is what we did.
Walking is going to be one of your main methods of getting around the city, so bring your comfy shoes! And make sure you have a good map. The narrow, twisty streets and many bridges can be very confusing.
As far as traveling by water, you have a few options:
Gondolas are more for the tourist experience and not for everyday transportation, as they are expensive (and slow).
Water taxis are a convenient, direct way to get around, but also run pricey. This is a good option if you have luggage that you need to transport or are in a hurry.
The most cost-effective water option is the vaporetto, or water bus. The vaporettos have scheduled routes that run consistently. They are often crowded and you might want to get their a few minutes early to ensure your seat.
Tips for visiting Venice with a baby
Bring a baby carrier
A baby carrier is a must-have if you're planning on going to Venice with your baby. We brought our Ergobaby carrier and found it to be invaluable.
It's nice to be able to strap the baby into the carrier and peruse the churches and museums without too much difficulty. And also not have to worry about your baby toddling off into a canal…
This is another place I wouldn't recommend a stroller. Between cobblestone streets, crossing many bridges, climbing stairs, and hopping on and off of water buses, it's just easier not to have to worry about a stroller.
If you feel the need to bring a stroller, pick one that's sturdy enough to handle the rough streets and that's easy to fold up. And get prepared to lift the stroller up and down a lot of stairs to cross the bridges.
Be prepared to visit museums and churches
Venice has so many great museums and churches to visit. The tourist-in-Italy part of me was super excited about this. Buuut the mom-traveling-with-a-baby part was a bit more stressed.
It can be hard to keep a baby quiet and entertained for a whole day of museum visits. But with some planning (and trial and error), we found strategies that worked well for us, such as planning naps, sharing the load, and bringing the right activities for our baby.
For more details on how to have a successful museum or church visit with a baby, see this post.
Consider a city pass
City passes are a great way to see the top attractions in a city at a discounted price.
For our time in Venice, we purchased the Venizia Unica Pass. This pass provides access to public transportation and to the major churches and museums in the city.
Make sure you have internet access
You might want to consider getting a local SIM when you first arrive in Italy. Typically, it's cheaper and you get better coverage.
However, if you have T-Mobile, they have great plans for international travel. They have free limited speed data access, so you don't have to worry about having a big phone bill when you get home.
If you don't have T-Mobile (or Google Fi), be sure you know what your data roaming options are. We found the local SIM to be the best option for us in price, speed, and coverage (we went with TIM, a domestic telco provider). To buy a SIM, make sure your phone is not carrier-locked.
Also, make sure you have a global-ready phone (meaning that the phone supports the frequencies of your destination).
Being connected online is extremely helpful for looking up information about sites, times, tickets, bookings, etc.
We got a local SIM with TIM (a domestic telco provider) for our phone when we arrived in Italy because it's cheaper and you get better coverage. (Although we weren't T-Mobile customers at the time, being on a T-Mobile plan is great for international travel- they have free limited speed data access, so you don't have to worry about having a big phone bill when you get home).
Being connected online is extremely helpful to look up information about sites, times, tickets, bookings, etc.
What to do in Venice
Take in the ambiance of Piazza San Marco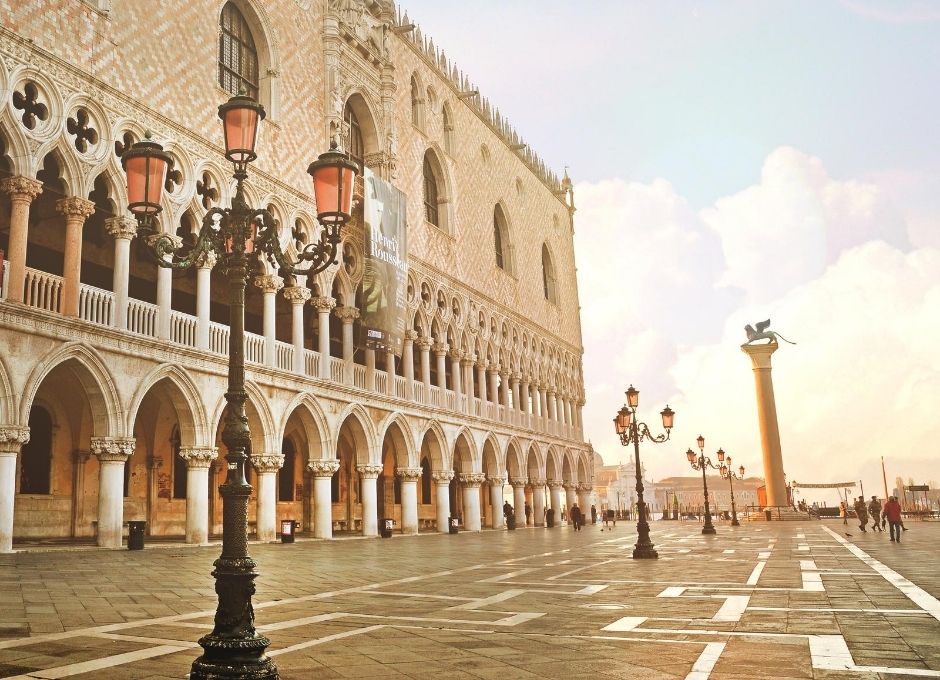 Piazza San Marco, or St. Mark's Square, is the largest and primary square in Venice. This square is a gathering place for locals and tourists alike.
At one end is the spectacular St. Mark's Basilica with it's towering bell tower, while the other end opens up to the sweeping Grand Canal. And if that's not enough, the imposing Doge's Palace lines the square on one side.
Also adjacent to the square is the Museo Correr, the National Archaeological Museum of Venice, and the Biblioteca Nazionale Maciana.
Visit St. Mark's Basilica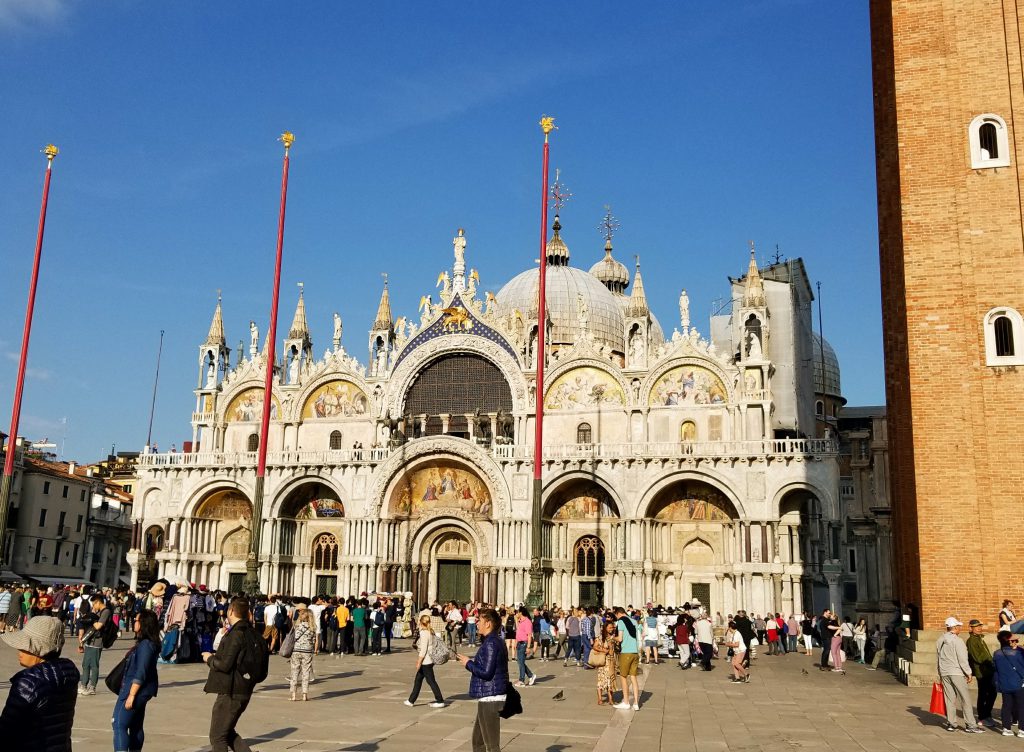 The most well-known of Venice's churches, St. Mark's Basilica is also one of the most popular tourist destinations in the city. The inside is truly awe-inspiring, with ornate gold mosaics and towering columns.
No suitcases, backpacks, or large bags are allowed inside, so plan accordingly. This included our diaper bag, which was inconvenient, to say the least. We didn't know this and had to go back a different time after getting turned away.
Tour Doge's Palace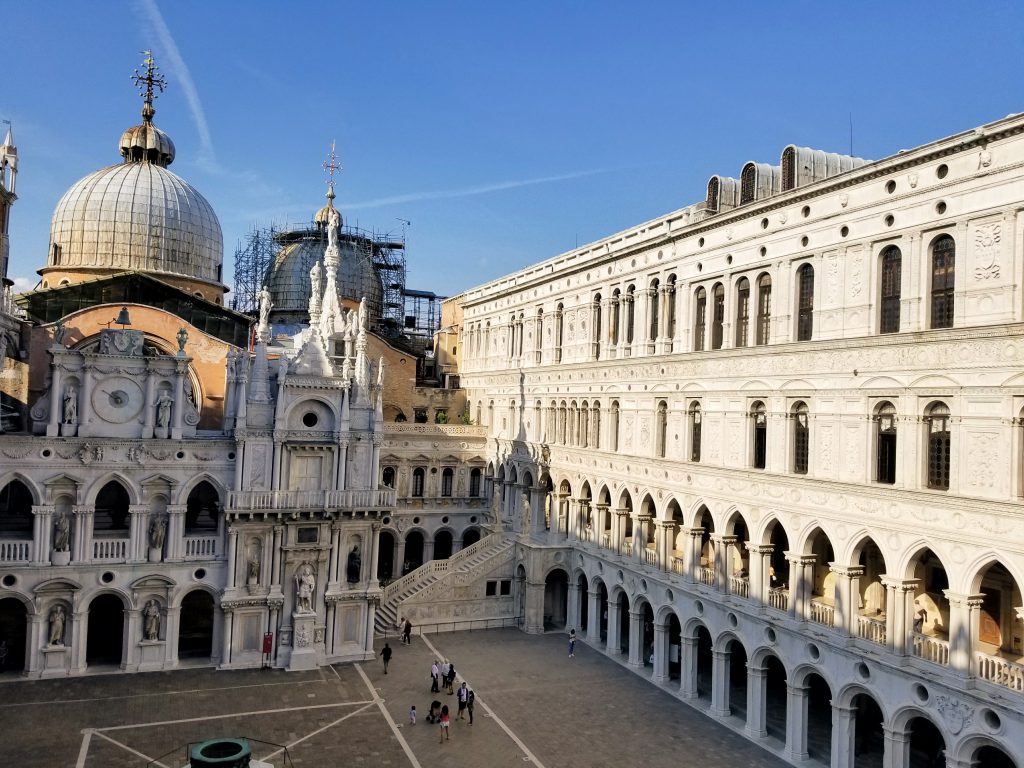 This beautiful building was formerly the palace of the Doge, the leader of the former Venetian Republic, and is now a museum. Not only was this the residence of the Doge, it was also the center of bureaucratic and legal proceedings for the republic. This is one of the most popular attractions in Venice.
And while you're at the palace, you can cross the famous Bridge of Sighs.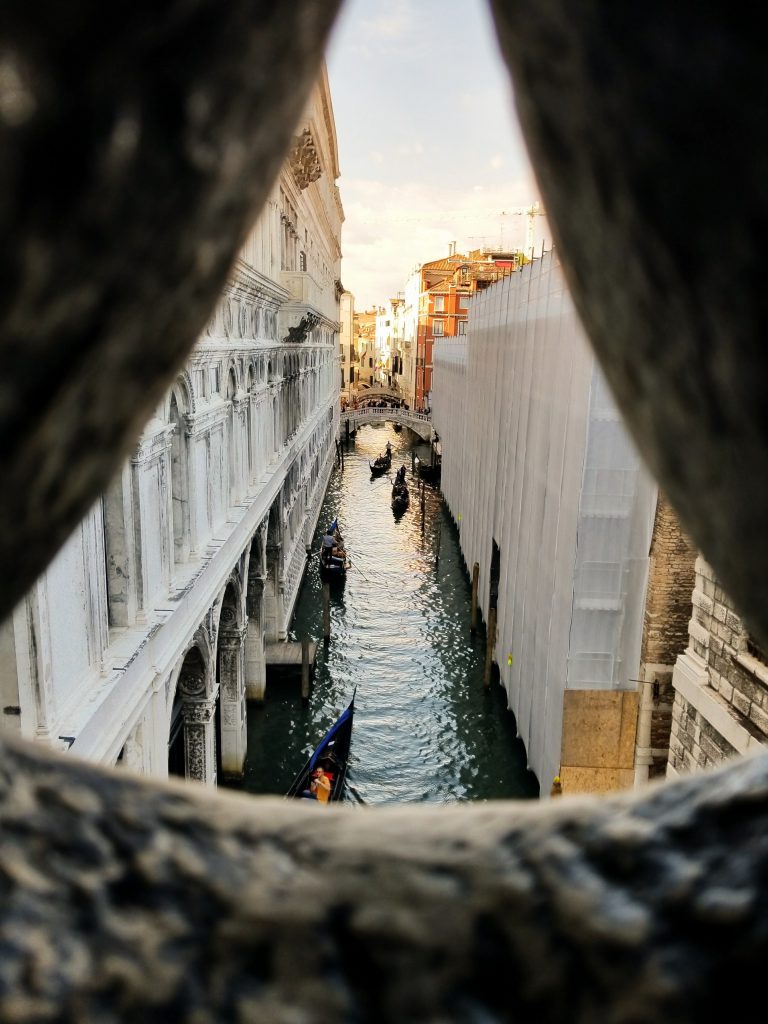 The Bridge of Sighs connects Doge's Palace with the New Prisons. This iconic bridge gets its name from the idea that prisoners would sigh as they caught their last glimpse of Venice before being taken to their cells.
Visit the spectacular churches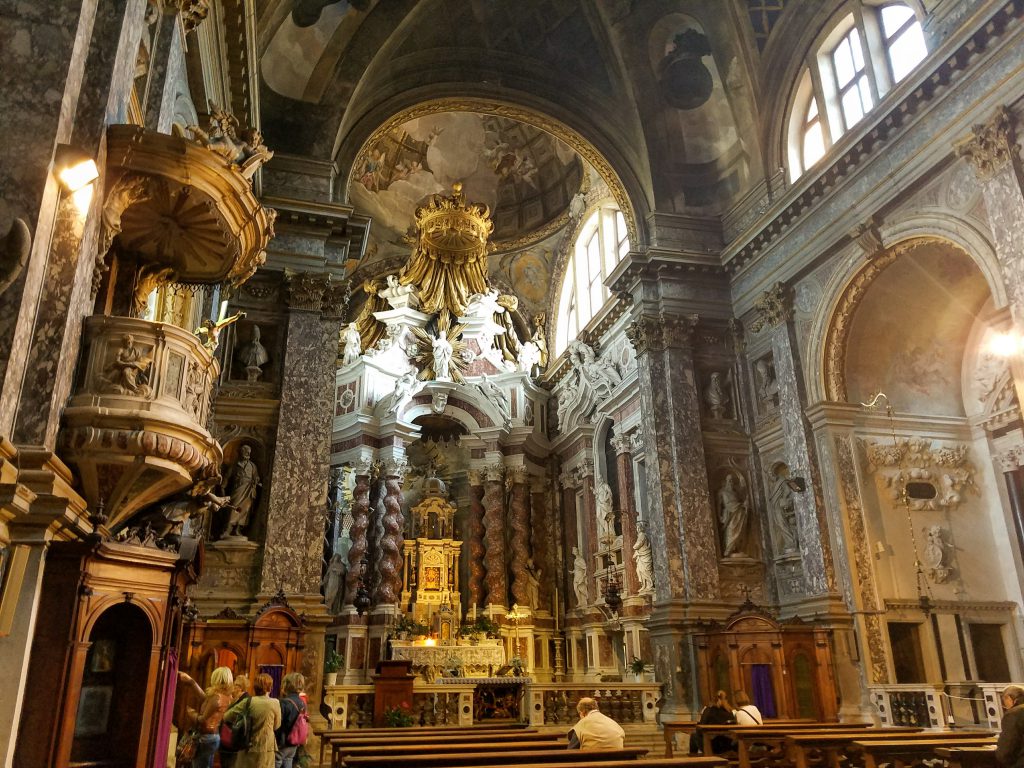 I have to admit, I was always a little surprised when walking into churches in Venice. Often they didn't look like much on the outside but were absolutely spectacular on the inside. And all were worthy of a visit.
Not only are they beautifully and ornately designed, the churches are a nice quiet respite from the crowds and the heat.
Cross Rialto Bridge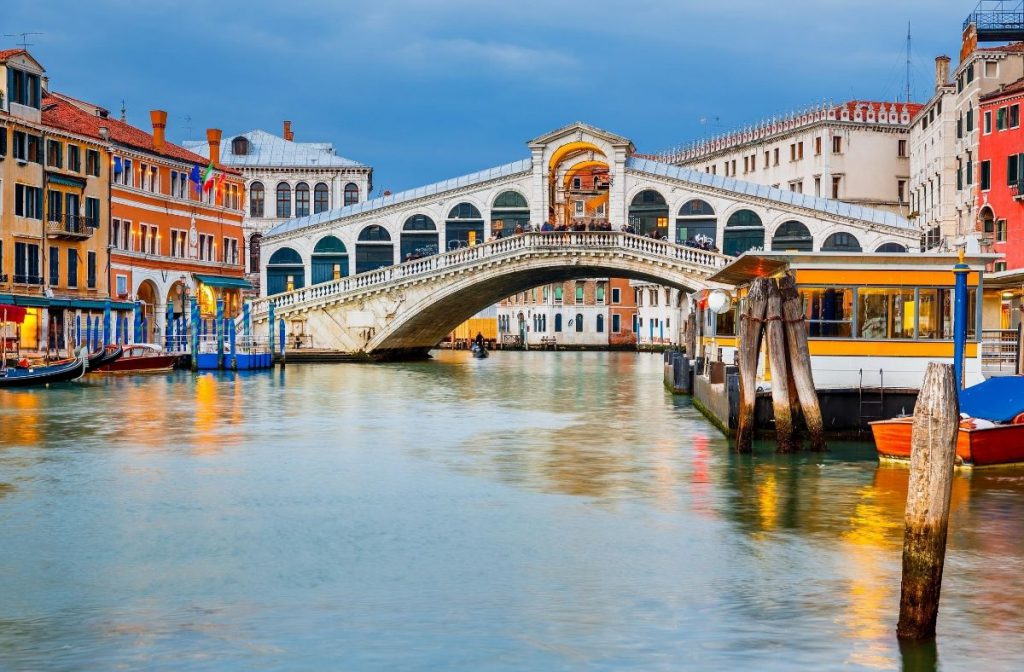 Rialto Bridge is the oldest bridge spanning the Grand Canal in Venice. The stone-arch bridge is one of the most famous sights in the city.
The bridge tends to be very crowded but provides great views of the Grand Canal.
Experience the city's museums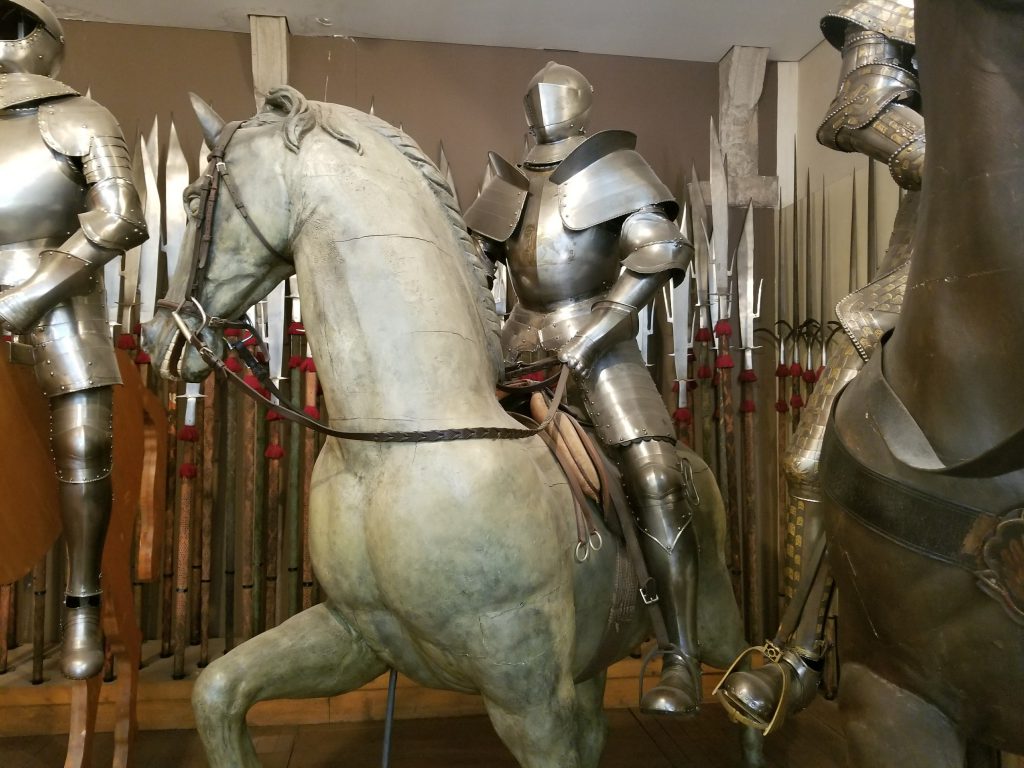 If you're a fan of museums, there are lots of great options in Venice. From the stunning art at the Museo Correr to the ancient relics at the National Archaeological Museum, there is something for everyone.
We visited a lot of museums while in Venice and thoroughly enjoyed them. At times this got a little tricky with our baby, but we took turns trading off and did our best to keep him entertained.
Explore the quiet backstreets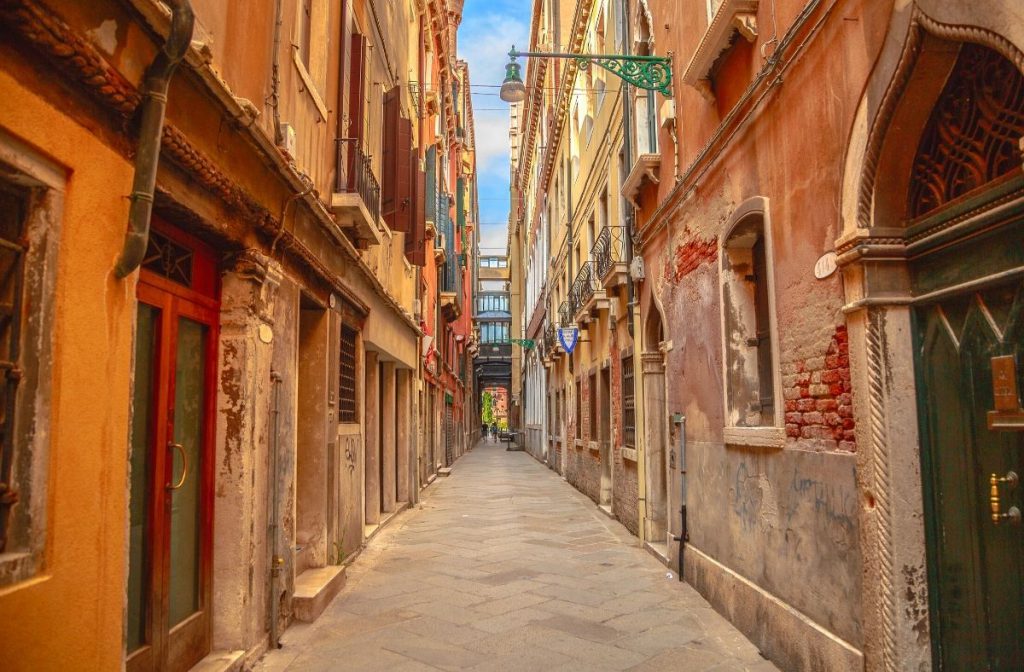 Although the main tourist attractions can be quite crowded, if you retreat just a little way into the backstreets, you feel like you have the whole place to yourself.
This is the Venice that I imagined before I came- scenic streets, quaint shops, placid canals. You can find some quiet squares away from the crowds, which are a nice place for a rest, snack break, or nap.
Take a day trip to Burano and Murano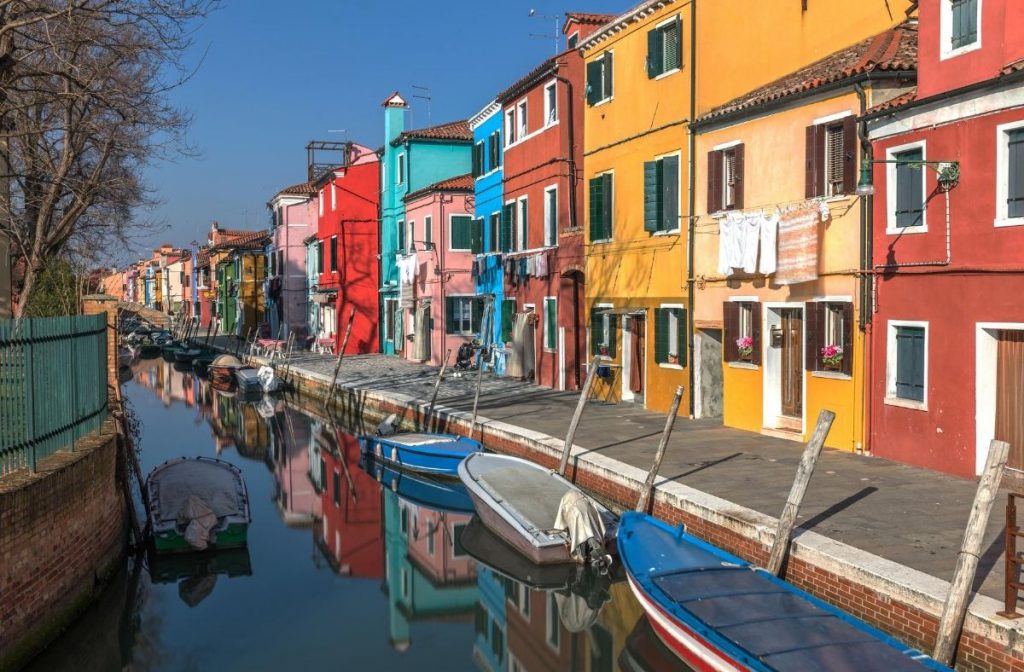 These islands are famous for their collection of vibrantly colored buildings, delicious fresh seafood, and specialized wares.
It only takes about 10 minutes to get to Murano by vaparetto from Venice, and another 25 minutes from there to reach Burano. Both islands can easily be visited in one day.
Murano
Murano is famous for its long history of glass-making. While on the island, you can visit the Venice Glass Museum to learn more about the history of glass.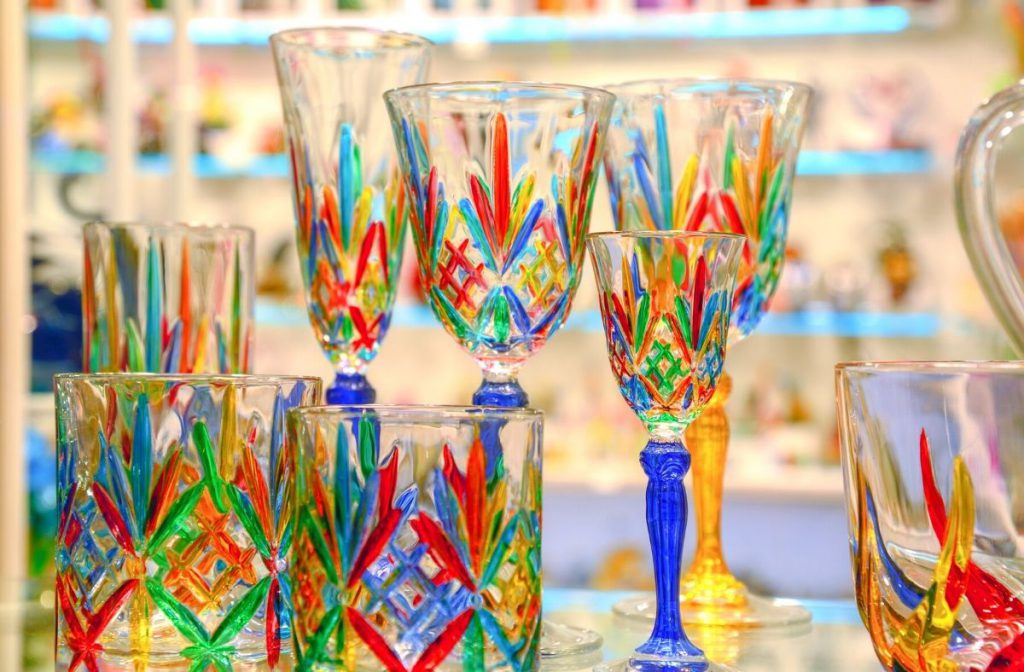 This is also a great opportunity to find a glass-blowing demonstration, which are sometimes offered for free. And of course, take some time to peruse the glassware that is for sale.
This is one place where I was quite stressed to have a baby, given all the fragile, expensive glass products everywhere.
My husband and I decided to trade off, one of us going into a shop while the other played with our son outside in order to prevent an expensive and embarrassing mishap.
Burano
While Murano is known for glass-making, Burano is known for its intricate, hand-made lace.
There is a small lace museum that you can visit while you are on the island that details the history of lace making in Venice. However, I have to say that it wasn't the most riveting museum I've ever been to…
I was more interested in the shops selling the beautiful lace wares. I ended up buying several scarves as gifts.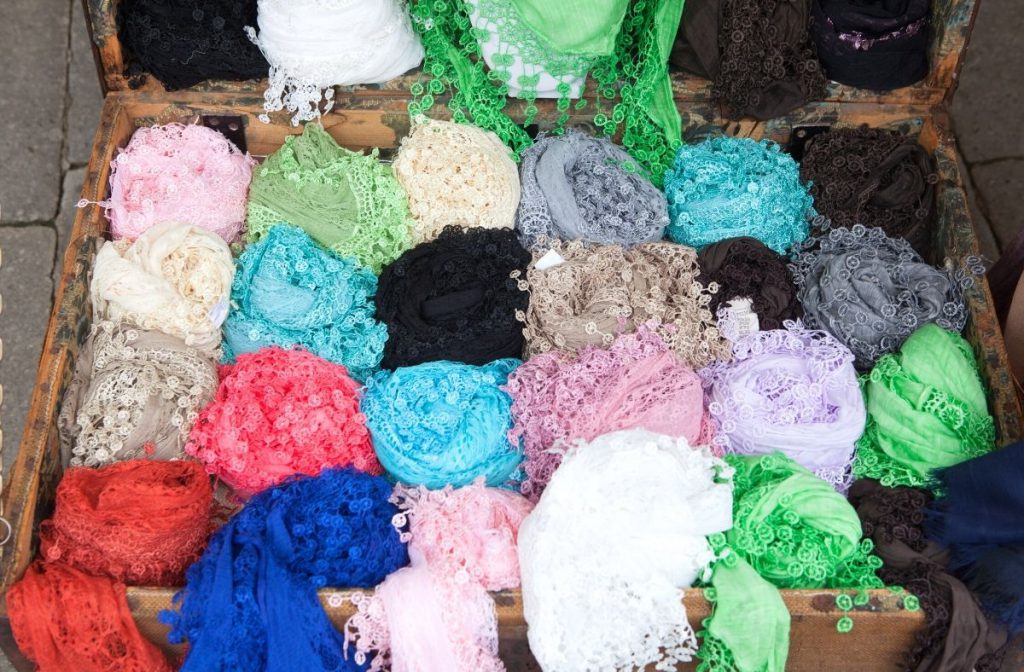 These islands are a great opportunity to buy beautiful and unique souvenirs. Just check to make sure the ones you are buying are actually made in Murano/Burano. We found some shops selling items that were made elsewhere!
Enjoy delicious food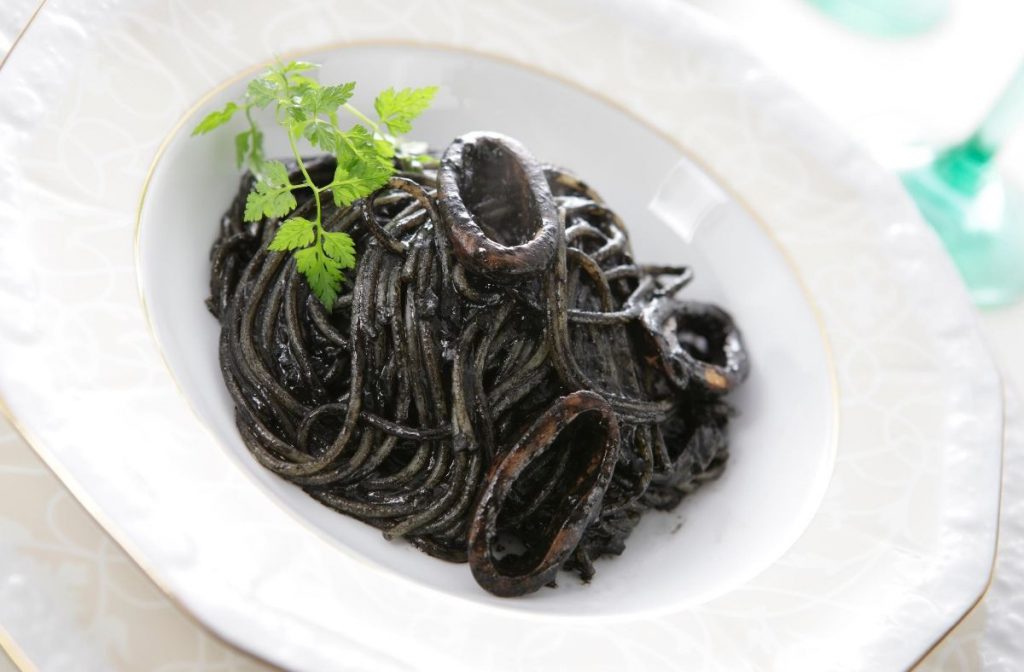 And of course, while you're there you have to get your share of delicious local food! Given that Venice is located on the water, some of the most famous dishes are seafood-based.
A specialty of the area is spaghetti al nero di seppia, or squid ink pasta. The ink colors the noodles jet black, which makes for an interesting eating experience.
Other popular local dishes include sarde in saor, fried sardines in onions and vinegar, and baccala mantecato, or creamed salt cod.
Final Thoughts
Venice is a place that everyone should experience at least once. It is a breathtakingly beautiful city with a rich history and so many interesting places to visit.
While traveling there with a baby did add some challenges, we really enjoyed our trip and were so glad we visited, baby and all!