This page may contain affiliate links, which means that we may earn from qualifying purchases at no additional cost to you.
It's almost Halloween!
And it wouldn't feel like Halloween in the US without jack-o'-lanterns. Jack-o'-lanterns are hallowed out pumpkins usually carved with spooky faces and lit from within.
Did you know that this tradition was actually brought to the US by Irish immigrants?
In Ireland, jack-o'-lanterns (made for the purpose of scaring away evil spirits) were typically carved out of turnips or potatoes. However, when immigrants came to the US, they opted for the pumpkins which were more common to the region.
So this year my kids and I made this fun jack-o'-lantern craft out of tissue paper and a plastic cup. Easy to make and (relatively) mess-free!
And when you put an electric tea light in it, it lights up from the inside just like a real jack-o'-lantern.
My son had so much fun assembling his jack-o'-lantern craft and he was delighted to see his glowing completed creation!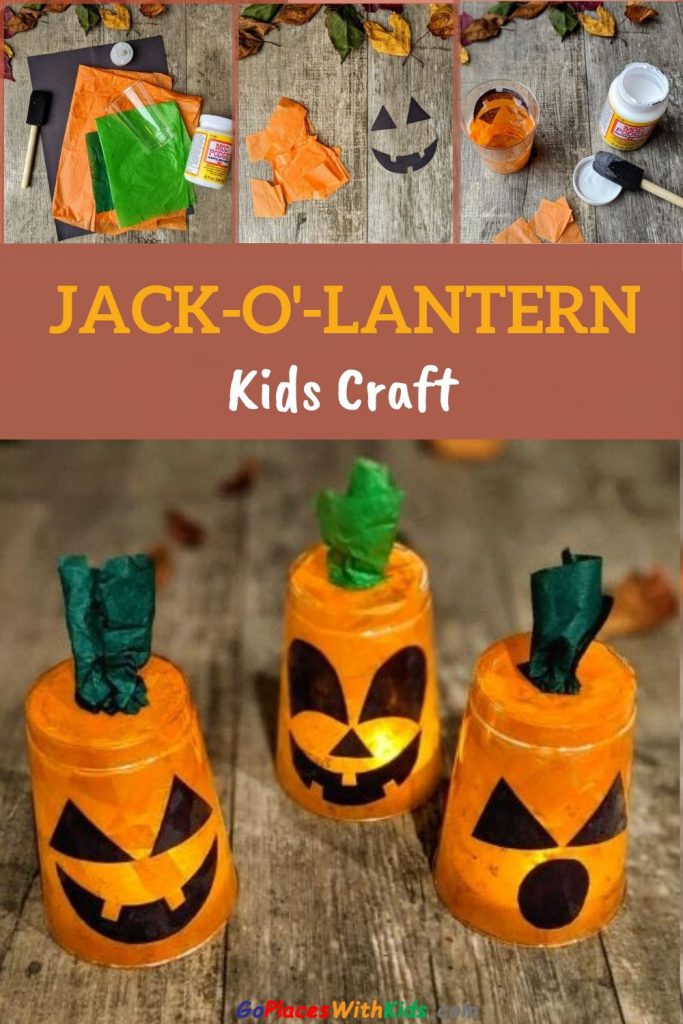 Jack-o'-Lantern Craft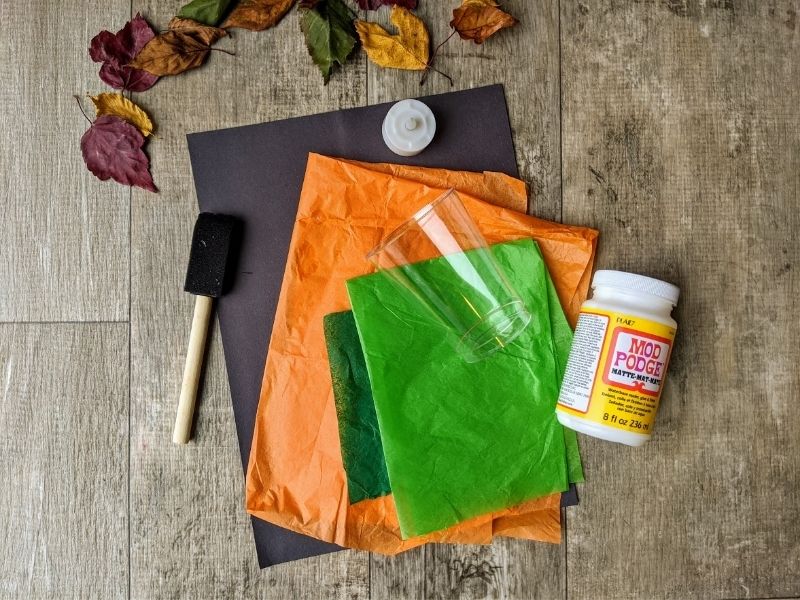 Materials:
Tissue paper (orange, green)
Construction paper (black)
Plastic cup
Instructions:
Cut 1×1 squares of orange tissue paper. Cut out the eye and mouth shapes you want from the black construction paper.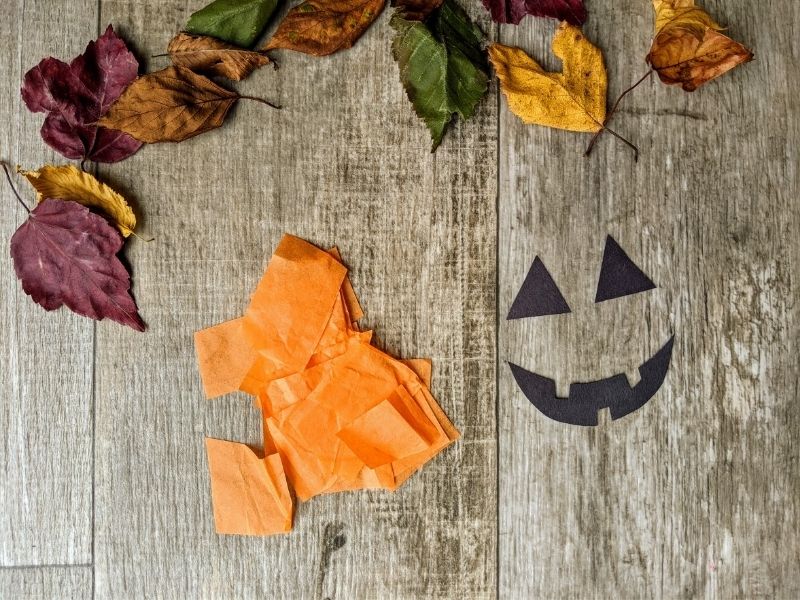 Turn the cup upside down and figure out where you want to place the eyes and mouth of your jack-o-lantern. Coat the inside of that part of the cup with Mod Podge.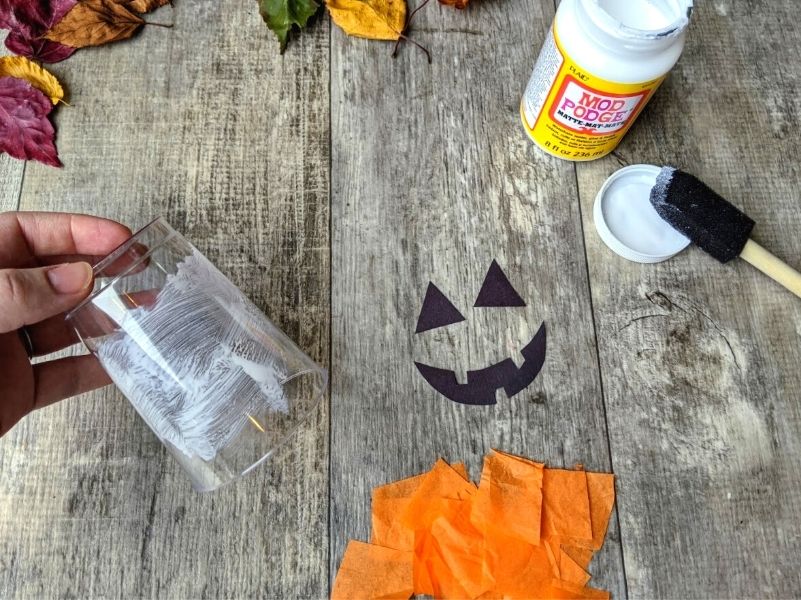 Carefully stick the eyes and mouth to the inside of the cup and then cover with another layer of Mod Podge. Make sure they are positioned upright when the cup is upside down.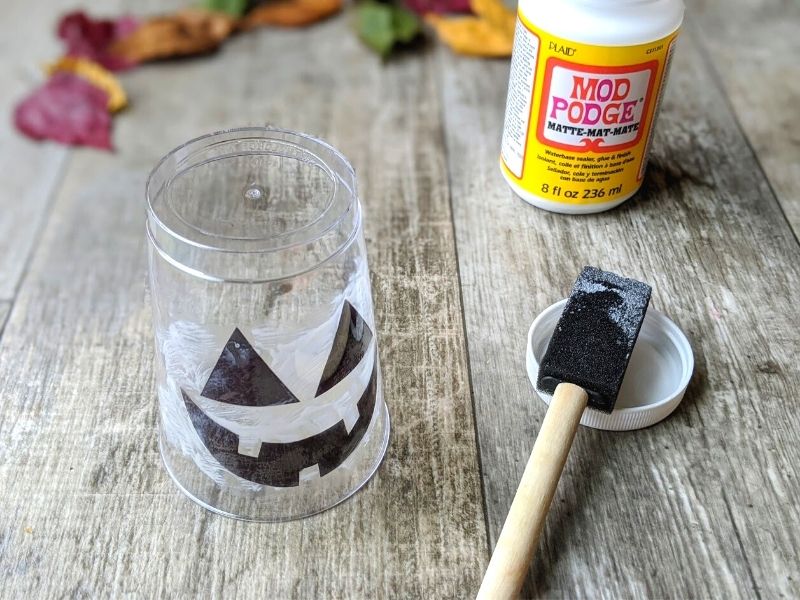 Use the brush to coat the bottom portion of the cup with Mod Podge. Place pieces of orange tissue on the cup so that they overlap with no gaps.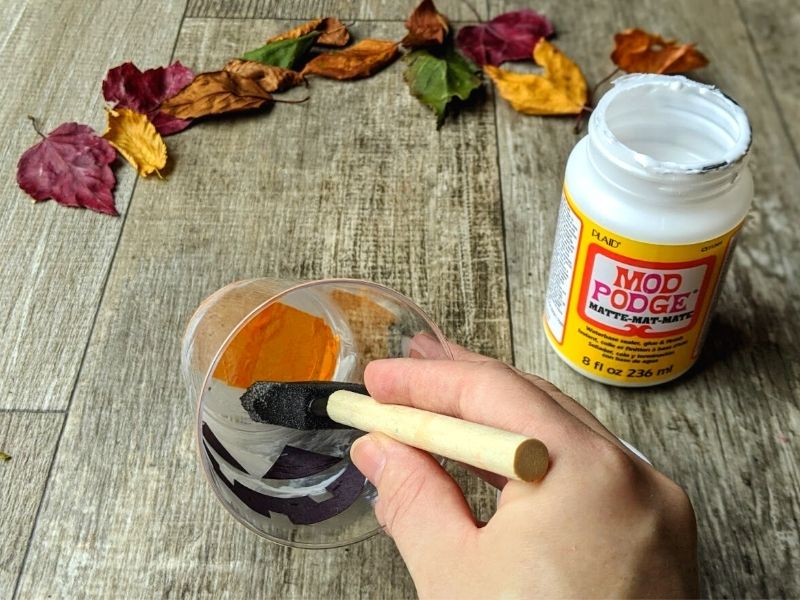 Use the brush to push the tissue into the position that you want it in and brush over it with more Mod Podge.
This part is super forgiving! Don't worry if the tissue paper gets bunched up or you end up with several layers of tissue.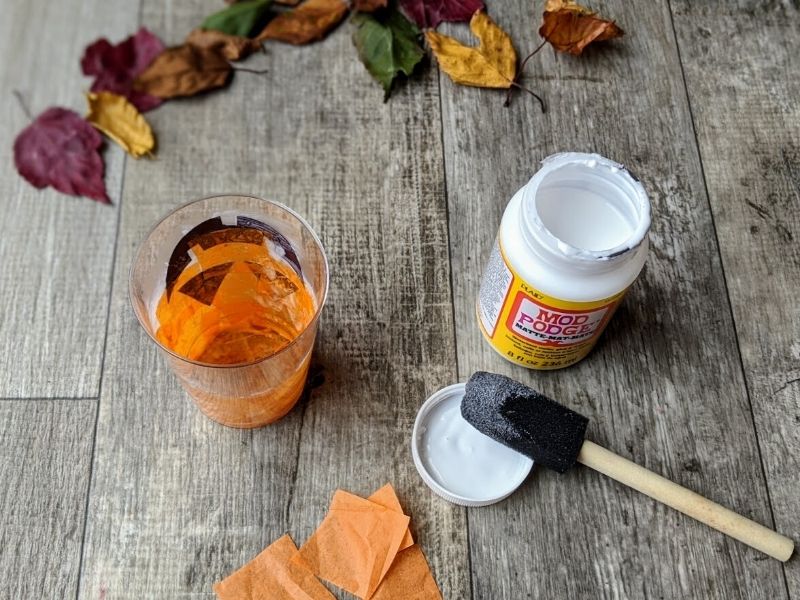 Work your way up the cup, first coating the cup with Mod Podge and then adding the tissue paper. Cover right over the top of the eyes and mouth.
At the top of the cup, pick pieces of tissue that will leave you with a nice even rim around the edge of the cup.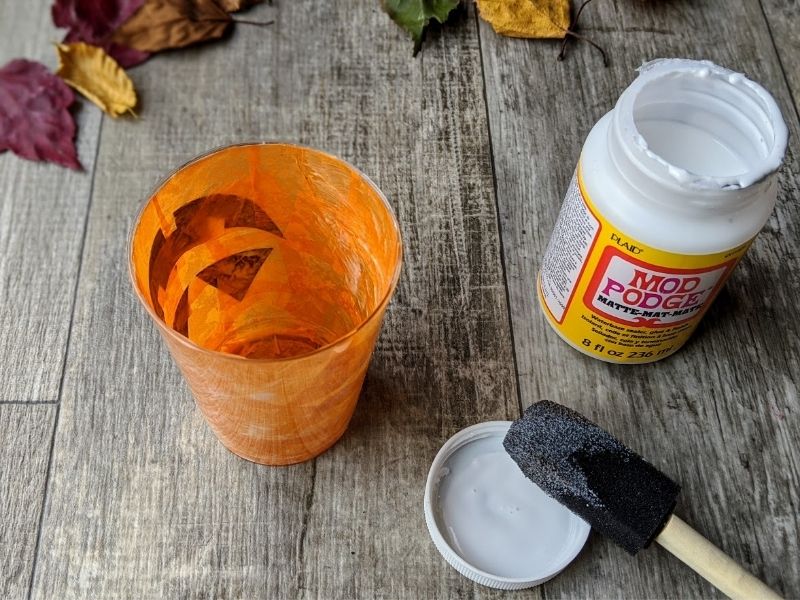 Roll up a small pice of green tissue paper to create a stem and use Mod Podge to secure it to the top of the cup.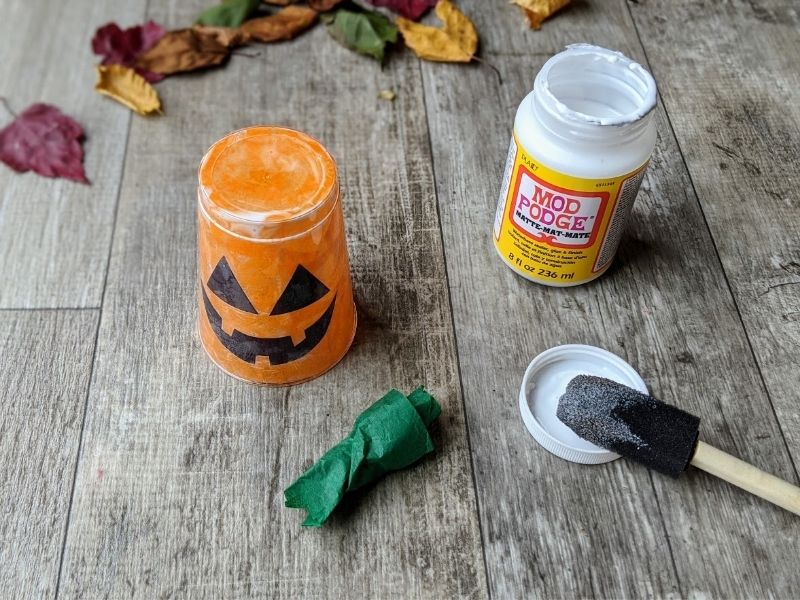 Put an electric tea light (never a real candle!) underneath the cup and enjoy your glowing jack-o'-lantern craft for kids!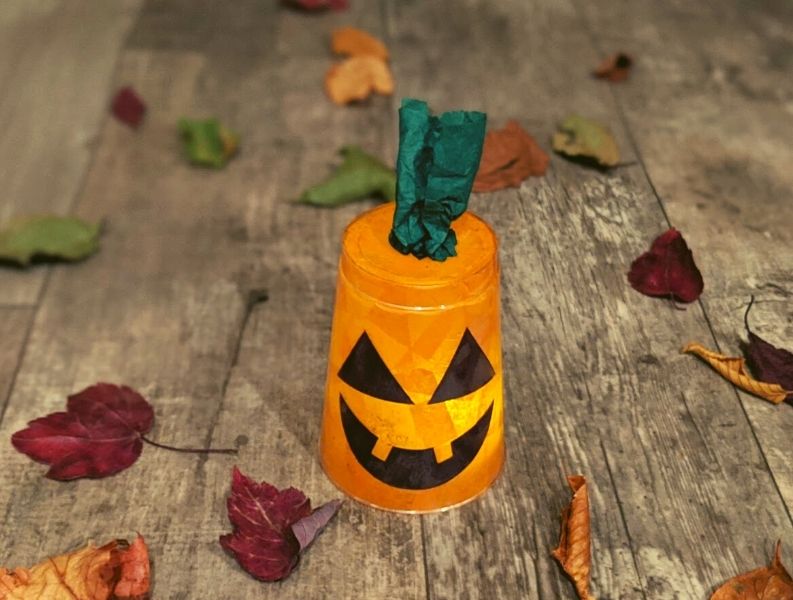 These cute pumpkins are sure to get you in the spirit of Halloween! And they look super cute and festive lined up in a window at night.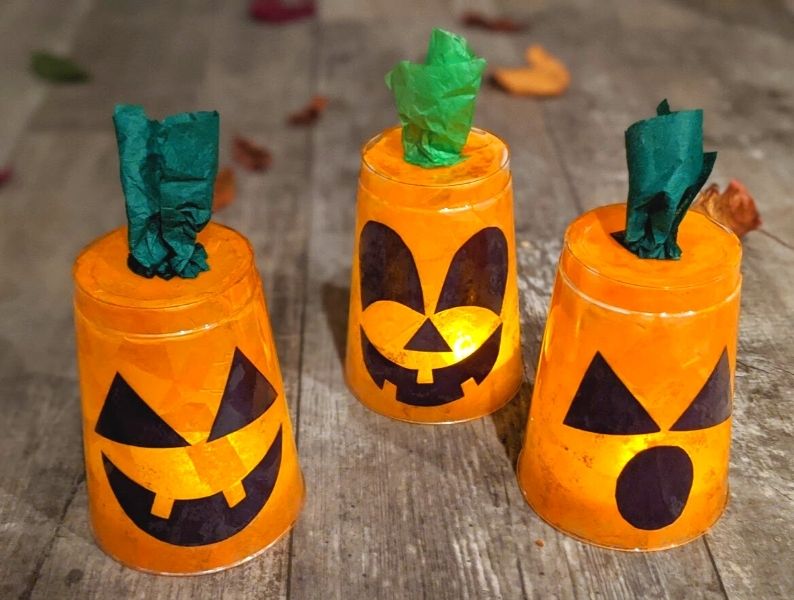 Other posts you might be interested in:
Tissue Paper Fall Leaves Craft