This page may contain affiliate links, which means that we may earn from qualifying purchases at no additional cost to you.
When traveling with a baby or toddler, strollers can be a very useful tool. That could be as a way to keep little kiddos contained while you navigate the airport, a way to transport them without killing your back, a place for naps on the go, or just somewhere to let your young child sit for a minute to take a rest.
When talking about strollers, there are a lot of options available to you. You can always go with your standard stroller that you use at home or an umbrella stroller. However, after all of our travels, we have settled on two favorites that we feel beat the rest in terms of ease of use and convenience while traveling.
A note on baby carriers…
As a side note… I'm a big fan of using a baby carrier while traveling. Usually, if I bring a stroller I will also bring a baby carrier because I like to have both options available to me.
For example, I might use a stroller for visiting the sites in the city but the baby carrier for a hike. I have also had trips where I have brought only a baby carrier and not a stroller, so you just have to gauge what arrangement will work best for you and your kiddo.
Car seat frame stroller
This is a frame that you can click an infant car seat into, turning it into a stroller. It allows you the benefits of both a car seat and a stroller in one convenient and compact package. The one we use is an older version of this one, which is compatible with any Graco infant car seat (different brands have their own version of this).
I love this option when traveling with a young baby who is still taking multiple naps in a day. In my experience, the closer my kids get to a year, the harder it is for them to nap for long periods in their car seat/stroller.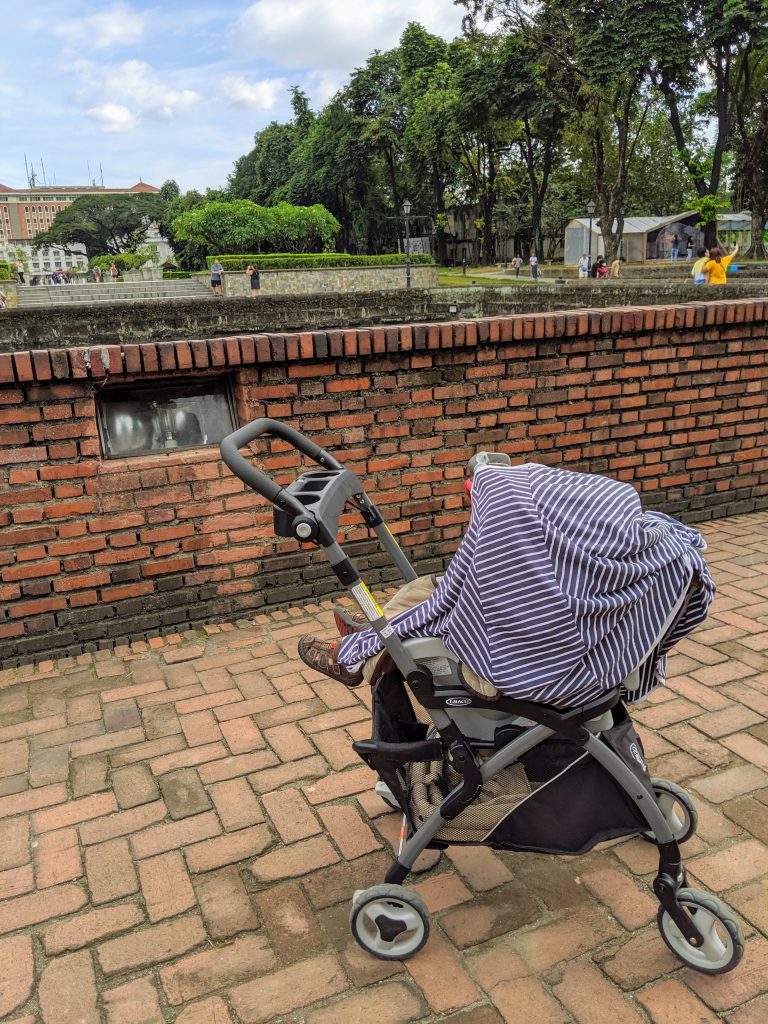 Pros:
Convenient for naps– Feed baby, pop them in their stroller, cover it with a car seat cover, and then gently roll the stroller back and forth to lull your baby to sleep.
It's easy to transfer your baby– This is a great option for if you are going to be getting in and out of a car a lot. If baby is napping, you don't have to wake them up to move them, you can just remove the car seat and either click it into the stroller frame or fasten it into the car.
Light and compact, comparatively– Compared to a traditional stroller, this is much smaller and easier to cart around. However, if you want a truly light and compact option, keep scrolling down.
It can be less tiring- I love baby carriers, but sometimes there is something nice about not having to carry your baby everywhere.
Cons:
Can only be used for the baby- The downside is that it is only a frame, not a stroller. So if you're traveling with older children, it isn't something that you can use for whichever kid needs it in the moment, it only works with the infant car seat.
It's only for babies small enough to fit in the infant car seat- Once your baby has outgrown their infant car seat, they have outgrown this stroller too. At that point, we switch to the stroller listed below.
Tips:
Get a car seat with a high weight limit- Some infant car seats have higher weight limits than others, which means you have a longer time before your child outgrows it. By buying one with a higher weight limit, you can usually get more use out of it. An infant car seat is much easier to travel with than a convertible car seat, so it's nice to be able to use it as long as possible. They are lighter and much more portable. We usually continue to use our infant car seats with our toddlers while traveling until they hit the height and weight limits, even after we switch them to a convertible car seat at home.
Compact travel stroller
A more traditional stroller can also be a great option. This is especially useful if you need to transport your baby and are traveling somewhere where you aren't bringing a car seat or are traveling with an older toddler or child. However, most strollers are bulky and heavy. Enter the compact travel stroller!
At the beginning of our travels with kids, we bought the gb Pockit and haven't looked back since. This stroller is AWESOME! We tend to be pretty thrifty when it comes to travel gear, but this is one purchase that is worth the price! This tends to be our go-to travel stroller. It is perfect for a toddler and can also work well with a baby.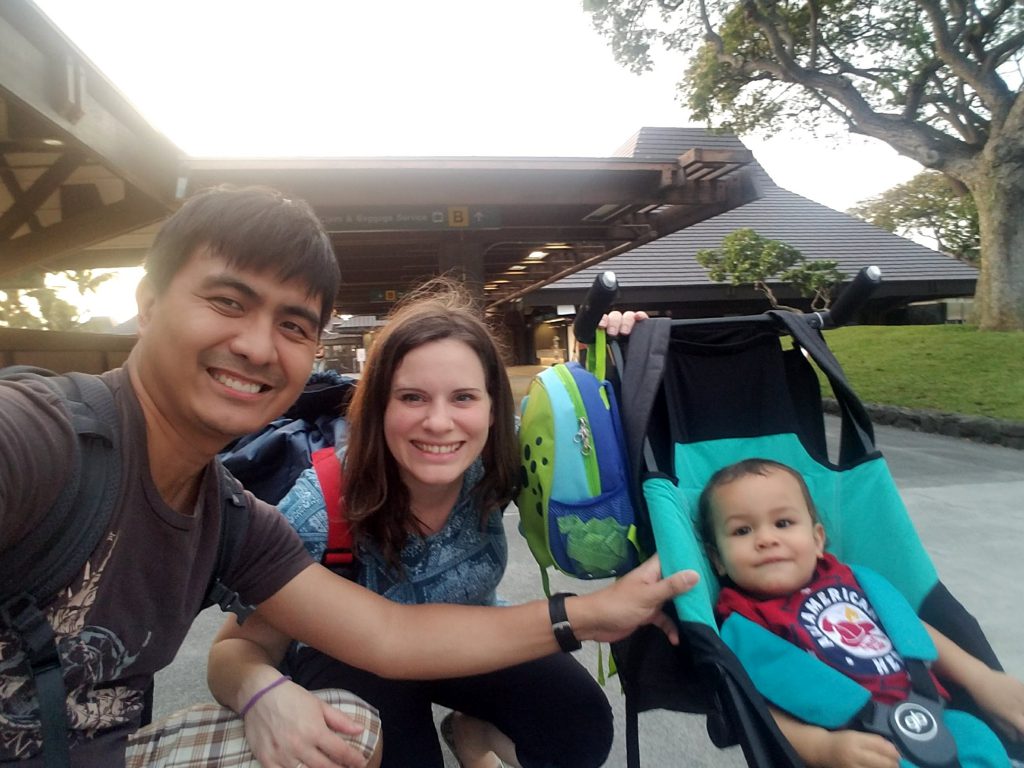 Pros:
Lightweight– This stroller only weighs about 12 pounds, which makes it really easy to pack around with you.
Compact- When fully folded, this is the most compact stroller on the market. I wish I had a camera to catch people's reactions when we fold this thing up. I can't tell you the number of comments we have gotten from people either gushing over how small it gets or asking where they can buy it. It folds small enough that we've even been able to pack it in a large suitcase.
Can be used for both babies and older children- Unlike the car seat frame, this stroller can be used for your toddler as well as your baby, which can be helpful when traveling with multiple kids.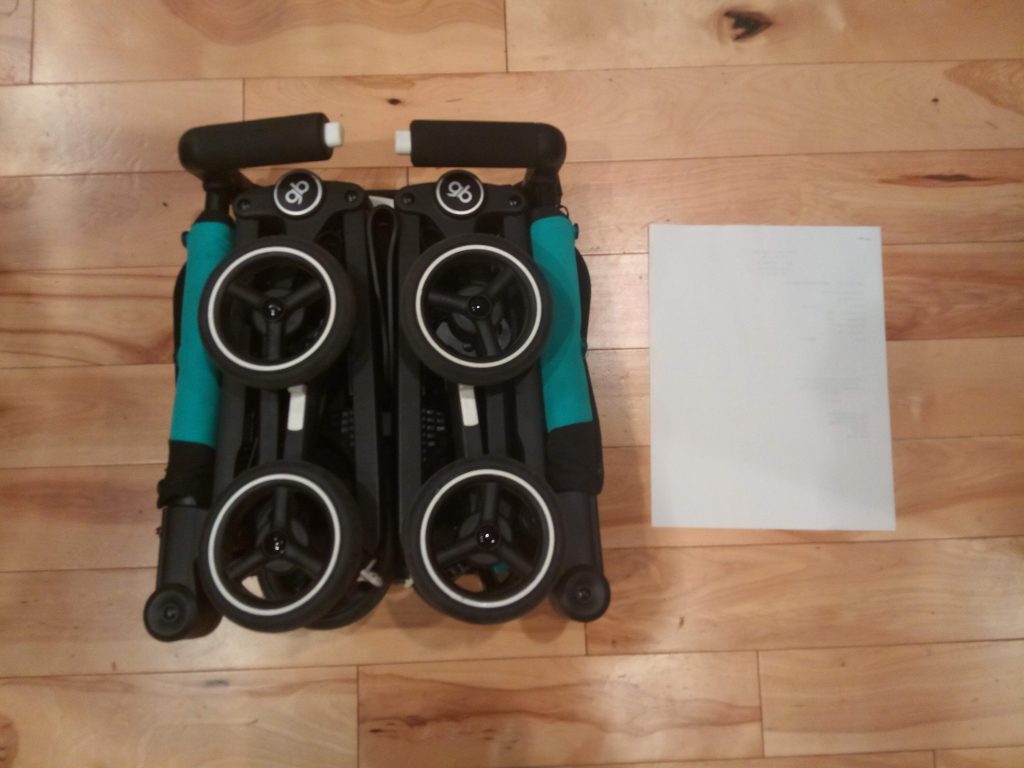 Cons:
Less easy to transfer- You do have to unstrap the baby to move them, unlike the stroller frame, which means waking them up if they are napping.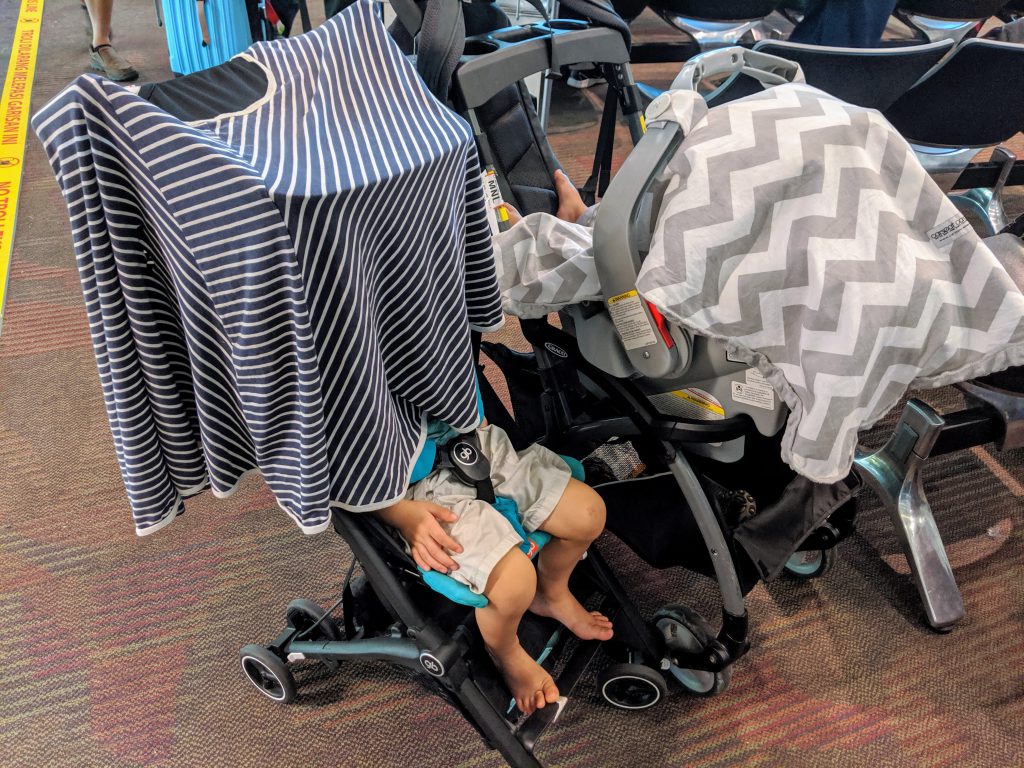 So there you have it, two great stroller options for when you're traveling with a baby. We've used both of these strollers on multiple trips and have found them extremely convenient and useful. Do you have a favorite travel stroller that you would add to the list?