This page may contain affiliate links, which means that we may earn from qualifying purchases at no additional cost to you.
Learning how to make paper beads is a fun and easy craft for your kids.
Although this is geared towards making beads with kids, these magazine beads are fun for anyone to make, of any age!
We made these beads as part of our Uganda preschool unit, as these beads are commonly made by entrepreneurial women in Uganda and sold as a form of income.
While I was in Uganda, I was lucky enough to have a local show me how she made them! I'm not nearly as skilled as she was, but this post describes a simple method you can use to make magazine beads with your child. Or on your own, I won't judge.
I'll warn you now though, they're kind of addictive once you get going!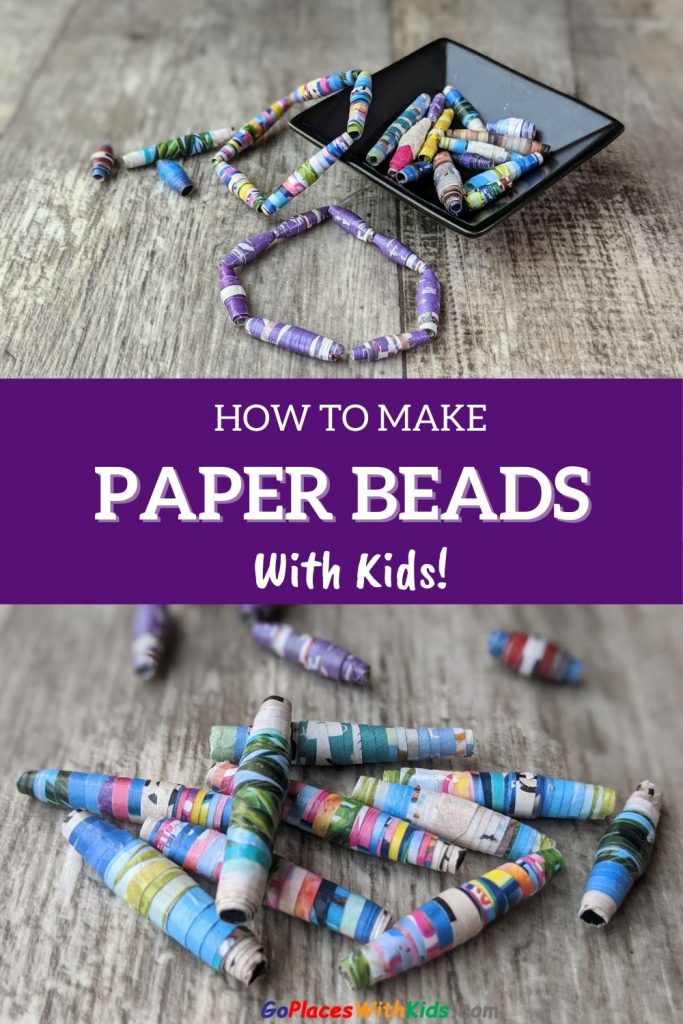 How to Make Paper Beads
Materials: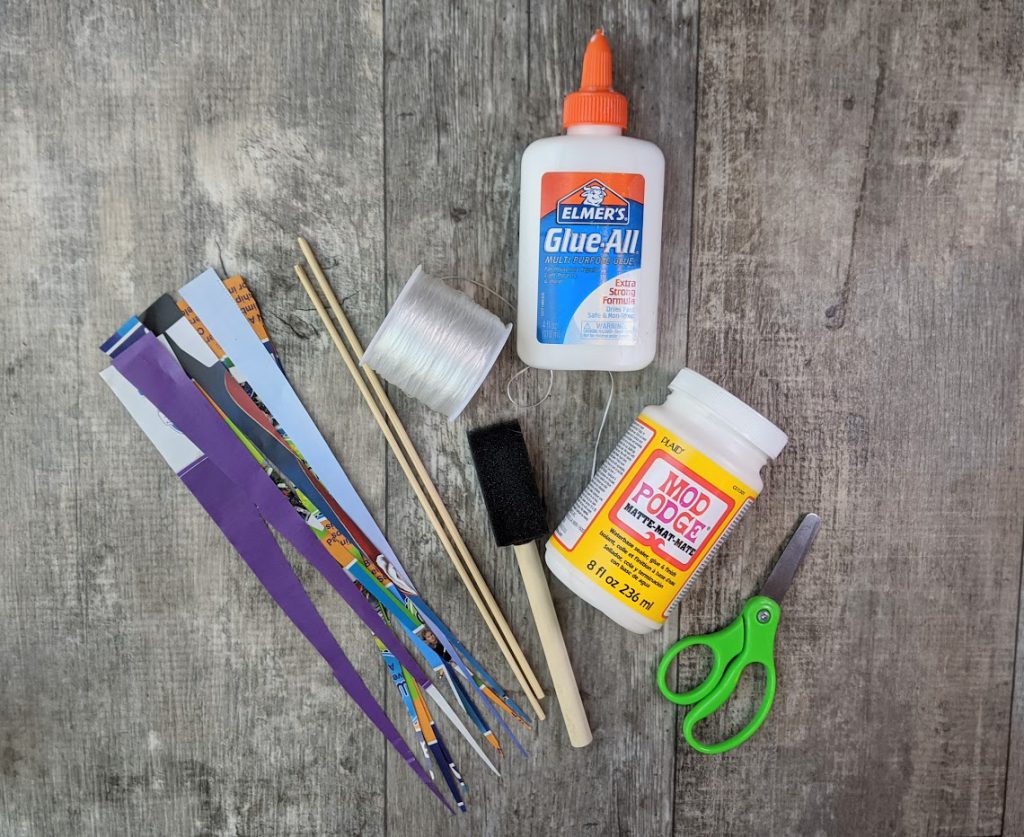 Instructions for how to make paper beads:
Cut the sharp ends off of the bamboo skewers. If you don't have bamboo skewers, you can use a chopstick or a pencil. We tried a few different options and found we liked the way the beads turned out with the skewers the best.
Cut strips of magazine into long triangles. Choose magazine pages with vibrant colors and not a lot of small text for the best looking beads.
You can play with different sizes of triangles. For younger kids, it tends to be easier for them to work with wider pieces. And then they don't need to make as many to fill a bracelet!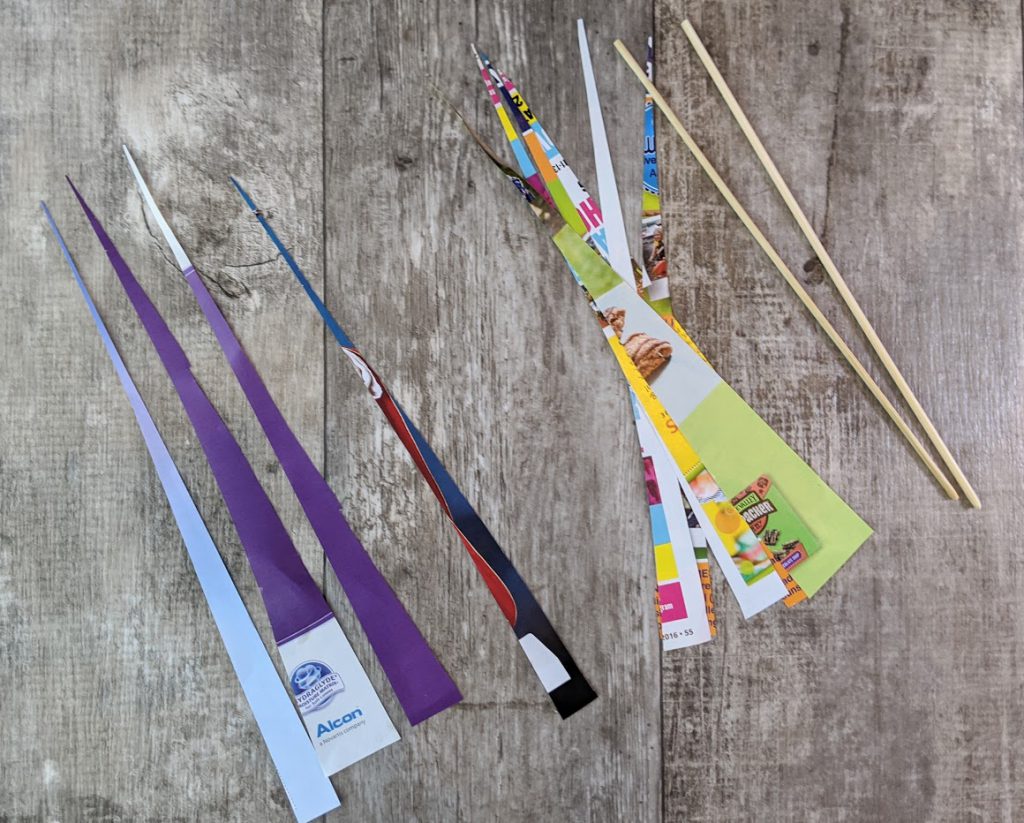 Take one of your magazine strips and begin wrapping it around the stick, starting with the wider end. Wrap it near the end of the stick so that it will be easy to slide off when you're done.
Depending on how old your child is, you might need to help them with this initial part of rolling. My almost-four-year-old needed me to get the rolling started, but could do the rest by himself.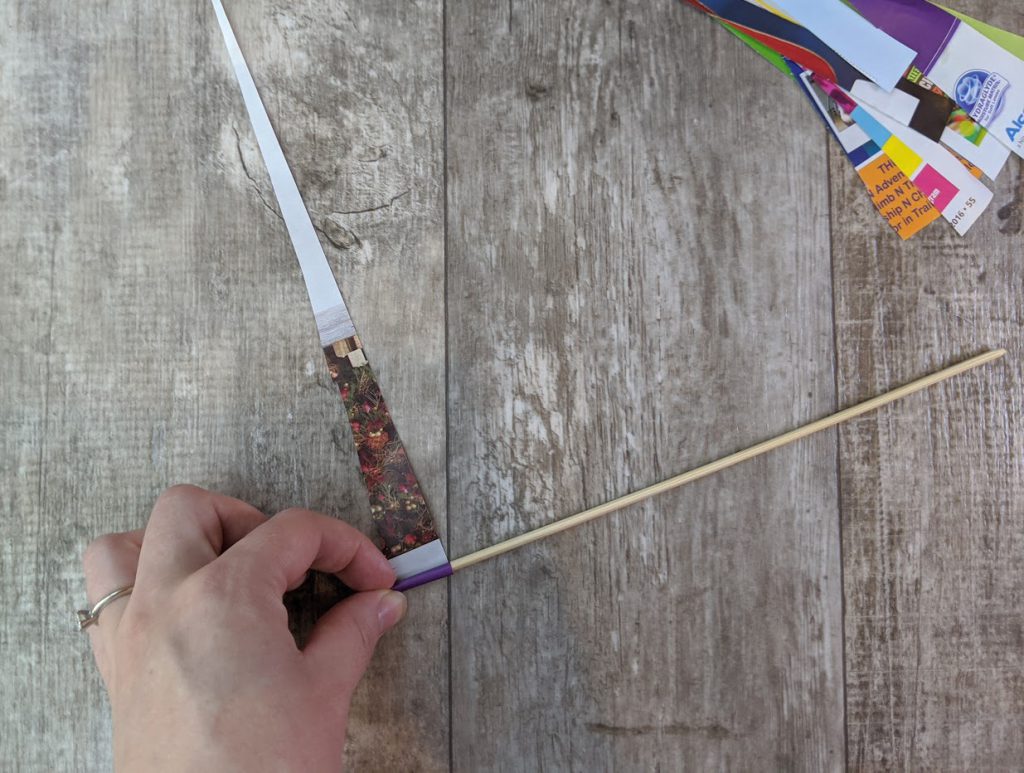 Next, put a thin line of glue up the strip of magazine and begin rolling upwards. Make sure not to get glue on the stick or it will be very challenging to remove the bead.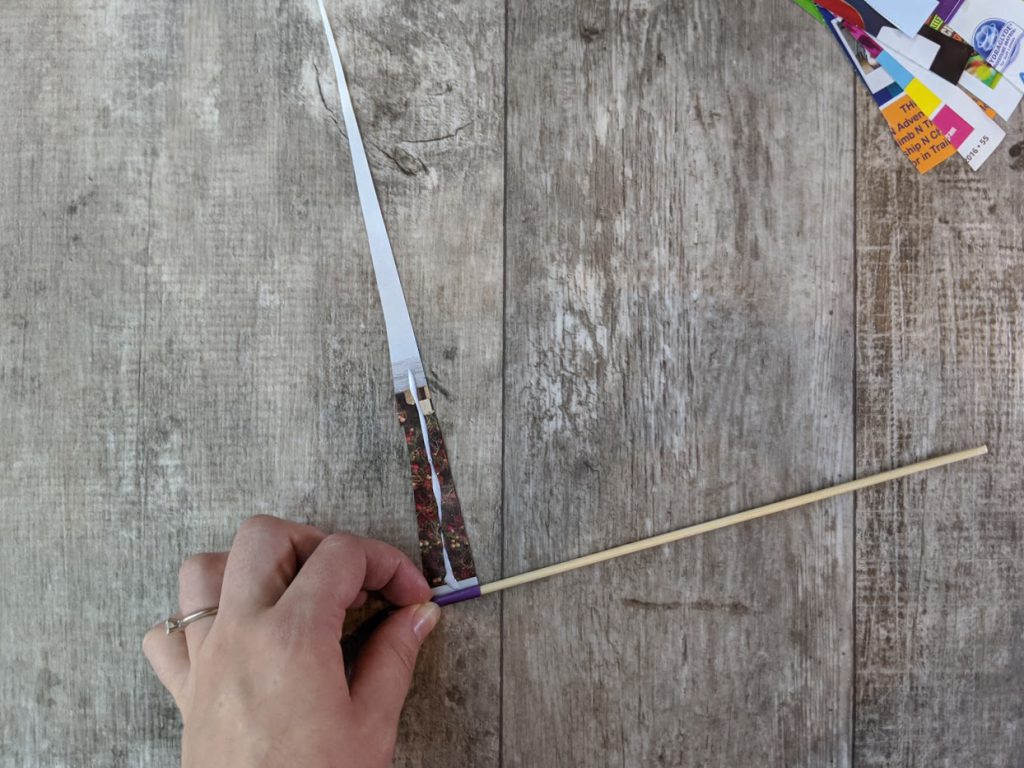 Add more glue to the magazine and roll the rest of the way up, making sure the very top is sealed down.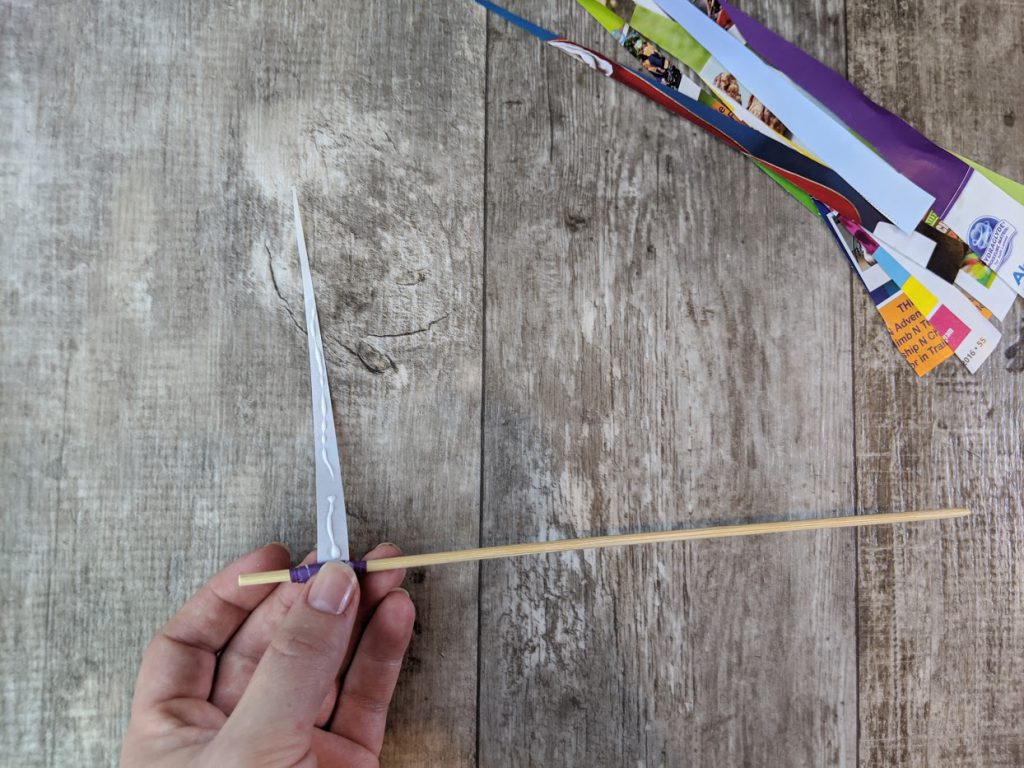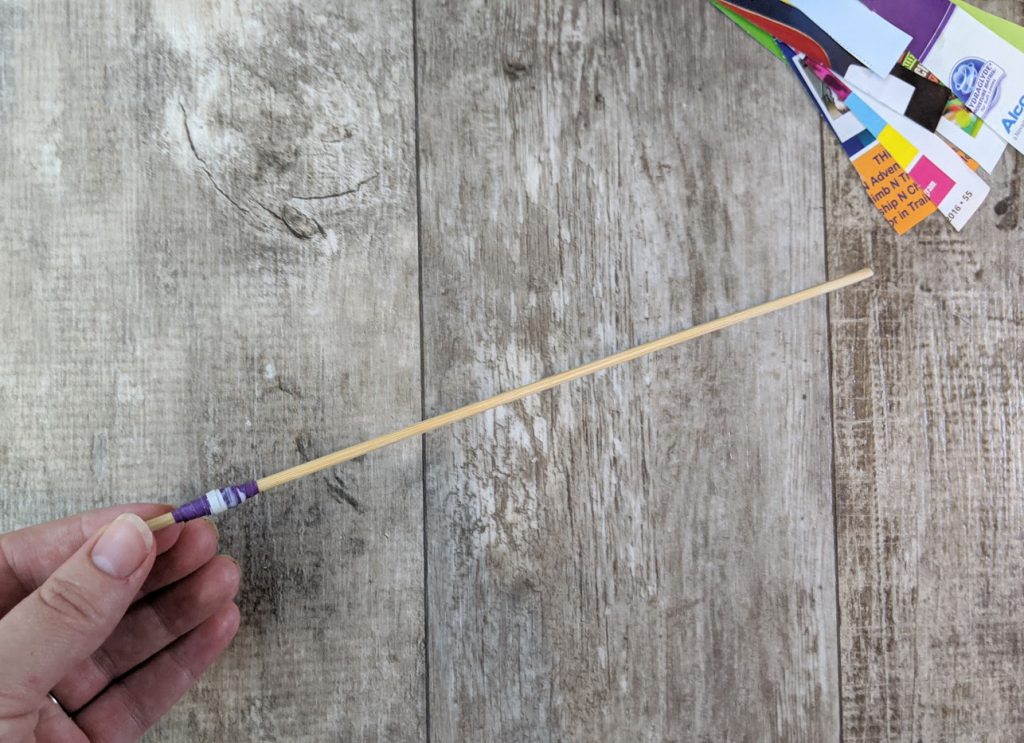 Carefully slide the bead from the stick. At this point, you can leave the bead like this, or you can brush on a layer of Mod Podge.
I would recommend the Mod Podge, as it seals the bead and makes it last longer. And it gives it a nice glossy finish. Don't worry when it goes on white, it will dry clear.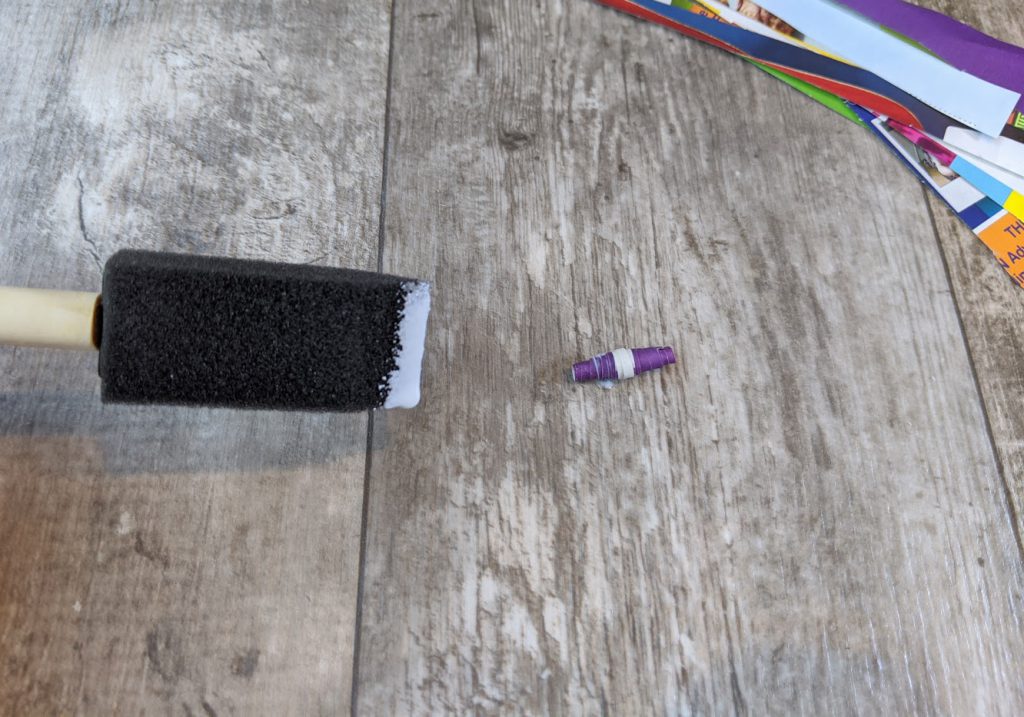 Make sure the beads don't stick to anything while drying or it can tear the magazine paper. The best way I found was to stick a toothpick through the bead and hang it over a cup to dry.
Once your beads are dry, find an assortment of beads with complementary colors and sizes and put them onto the string. Tie a knot in the string at the desired length and enjoy your bracelet or necklace!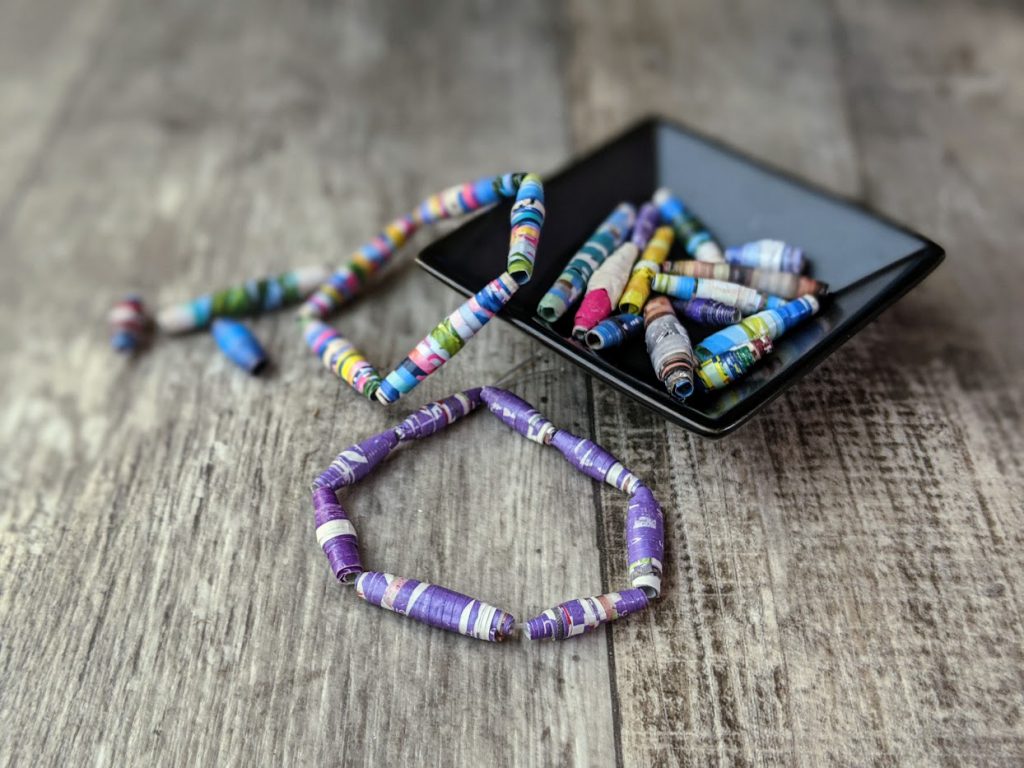 Tips for how to make paper beads with kids
Cut wider strips– If you cut the paper a little wider it makes larger beads that tend to be easier for kids to handle
With glue, less is more- Show them how to use just a little bit of glue- too much glue makes a mess and increases the chances the bead will adhere to the stick and be impossible to get off
Try different rollers- You can use a pencil or chopstick if your child is having trouble rolling with the bamboo stick- it will produce bigger, thicker beads, but might be easier for them to handle
Mod Podge works miracles- Mod Podge covers a multitude of problems- if their beads are a bit mishappen/ loose, coat them with Mod Podge and they will still harden up and stay together nicely
These beads are fun for kids of all ages. My three-and-a-half-year-old had so much fun making these that I couldn't get him to stop! Below is a picture of some of the beads that he made.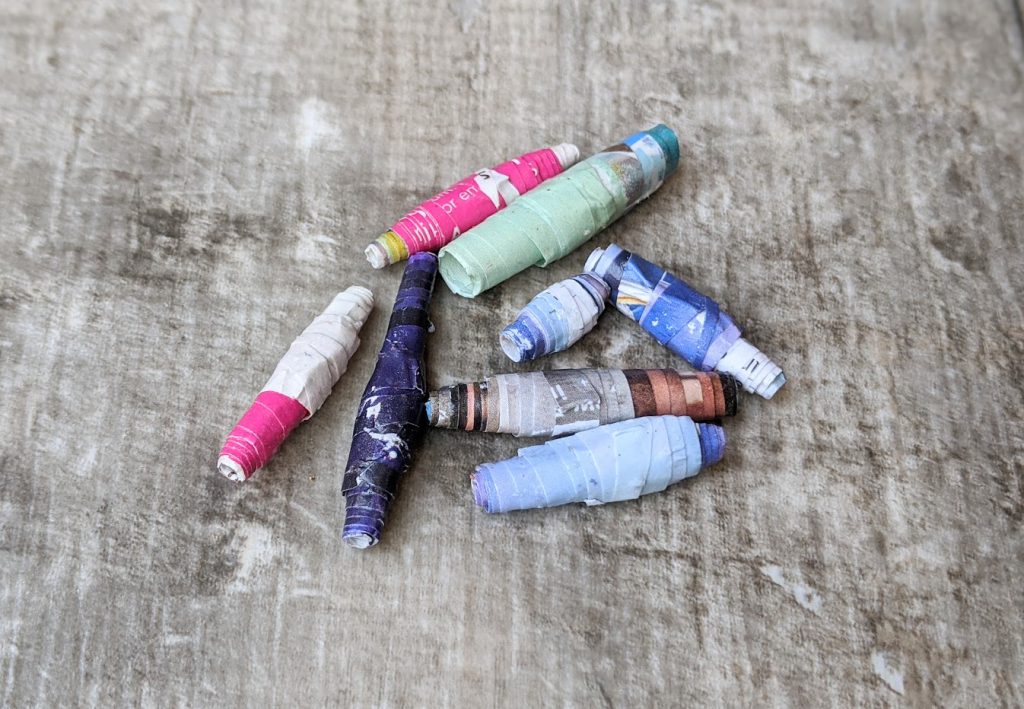 Learning how to make paper beads is a fun craft that anyone-child or adult- will enjoy!
Other posts you might be interested in: