This page may contain affiliate links, which means that we may earn from qualifying purchases at no additional cost to you.
This was our first trip to the Big Island and it did not disappoint! The island of Hawaii is fascinating in that it contains four of the five active volcanoes in the Hawaiian Island chain. In fact, when we went the Kilauea volcano was actively erupting!
It made me a little nervous, but after doing some research we felt it was safe for us to travel there. In the end, it didn't affect our trip at all other than a few places in Hawaii Volcanoes National Park being closed. In fact, we were able to each have a row on the plane to ourselves because the flights were so empty.
And our time in Hawaii was fantastic. Our son was a year and a half on this trip and he had a blast.
Toddler tips
Plan ahead to make sure you have all of your beach essentials. Sunscreen, hat, and swim diapers are essentials. Water floaties, a sun tent, and sand toys are optional buy can be useful.
When going on a long drive (for example, to Hawaii Volcanoes National Park), try to flex your toddler's nap so that it falls during the drive. It saves you time and makes for a much more cheerful kiddo.
Things to do
Here are some things we enjoyed doing with our one-and-a-half-year-old!
1. Relax and play on the sandy beaches
There are lots of great beaches you can visit on the island. Our priority was finding a nice kiddie beach for our little guy. The one that we liked best was Ai'Opio Beach.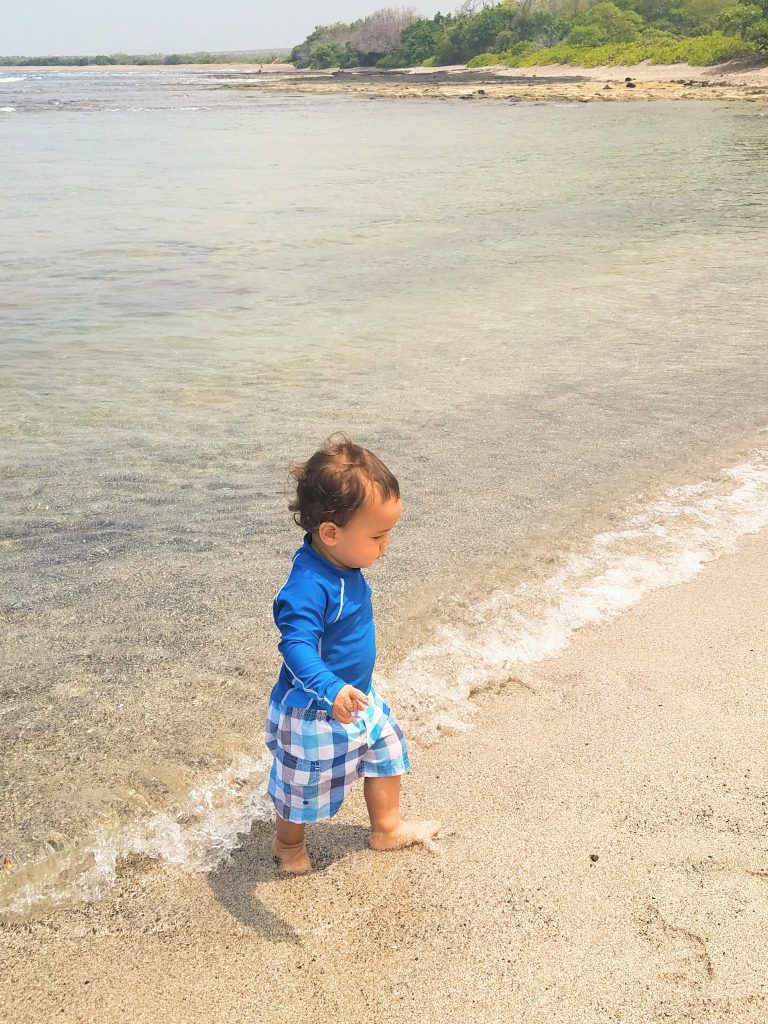 It has shallow, gentle water and is surrounded by a fish trap, so there are lots of fish swimming around to see. There were also lots of turtles lounging on the beach and swimming nearby.
2. Visit Hawaii Volcanoes National Park
Hawaii Volcanoes National Park contains Kīlauea and Mauna Loa, two of the most active volcanoes in the world. There are also plenty of vents, craters, lava flows, and other evidence of the way volcanoes have shaped and are continuing to shape this island. It really is a must-see if you are visiting the island. I mean really, how often do you get to see an active volcano?
The drive through the park itself was beautiful and interesting. There are some great lookouts along the road, as well as short (and long) hikes that you can do.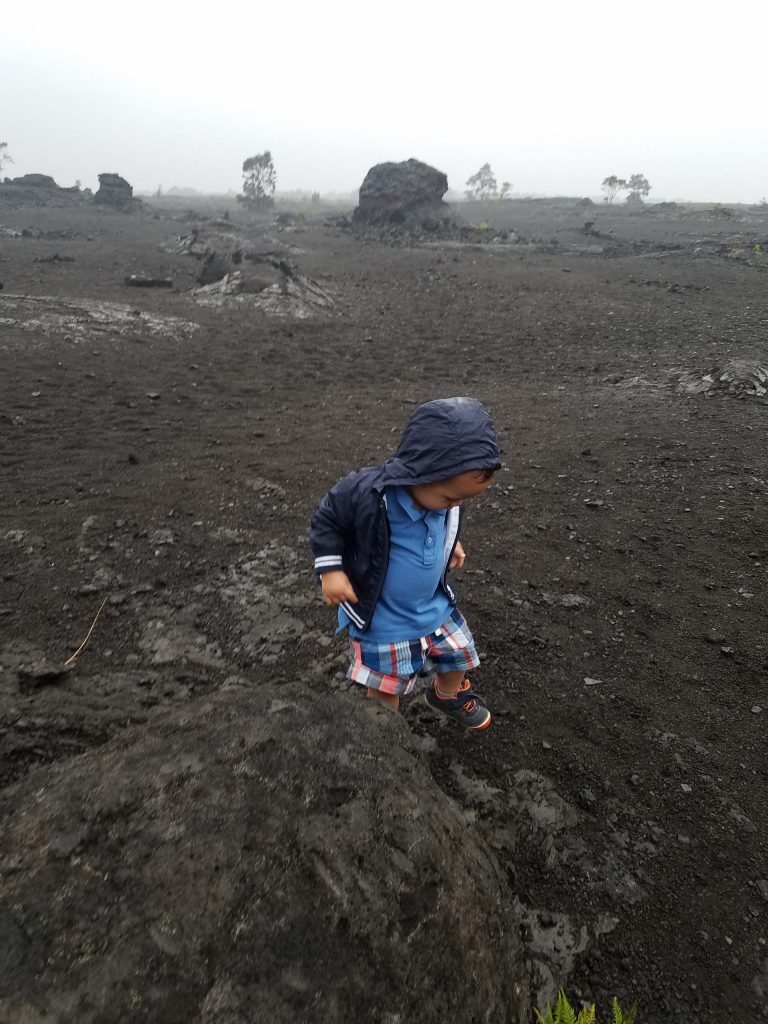 We also loved visiting Jagger Museum, which has nice displays inside where you can learn more about volcanoes and local culture. Outside the museum the Jagger Museum Overlook has a great view of the Kilauea Caldera. The caldera was steaming when we were there, so it was a great time to see it.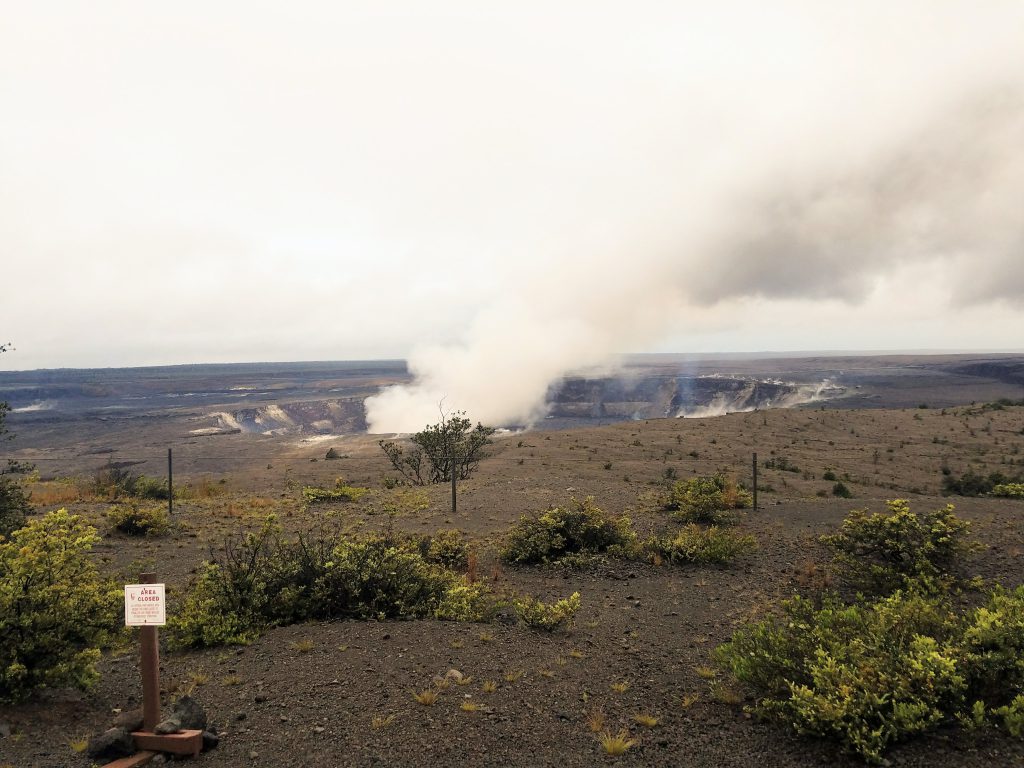 And they had a little coloring area for kids, which our son loved.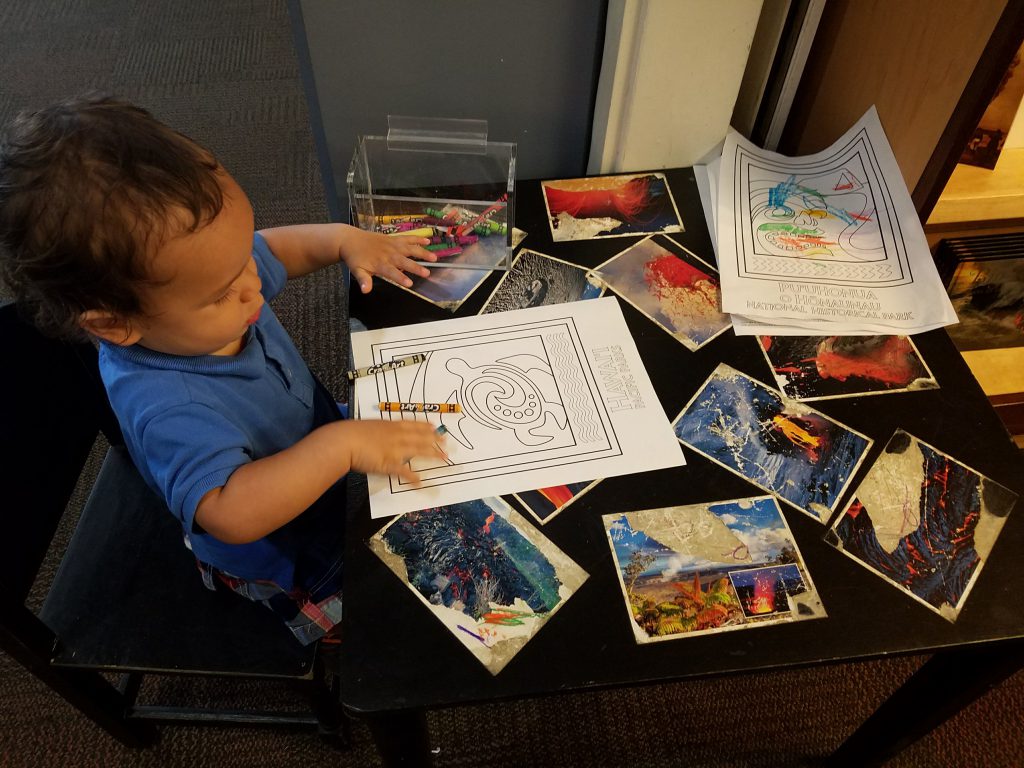 ** Unfortunately, the museum and overlook are now closed. The ledge upon which they rest became very unstable due to the very volcanic activity that was happening while we were there. It's unclear if it will eventually reopen or be moved to a different location.
3. See dolphins up close at Dolphin Quest
At the Hilton Waikoloa Village you have the opportunity to see and interact with dolphins. There are different packages you can buy for various ages and levels of interaction (from sunrise kayaking along side the dolphins to swimming with them and feeding them).
While we didn't pay for a package, because we were staying at the hotel we were able to see the dolphins every day. Our son loved watching them swim in the water and we enjoyed watching the staff working with and training them.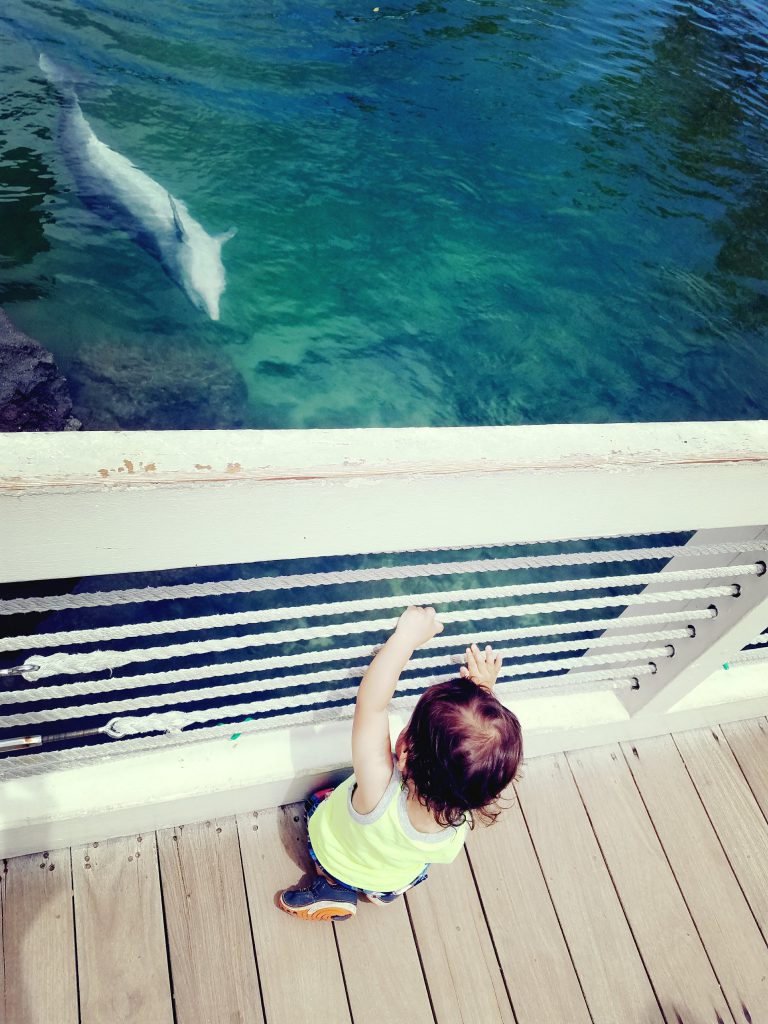 4. See petroglyphs at Waikoloa Petroglyph Preserve
There are a few places on the island to see petroglyphs, or prehistoric rock carvings. We went to the Waikoloa Petroglyph Preserve. It's an easy stroll, which is convenient with a young child. It was a very neat experience to see these centuries-old writings and imagine what life must have been like for the early inhabitants of the islands.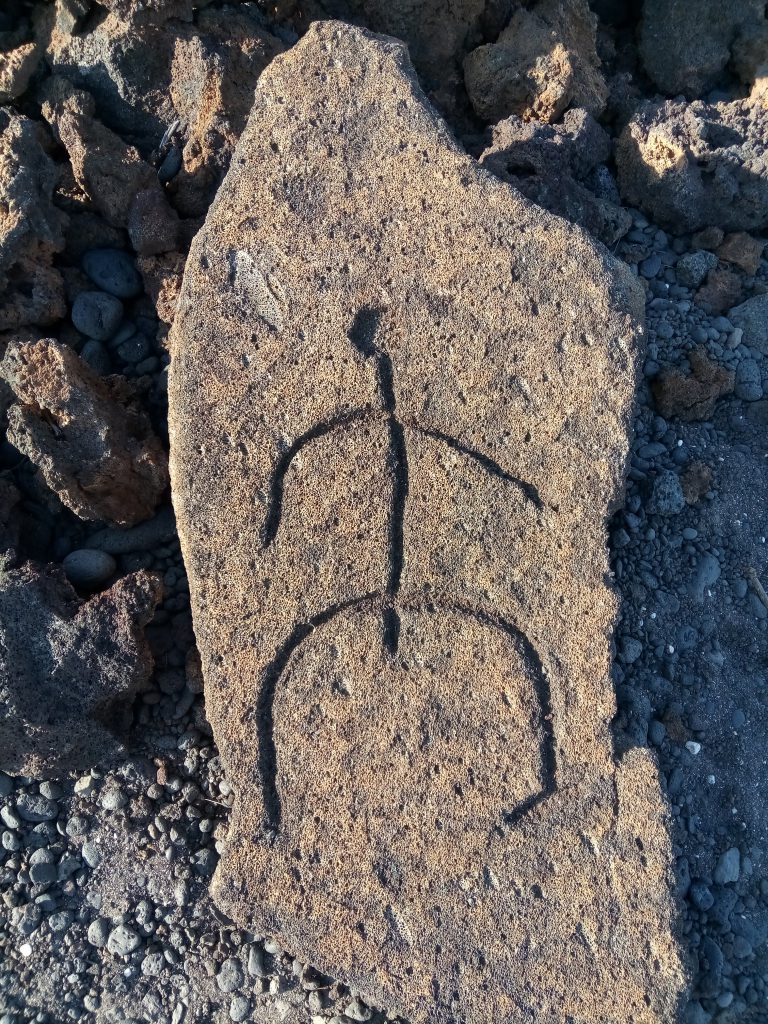 5. Get shave ice
You can't go to Hawaii and not stop and get shave ice. I have this dream of finding shave ice on the mainland that is as good as shave ice in Hawaii and I'm constantly disappointed. So whenever we're in Hawaii I make sure we stop and get some! Multiple times.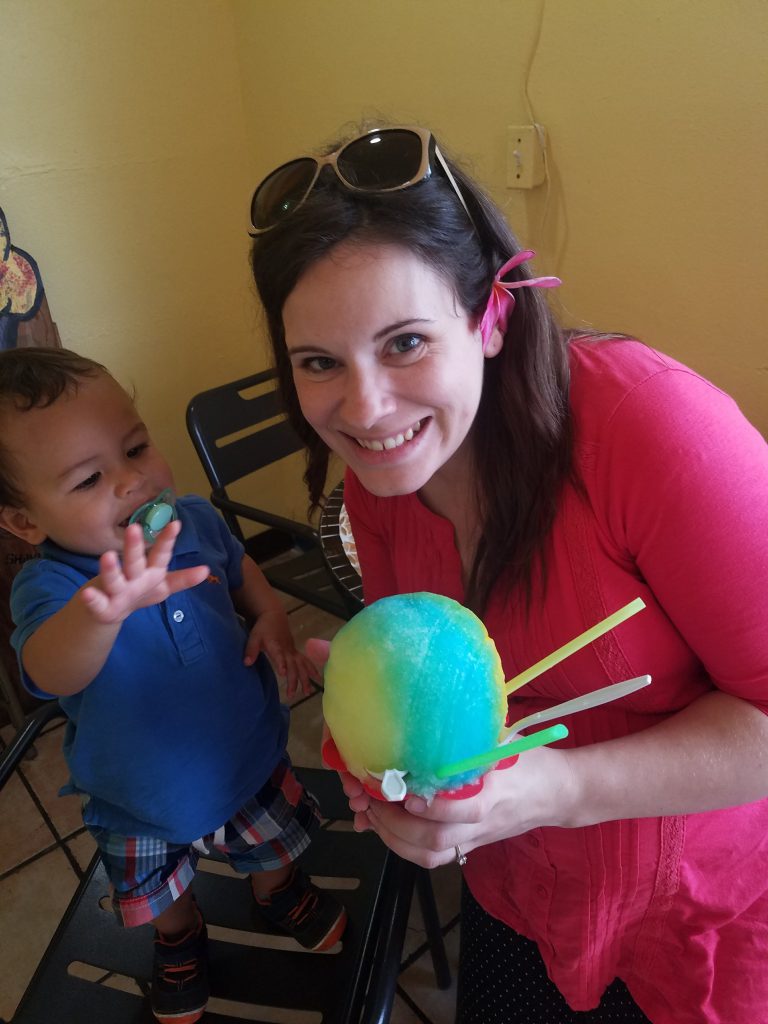 Visiting the island of Hawaii was definitely a memorable experience. It is such a unique and fascinating place. And we always love a fun, tropical family adventure!