This page may contain affiliate links, which means that we may earn from qualifying purchases at no additional cost to you.
While we were in Utah over the Christmas holidays, we decided it was time for a family snow adventure! But the trick was finding something that both our three-year-old and our one-year-old could be involved in. Not always the easiest of feats… We finally settled on cross-country skiing. Although we don't have a lot of experience cross-country skiing, we felt that this would be a good family activity to include all of us. And in the end, it was something that all of us enjoyed!
For this experience we went to Sundance Mountain Resort. Sundance may not be the most premier ski resort in Utah, but we like it because it is less expensive than a lot of the other resorts and very accessible. And you can get cheap rentals in the area.
We were delighted to find that the Sundance Nordic Center rents out a chariot package with skis, which is great for a skiing expedition with young kids. The chariot is $15 to rent and is basically a sled that you pull behind you while you're skiing. It has poles that attach to your waist so that it won't run you over when you're going downhill (a very real concern for me when I first heard about it). You can find more information about rentals and passes here.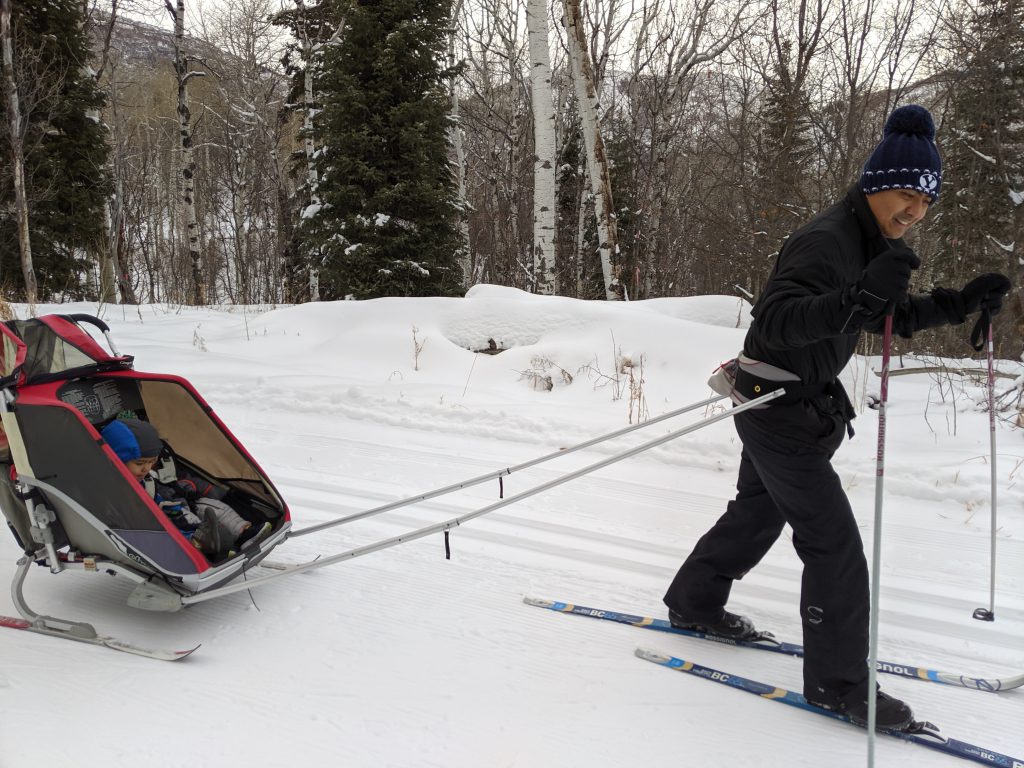 We were concerned that it would be quite challenging to manage the sled while skiing, but Norman found the chariot to be surprising easy to pull.
Since we're not very experienced skiers, we chose to take the easy route. There was a nice basic loop with relatively mild rises and drops and only a few hills.
What to bring for the kids
Snow suit
Waterproof gloves
Warm hat
Snow boots (we didn't have this and their feet were getting cold)
Snacks
How did the kids do?
Our kids did surprisingly well on this little outing, despite the cold and long stretches of sitting. For them, the hardest part was watching us get everything situated in the beginning, but they were pretty content once we were moving.
We made sure to bring plenty of warm clothes and bundled them up tight so that they wouldn't get cold.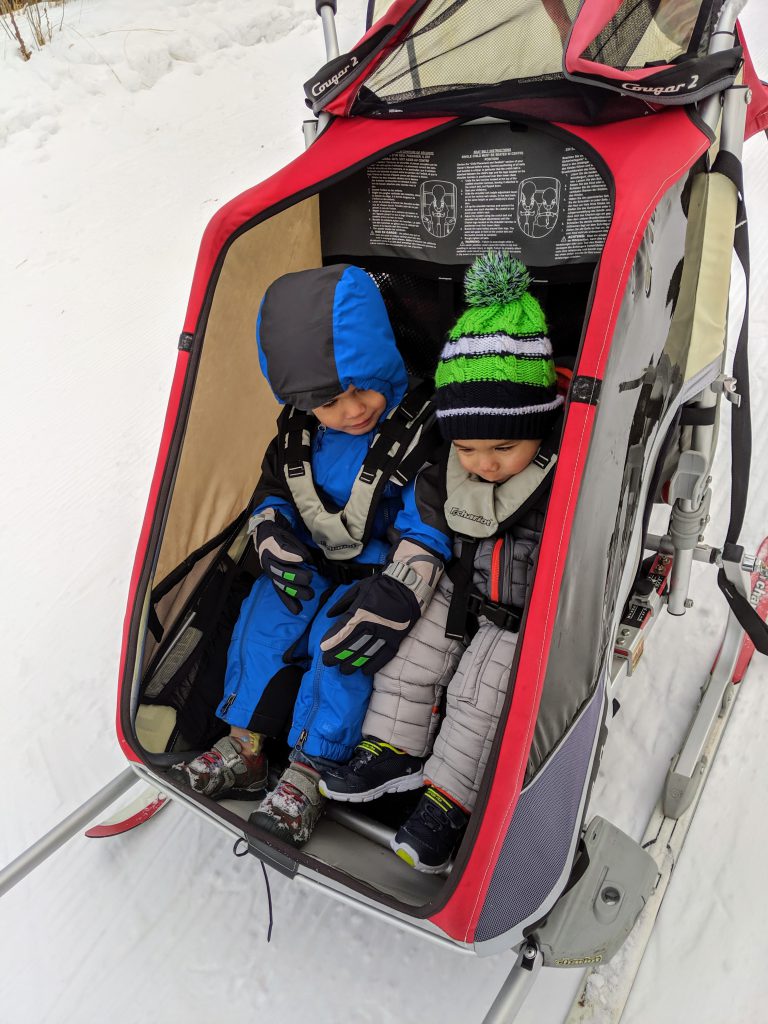 And I packed a few snacks, which came in handy when our one-year-old started getting a little restless. We also played some games as we went along, having them look for things in the forest, or talk about what they wanted to name their snowman they were planning on building later (it started out as Oatmeal, but ended with the very original "Frosty").
How did mom and dad do?
Norman did an awesome job hauling the kids all over the woods. It looked tiring to me, but he said it was actually easier than it looked. We both had a lot of fun cross-country skiing. The woods were peaceful and the whole experience was very relaxing and enjoyable.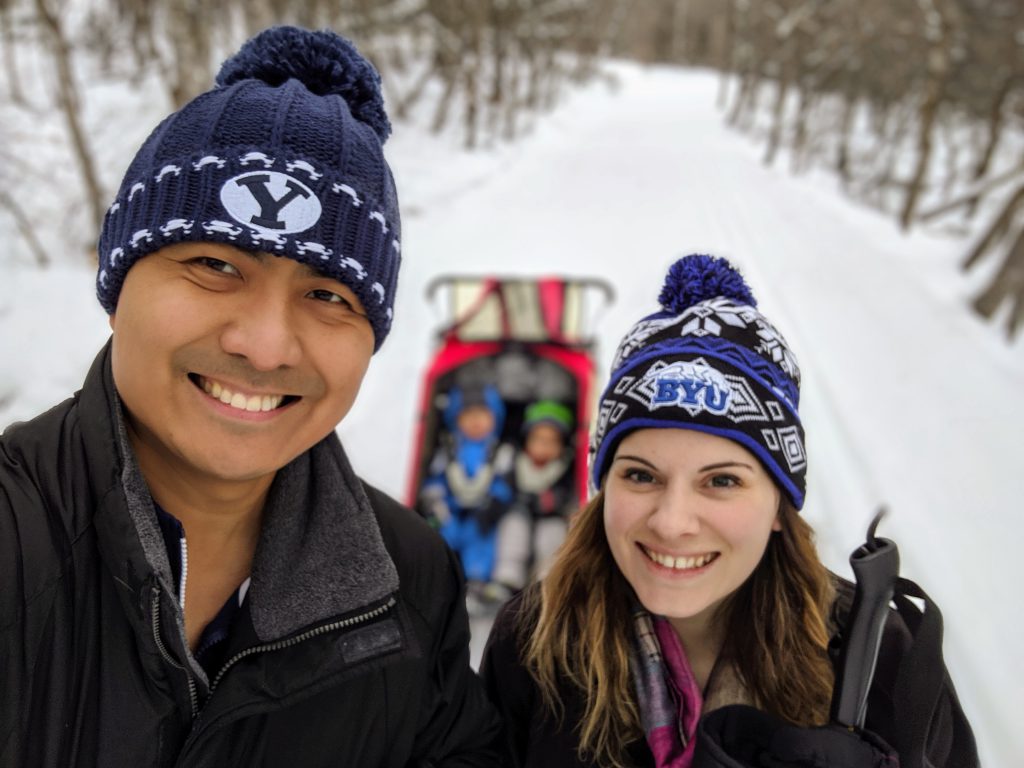 And while our experience may not have been entirely free of falls, that was more due to our lack of expertise than any fault of the course, which was smooth and well-maintained.
Final analysis
All things considered, we all had a lot of fun on this family outing. Afterwards our three-year-old would describe our experience with lots of animation to anyone who would listen. It was nice to see that you don't have to have a lot of experience to be able to enjoy cross-country skiing with kids!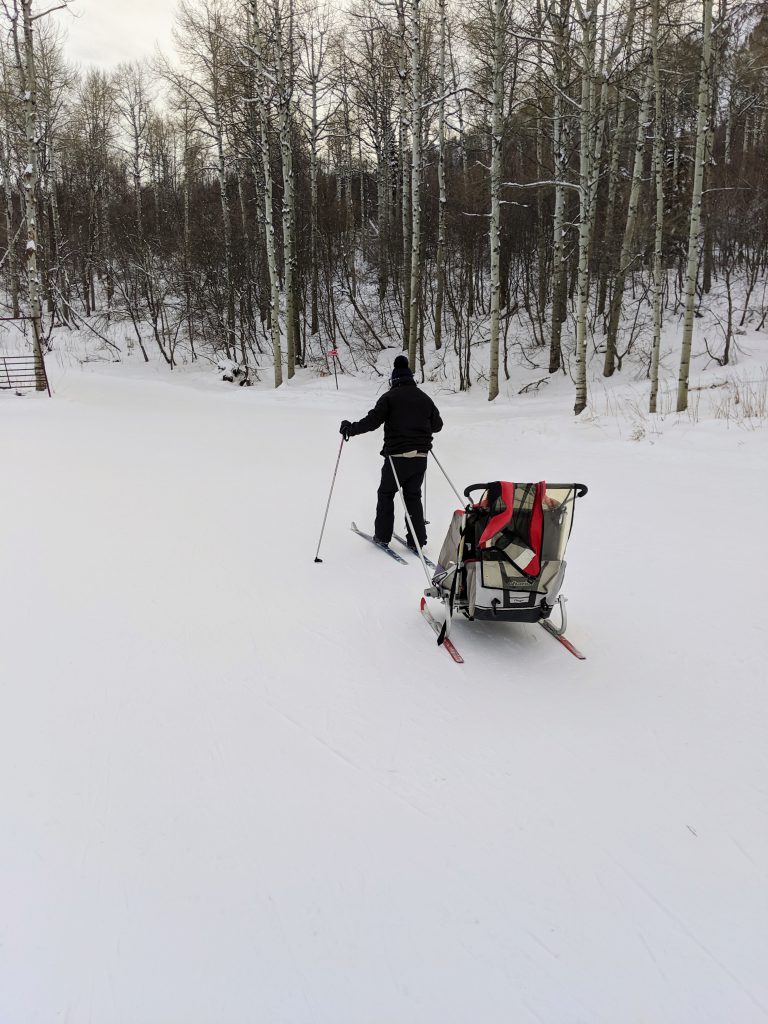 Have you been cross-country skiing with your kids? What are your some of your tricks for making winter outings more enjoyable?